Here's Where The Chrisley Family Actually Lives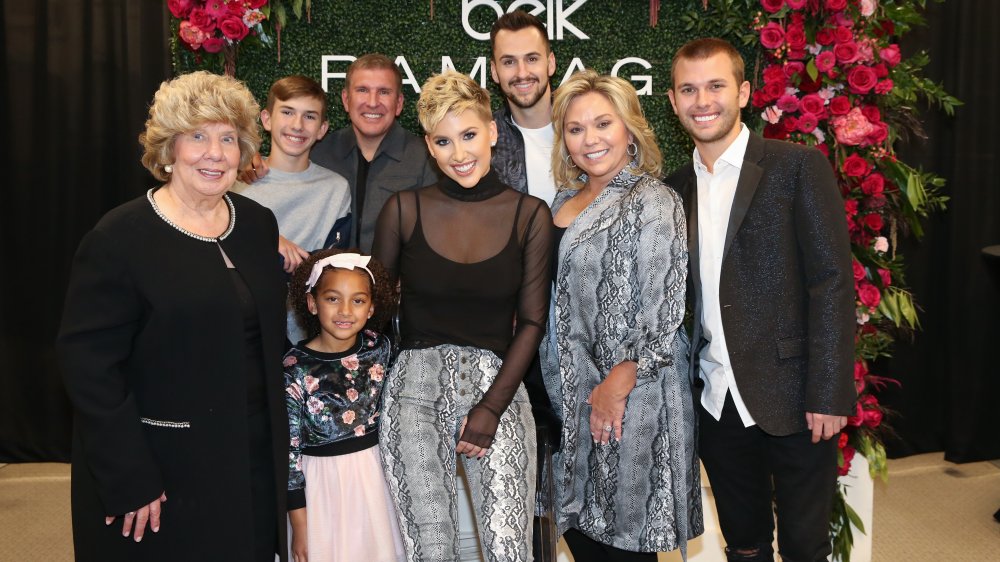 Terry Wyatt/Getty Images
Long-time fans of Chrisley Knows Best will know that star Todd Chrisley and his lovable family were originally filmed going about their daily lives (always drinking Coke to stay hydrated), in the plush Atlanta neighborhood that R&B icon Usher also called home. Back in 2014, the Chrisleys resided in a stunning mansion in the heart of Georgia — and fans were privy to its many gorgeous features thanks to the ever-present cameras. However, just a couple years later, the proudly Christian family upped sticks and moved to, well, the sticks.
As reported by Bravo at the time, the Chrisley family relocated to Nashville, Tenn., the country music capital of the world that the likes of Kristin Cavallari and ex-husband Jay Cutler call home (and where their own, sadly short-lived reality show, Very Cavallari, was also filmed). At the time, the Chrisleys called a $1.6 million house home, which viewers of Chrisley Knows Best quickly got used to seeing on the show. Unsurprisingly, however, the Chrisleys subsequently upgraded to a new home more suited to their lavish tastes. 
The Chrisley family settled in Nashville
In May 2019, Todd Chrisley and his brood relocated to a spacious, $3.4 million house that was previously owned by NHL hockey player Mike Ribeiro. The home (shown above) is located in the exclusive Brentwood suburb of Nashville. According to Zillow, it's a whopping 13,000+ square feet and boasts six bedrooms, 10 bathrooms, a four-car garage, pool, wine cellar, and rec room. Per Bravo, the home includes "salvaged wood floors throughout," a massive living room complete with "wood-burning fireplace," a stunning sunroom, and a deluxe kitchen fitted with slate countertops and top-quality appliances.
There are two master bedrooms, with the master bathroom boasting a gorgeous marble spa bath, "double-sized walk-in shower and soaking tub." The Chrisley kids should have plenty to do, too, with a game room, home theater, and indoor basketball court to keep them entertained. According to The Tennessean, the Chrisleys moved to Brentwood because fans were bothering them too much in their previous home. "Security has become a big issue," Todd revealed at the time. 
The Chrisley family home is a sight to behold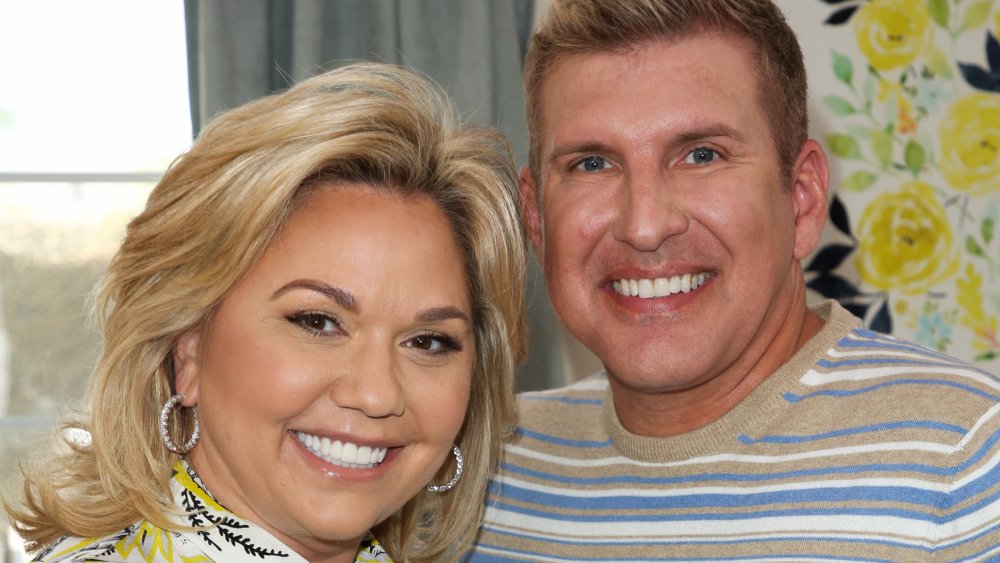 Paul Archuleta/Getty Images
Other features of their current home include a quiet setting on a lot that's a little over 1 acre, situated on a cul-de-sac, and a double-height entryway showing off the home's gorgeous winding staircase. The formal dining room features custom, hand-painted Gracie wallpaper, and the home has a second kitchen — for the caterers, of course. If the washers and dryers in each of the two laundry rooms are busy washing the family's clothing, they can use yet another set situated in a fragrant cedar closet. 
According to Zillow, the home was built in 2013 and also features a central vacuuming system, a wet bar, and a large study featuring fumed oak with a stellar custom finish. The home is well-lit, thanks to large windows, and the yard is immaculately landscaped. 
Nashville is the ideal spot for the Chrisleys to live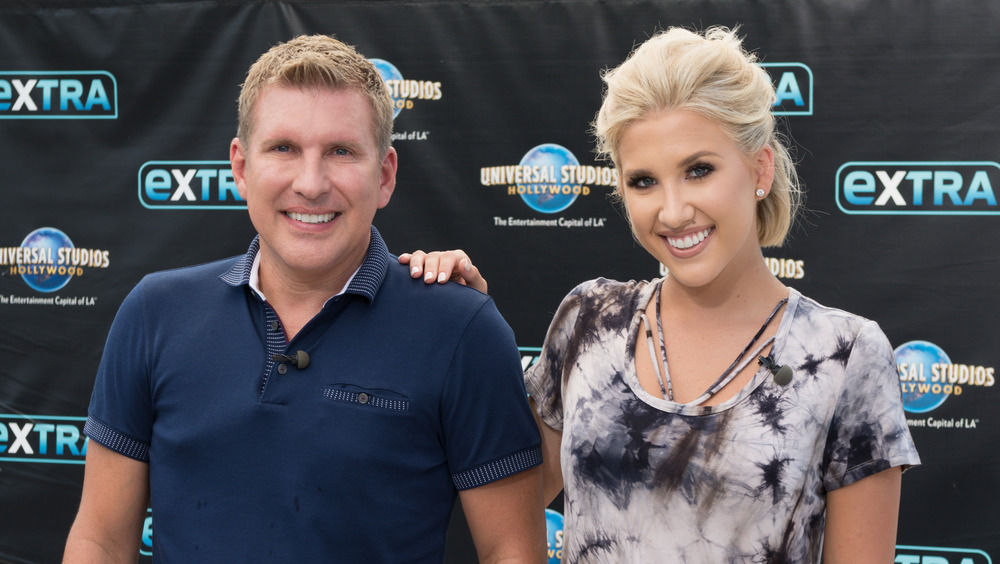 Noel Vasquez/Getty Images
Nashville is an incredibly desirable location, that goes without saying, but the Chrisleys are all about luxury and wherever they settle has to be top notch. Fans expressed confusion over their initial property purchase in Tennessee, but the Brentwood mansion seems more suited to their lifestyle. The increasingly popular Nashville suburb, situated in picturesque Williamson County, is actually considered "one of the most desirable suburban locations in Tennessee," according to Livability. A high standard of living is pretty much guaranteed, as the site gushes. 
Brentwood boasts one of the top 10 libraries for children, is home to several quality schools, plenty of "recreational amenities," easy access to Music City itself, and an affluent business community, making this the ideal place for the Chrisley Knows Best stars to lay down roots. Savannah gushed, in an interview with City Lifestyle, "Nashville is my favorite city BY FAR!!" The beauty maven, who briefly lived in Los Angeles with brother Chase, explained, "Music has always been my therapy so there is nothing better than living in Music City and getting to experience the amazing talent in this city." 
Brentwood is ranked among the best suburbs in Tennessee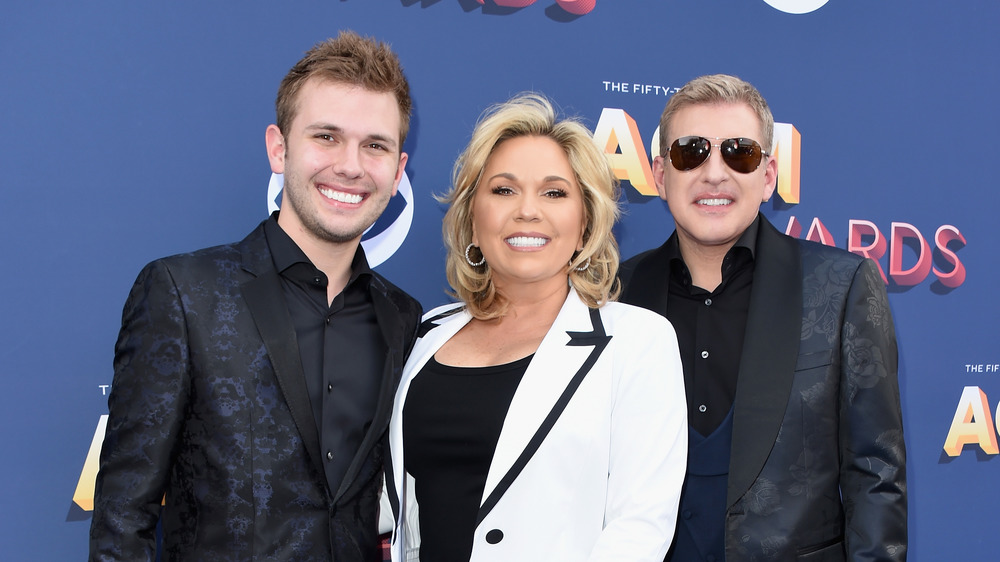 Michael Loccisano/acma2018/Getty Images
Although living in Nashville certainly has its perks, Brentwood is above and beyond, which is likely why Todd chose it. Money ranked it among the best places to live back in 2017, noting at the time that the affluent suburb is favored by "country music stars and athletes" alike, while the median income of its inhabitants is three times that of Tennessee's. However, even though property prices are understandably high, they're reasonable comparatively speaking. The town's high school graduation rate is a whopping 96 percent, while crime rates are generally low. 
There are 13 parks overall, including Smith Park, which boasts more than 400 acres of open green area. Brentwood is also just minutes from Nashville International Airport, giving it an important link to the world. Niche actually ranked Brentwood its No. 1 place to live in Tennessee for 2020, as well as the best place to raise a family. "Brentwood has a decent size population, but it still feels like a small community! There is a good amount of young families and people around mine and my husband's age to help it feel like home," enthused one review. Clearly, Chrisley Knows Best is well suited to the area.