What Hope Hicks' Positive Coronavirus Test Could Mean For Donald Trump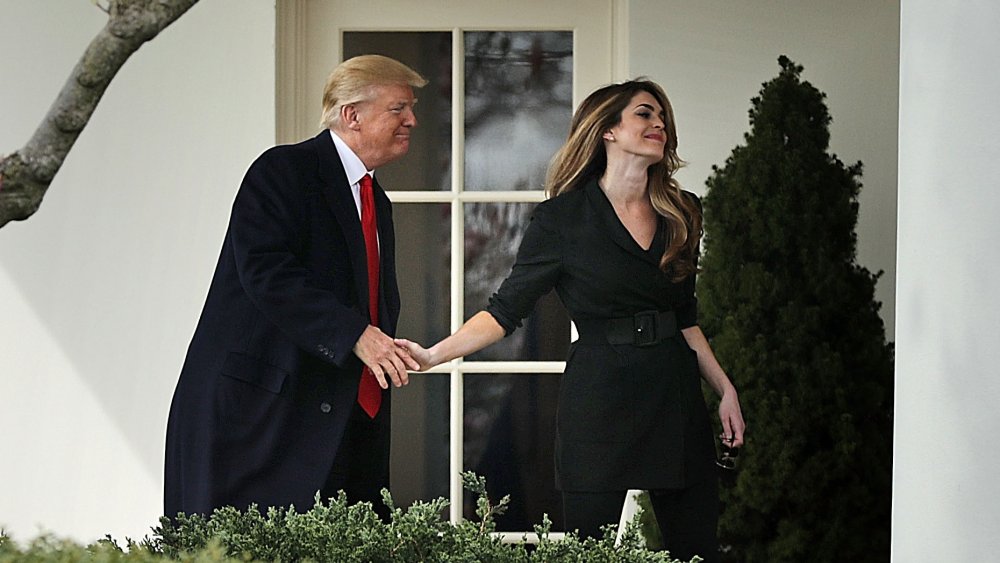 Chip Somodevilla/Getty Images
As of September 30, The Wall Street Journal reported there were 42,000 new coronavirus cases across the country. And while it should go without saying, Utah Governor Gary Herbert took pains to point out that: "These are not just numbers or statistics. These are people. People who are being infected and having their lives disrupted."
Of these cases, one made the headlines. Hope Hicks, one of President Donald Trump's closest aides, has tested positive for COVID-19. Multiple media outlets say she traveled with Trump to the debate, and she apparently she was not wearing a mask on (via CNBC). What does that mean for Trump?
When asked about the level of contact Trump might have had with Hicks, White House spokesman Judd Deere said in a statement: "The President takes the health and safety of himself and everyone who works in support of him and the American people very seriously. White House Operations collaborates with the Physician to the President and the White House Military Office to ensure all plans and procedures incorporate current CDC guidance and best practices for limiting COVID-19 exposure to the greatest extent possible both on complex and when the President is traveling" (via CNN).
Trump himself confirmed the news to Fox News, admitting the possibility of contact exposure. "She did test positive, I just heard about this. She tested positive. She's a hard worker. Lot of masks, she wears masks a lot but she tested positive," he said. "Then I just went out with a test. I'll see — you know, because we spent a lot of time — and the first lady just went out with a test also. So whether we quarantine or whether we have it, I don't know..."
Hope Hicks was reportedly with Donald Trump until Wednesday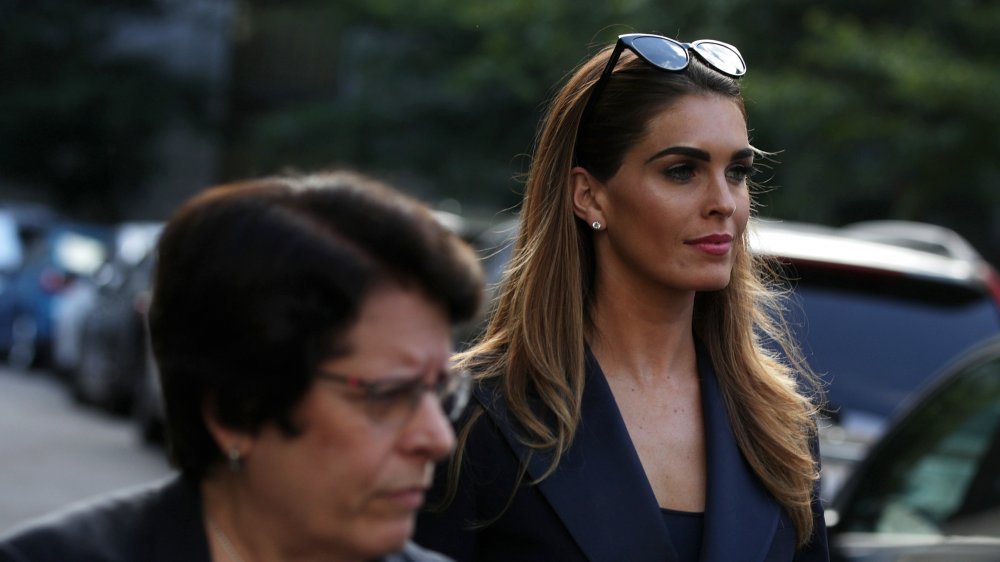 Alex Wong/Getty Images
Aside from confirmed as being at the debate in Ohio, Hope Hicks was also on Air Force One when Donald Trump was on his way to Minnesota for a campaign rally. Bloomberg News said she had been quarantined during the flight home from that event, and it wasn't known when she took the test that showed that she had the virus (via The New York Times).
But Trump concluded his statement on Hicks' positive test on Fox News, saying, "I just went for a test and we'll see what happens, I mean, who knows. ... I spent a lot of time with Hope and so does the first lady, and she's tremendous."
COVID-19 was supposed to be a topic at the unruly debates which took place on Tuesday night. At the time, Trump told his opponent Joe Biden, "You didn't think we should've closed our country (to China) because you thought it was terrible." He also said, "... We've done a great job. But I tell you, Joe, you could never have done the job we've done. You don't have it in your blood " (via U.S. News and World Report). 
As of today, the U.S. has recorded more than 7.3 million active coronavirus cases across the country, and more than 207,000 deaths (via The New York Times). Globally, the number of deaths in the United States account for 22 percent of coronavirus deaths, although in terms of total global headcounts, the U.S. only accounts for 4 percent of the global population (via The Guardian).