This Twist On Hot Chocolate Has Everyone Buzzing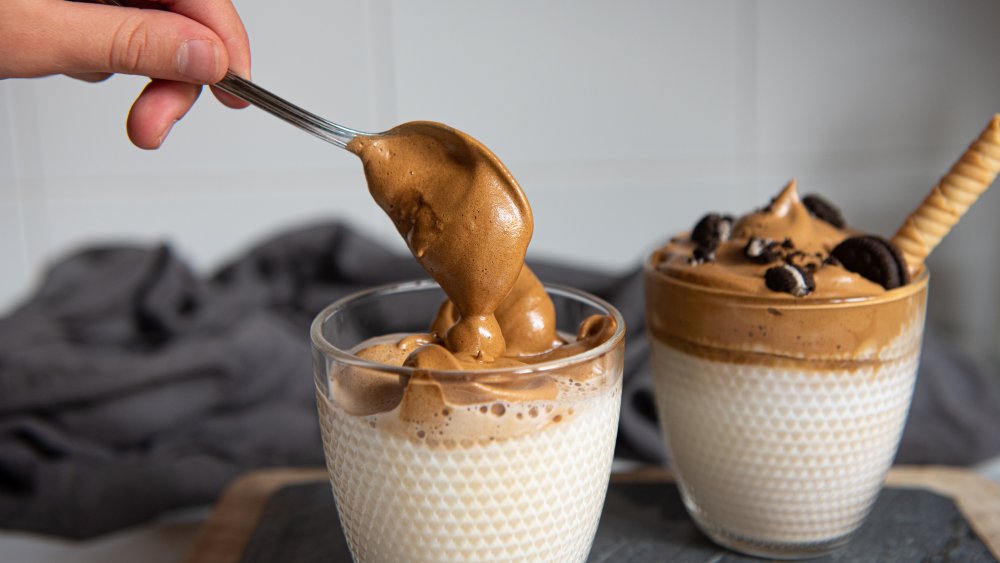 Shutterstock
Remember when Dalgona coffee was all over TikTok a few months back, joining every other viral spring 2020 food trend, of which there were, oh, about half a million or so? (Cloud bread, banana bread, sourdough bread, blah blah blah...) Evidently, none of us have had anything else to do besides cook, or at least watch videos of other people doing it.
Well, guess what? It's officially almost winter now, in this year of speeded-up everything. If you were expecting maybe pumpkin spice whipped coffee, you must have blinked and missed it — pumpkin season happened back in August. So, what is everybody's favorite wintertime beverage? According to these very scientific survey results from such esteemed research organizations as the Hungry Forever blog, The Performer, Laramie Live, and 97.5 KISS-FM, the runaway winner is hot chocolate. 
And yes, whipped hot chocolate is now a thing. Although technically, the "whipped" and the "hot" parts are two separate things. In fact, whipped hot chocolate is almost like regular whipped cream-topped hot chocolate, but in reverse: instead of a chocolatey hot drink topped with cold non-chocolate cream, you get plain old warm milk topped with cold chocolatey cream. This topsy-turvy drink seems all too appropriate for 2020 — and it's non-caffeinated, too, so we can finally get some sleep!
How do you make whipped hot chocolate?
Nearly everyone in the TikTok-sphere seems to have their own way of making this new viral treat. Further complicating things, videos such as this one from self_care_club tend to be long on soothing music and ASMR-inducing imagery but short on measurements. The team at PopSugar, however, took it upon themselves to analyze this and similar clips in order to come up with their own recipe for whipped hot chocolate.
In order to make it, what you'll need is two tablespoons of cocoa powder per single serving (the unsweetened kind, which is not the same thing as hot chocolate mix), two tablespoons of sugar, and five tablespoons of heavy whipping cream. Whip the ingredients together using a hand mixer, stand mixer, or whisk until it thickens up, as whipping cream will do when whipped (hence the name). Then heat up a cup of milk — or else don't heat it, in which case you'll have whipped non-hot chocolate. Scoop the chocolate mixture on top, stir it in, and feel in tune with the late 2020 zeitgeist. (You might want to add a slug of booze, as well.) 
But drink up quick! Undoubtedly, there's another brand-new, hot drink trend right around the corner that will make whipped hot chocolate démodé by next week.