Here's Why Donald Trump 'Gasping' Is Trending On Twitter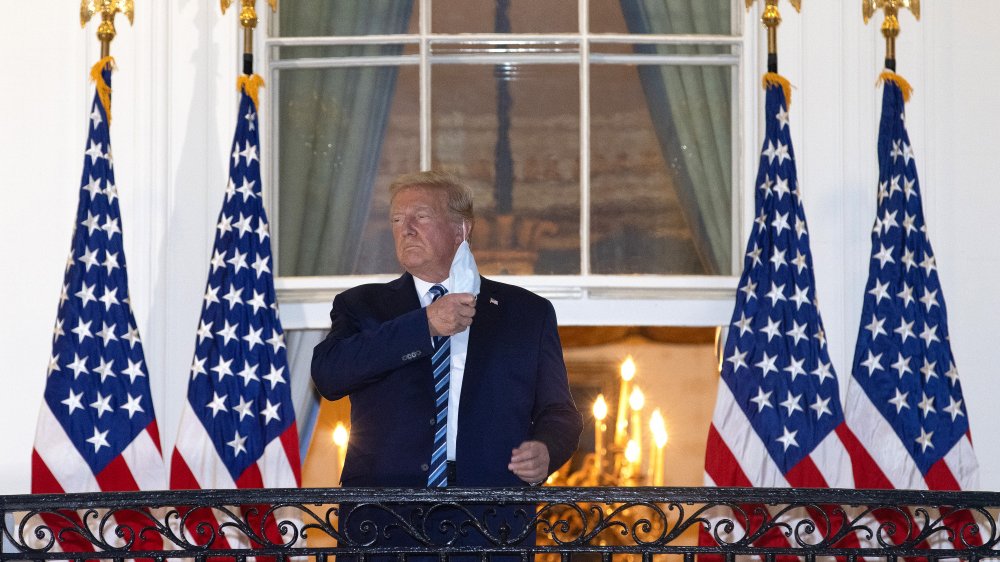 Win Mcnamee/Getty Images
Shortly after returning to the White House, Donald Trump tweeted a video to express his thanks and show the world how great he felt. "I just left Walter Reed Medical Center and it's really something very special. The doctors, the nurses, the first responders — and I learned so much about coronavirus, and one thing that's for certain: Don't let it dominate you. Don't be afraid of it. We're going to beat it. We have the best medical equipment, we have the best medicines, all developed recently. And you're going to beat it. I didn't feel so good... I could have left two days ago... I felt great, better than I have in a long time..." he said. 
Yet in the face of this reassurance, Trump "gasping" had begun to trend on Twitter. It might have had to do with the fact that moments after he reached the White House balcony, dramatically removed his medical mask, and turned to face reporters, he also appeared to be struggling to breathe (via Twitter).
The Twitterverse was divided over Trump 'gasping'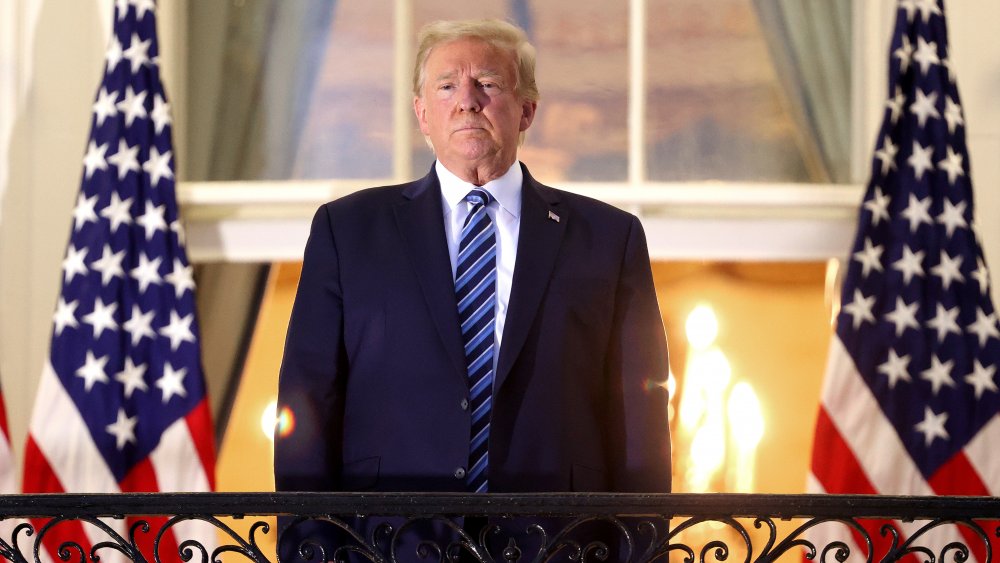 Win Mcnamee/Getty Images
Some Twitter users were incredulous. "Trump looks like a goldfish that fell out of the fishbowl onto the floor, gasping for breath," commented one user along with a video retweeted all over the Twitterverse showing the president appearing to take big gulps of air. Another tweet said: "Maybe Trump should take it easy. He's visibly gasping for air after climbing stairs and posturing like Putin. COVID ain't no joke." A third commented: "Trump climbs a few steps to the White House, takes off his mask and then is visibly gasping and having diffulty (sic) breathing while he tries to wave and pretend everything is fine." A fourth said: "Trump is gasping with pneumonia. Does he not think we can see?"
The president's supporters maintained the gasps were imaginary, with one saying: "LOL, the triggered left has now abandoned the 'hoax' theory and has gone back to Trump 'gasping' for air and on his deathbed notion. Come on now, make up your minds because the rest of us need to know. It can't be both. Only 8:40 PM though, carry on. Hysterical."
One of the president's biggest critics right now is Kellyanne Conway's daughter Claudia, who posted, "guys lmao he's not doing better... he is so ridiculous. apparently he is doing badly lol and they are doing what they can to stabilize him" (via Palmer Report).
Trump's messaging contradicts advice from public health experts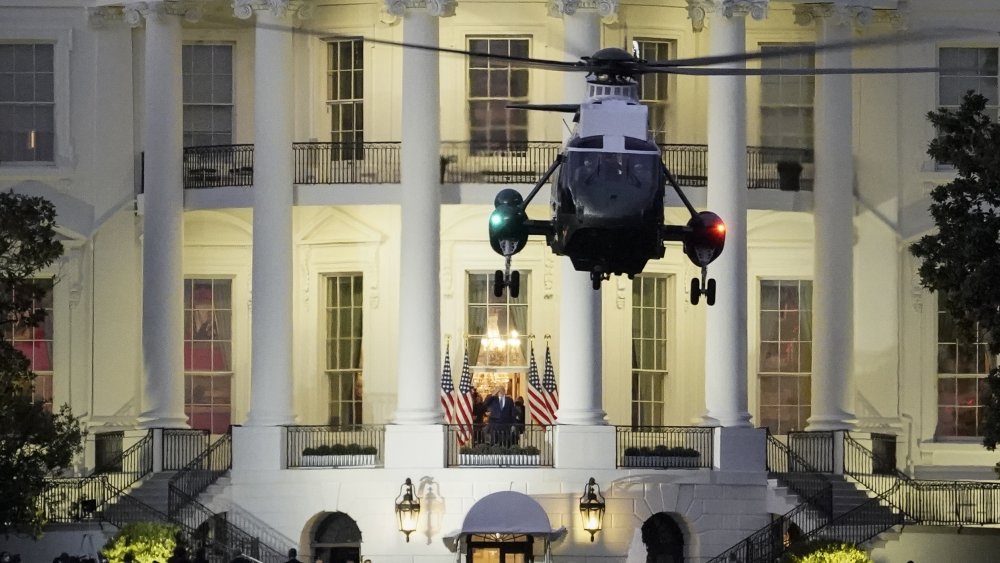 Drew Angerer/Getty Images
Twitter's backlash against the president's behavior may make public health experts breathe a bit easier. Doctors had hoped that Trump might learn a few lessons about COVID-19, but that doesn't appear to be the case. An assistant professor of medical at the University of Pennsylvania Harald Schmidt tells the The New York Times: "I am struggling for words — this is crazy. It is just utterly irresponsible." 
By virtue of his position, Trump's experience of COVID is slightly different from everyone else's. The daughter of one Covid victim says: "My mom, a respiratory therapist, couldn't get tested at her hospital where she worked, she had to look for two days for a testing site while feeling the effects of covid, she didn't want to go to a hospital because she said it was worse there and she didn't want to call an ambulance because it was too expensive. So she stayed home for a week and lost her pulse as soon as the medics put her on a gurney." Newsweek has also pointed out that a cost for a five day course of Remdesivir, one of the medicines the president is on, costs $3,120 — or as one candidate for the Senate put it, "Remdesivir is approximately 4 years of taxes for some taxpayers."
The U.S. currently has 7.4 million cases of COVID-19, with nearly 210,000 deaths (via The New York Times).