What Happened To Tiffany Barker From My 600-Lb Life?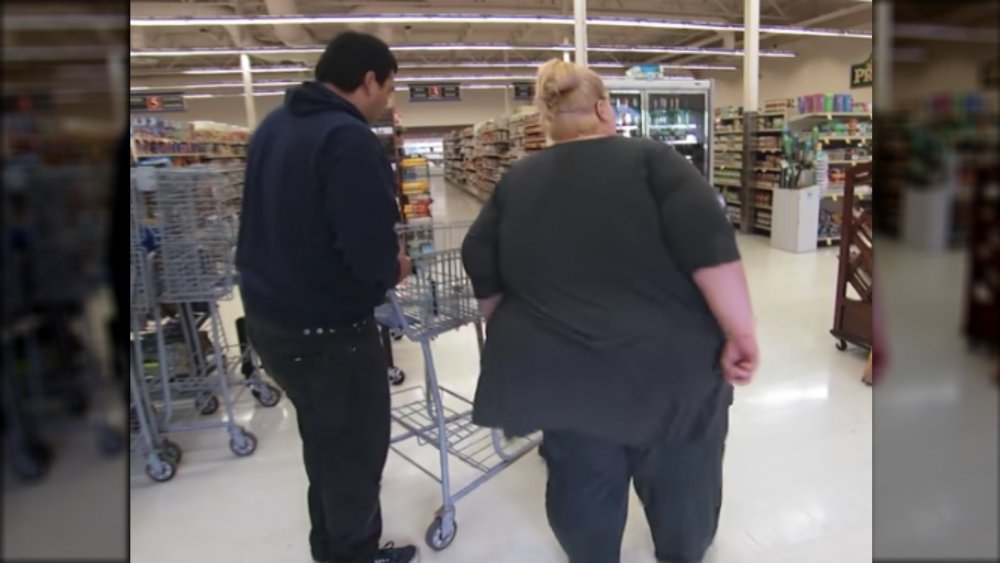 YouTube
Tiffany Barker was introduced to viewers of My 600-lb Life in February 2019. Her story hits you in all the emotional places. While she discussed how she loves shopping for food on her TV debut, fans of the show watched as she slowly made her way through a grocery store. Sharing with the camera, she said, "Aside from eating, it's my favorite thing to do. And it fills me with such excitement when I find what I want" (via Starcasm). But the joy stops there as Barker's struggle quickly became apparent. 
Shopping with boyfriend Aaron Coronado, she gets overcome by pain and exhaustion and has to quickly return to her car after a small exertion. "My hip and my legs are in so much pain. And it takes just about everything in me to make it back to the car. It's so exhausting," said Barker. At the time, she was being ridiculed in public and felt like food was the only way she could pass the time (via Newsweek). Soon after, Barker traveled to Houston to work with the famed bariatric surgeon Dr. Younan Nowzaradan, with her boyfriend Coronado and cousin Jasmine Philpott. 
Tiffany Barker's extreme weight loss has been a journey
Beginning her journey at more than 650 pounds, Barker has come a long way. Throughout the show, she lost a tremendous amount of weight (via Starcasm). At the three-month mark, she uprooted her life and moved to Houston — and kept to a strict 1200 calorie a day diet. The experience was fraught with emotion, but she continued to persevere. An inflamed gall bladder began to cause difficulties, but she pushed through, achieving a weigh of 555 pounds by month seven and goes ahead with the surgery. At 12 months she weighed 415 pounds with a weight loss of more than 250 pounds.
Her Instagram pics show her continuing efforts to eat healthily and reflect further progress towards her ideal weight, but not everything has worked out perfectly. Reports from June 2019 show that she lost her job and experienced financial struggles (via Monsters and Critics). Her health and family drama just didn't work with her very small employer, and she took a moment to plead her case to fans before moving on. 
Tiffany Barker is finding her independence
Barker has been hesitant to share official updates past this point (via Starcasm), but as of August 2020 she was looking fabulous. Her latest Instagram selfie is captioned, "#newshirt #feelingmyself #feelingcute #workflow #workselfie #600poundsnomore #my600poundlife #mystory #Tiffany'sstory." Fans clearly agree, with one stating, "From 600 to this ... it's just amazing! You look awesome!"
And did you catch that hashtag #workselfie in the there? Barker confirms she has moved back to the Seattle area (via Instagram) and has broken up with her boyfriend Aron on Easter (via Instagram). It looks like her move was sudden, posting in mid-April of 2020 with a picture of the Houston skyline, "This marks one of the worst days of my life. All I have is a car I can't afford and nothing else to show for my life" (via Instagram). The change may be more job-related than based on relationship troubles as she quickly defends her boyfriend to readers at the time, 'He is stepping up. There is only so much he can do but in the end I'm not his responsibility I'm an adult I gotta figure out my own s*** ya know." She does remark, however, that she and cousin Jasmine no longer talk (via Instagram).
From what we can tell, it looks like Tiffany Barker continues to make progress despite a few setbacks.