Think Twice Before Buying Poultry At Walmart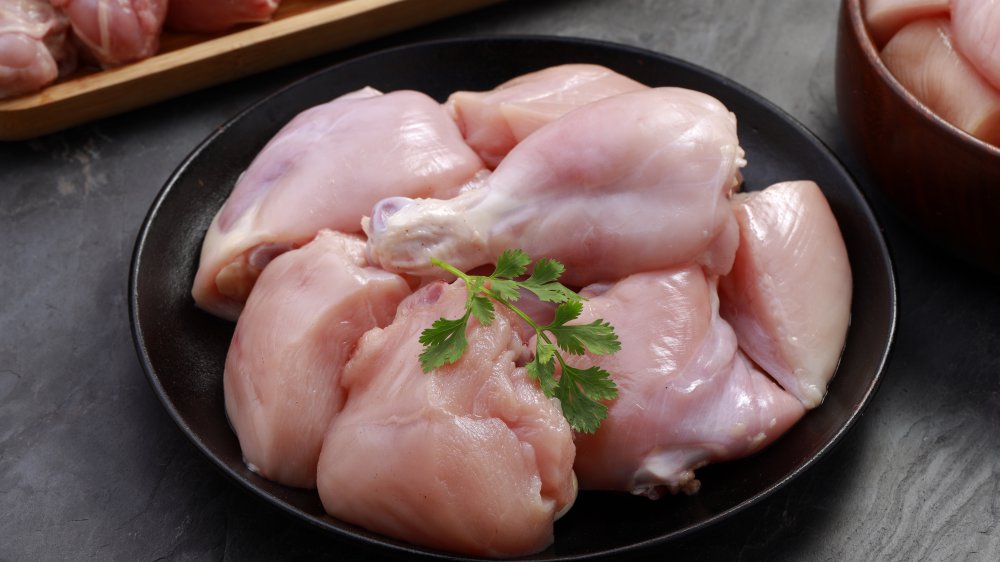 Shutterstock
Walmart is a one-stop-shop for virtually anything you need; want to pick up a pair of toddler shoes, a door wreath, light bulbs, and a new TV all in once place? Walmart. But when it comes to groceries, there are some items that may be better purchased at your regular grocery store, and chief among them is poultry. Some grocery staples like cereal or milk may be reliably cheaper at the big box store, but chicken often isn't. In fact, you might be paying a higher price for lower quality.
According to meatandpoulrty.com, in 2019, Walmart was on the receiving end of a class action lawsuit that accused the company of intentionally mislabelling weighted goods, including poultry, when the store was reducing the prices as the products neared their expiration dates. While Walmart admitted no wrongdoing, it settled the case and agreed to pay, on a claims-made basis, a minimum of $4.5 million up to a maximum amount of $9.5 million. The suit alleged that "Walmart advertised those weighted goods at specific unit sale prices, but upon closer inspection, the final sale prices did not coincide with the unit sale prices based on the weight of the products as represented on the original labels." As a result, Walmart consumers did not receive the promised value for the weighted goods they purchased."
Sounds pretty shady.
Skip Walmart's rotisserie chicken, too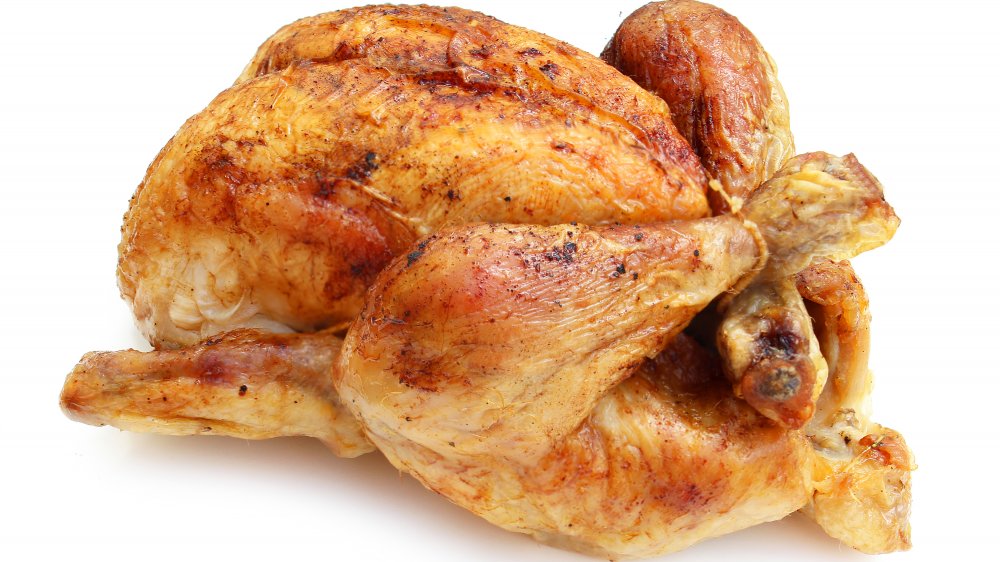 Shutterstock
While the lawsuit involved raw poultry, it turns out you may not be getting much of a deal on Walmart's precooked rotisserie chickens, either. While rotisserie chicken is usually juicy and flavorful and therefore a great choice for a grab-and-go dinner, Walmart's cooked birds don't seem to live up to that standard. Eat This, Not That! ranked the best and worst grocery store rotisserie chicken options, and Walmart's came in dead last. The blog says the reason for its unflattering ranking is because of consistently bad reviews. Customers complain that the chicken is lacking in flavor and substance, claiming the birds are "bone thin" and dry.
And they're clearly on to something; Live Play Eat compared Walmart rotisserie chickens to those sold at Sam's Club (which is owned by Walmart) and Costco. Not only were Walmart chickens roughly one-and-a-half pounds each while charging the exact same price as Sam's Club chickens, but Sam's Club chickens weigh, on average, three pounds. Costco chickens also weigh three pounds and only cost a penny more than Walmart's. Further, for those watching their blood pressure, the sodium content of Walmart's chickens is rather shocking; even though they are less than half the size of the other rotisserie chickens, they contain 690mg of sodium per serving. Sam's Club chickens have 550mg, and Costco's have 460mg of sodium per serving.
Safe to say, whether you're pinching pennies or tracking sodium, you may be better off getting your chicken elsewhere.