This Trick Lets You Make Waffle House Hash Browns In Your Own Kitchen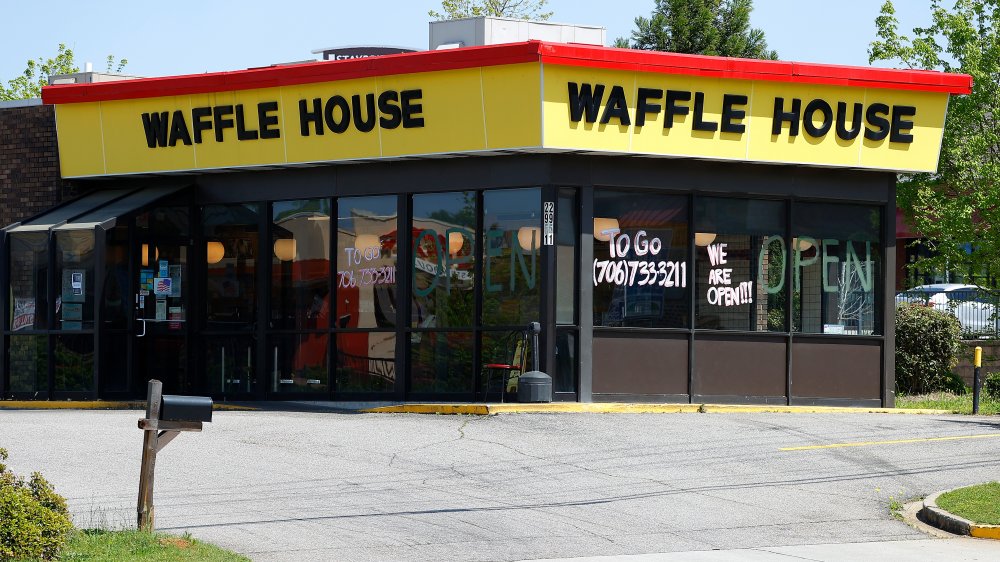 Kevin C. Cox/Getty Images
What with Waffle Houses being open 24/7/365, rain or snow or earthquake or volcano, you'd think that everyone everywhere would always have access to some of the world's tastiest hash browns (which even outshine the chain's eponymous waffles). Well, Waffle Houses aren't entirely ubiquitous — unlike Starbucks and McDonald's, it's not like there's one on every street corner. Plus, maybe there are times when you just don't want to leave the house, or maybe funds are tight and neither eating out nor ordering in fits in the budget.
Well, if Waffle House hash browns are what you're craving, good news! It's actually not too difficult to create a reasonable facsimile of this dish at home. Food photographer Kimbrough Daniels is a huge Waffle House fan, and also extremely observant (as befits her profession). She paid close attention to how Waffle House prepares their hash browns and noticed the following: They start with dehydrated potatoes, reconstituting and draining them very well. The potato shreds are then cooked on a hot griddle with butter-flavored oil, with the cook pressing them down with a large spatula and leaving them to fry for about six minutes before flipping. With these guidelines in mind, she set about recreating her own version of this favorite breakfast treat.
How to DIY your own Waffle House hash browns
The most important takeaway from Daniels' observation is to drain those potatoes! Dry potatoes cook up crispy. You can use frozen shreds, or you can shred a fresh potato, in which case, soak the shreds in cool water for a few minutes to remove some of the starch. Rinse and drain on a cloth or paper towel, using another to pat them dry. (You could also try this trick of "par-cooking" them in the microwave for faster drying.) Once the potato shreds are well-drained, heat a skillet over medium-high and add equal parts of oil and butter. When the skillet is hot, scatter a thin layer of potatoes over the bottom, press them down, then let them sizzle for five or six minutes. Once the edges are brown and crispy, flip the hash browns and cook until browned on the other side. Drain the cooked hash browns on a paper towel.
If you're a hash brown purist, you'll then eat them au naturel, but Waffle House offers a bunch of different toppings. If you want to re-create the menu, you can serve your hash browns with grilled onions, melted cheese, ham, grilled tomatoes, jalapenos, mushrooms, chili, or sausage gravy. Or you could go off-script and dream up your own toppings like green chile, chorizo, smoked salmon, raspberry jam ... whatever you like, whenever you wish. After all, your kitchen is also open 24/7, at least if you want it to be!