Why You Should Never Buy Facial Tissues At Costco
There are tons of reasons to go to Costco — and endless products to fill your cart with that will not disappoint when you return home. Costco's Kirkland Signature brand in particular is beloved by customers due to the quality and value its range of products provides (via Kiplinger). The animal crackers, bacon, and eggs are among groceries you should stock up on during your next Costco run. However, with some items, you are better off buying a name brand. One ill-fated Kirkland product that consumers lashed out about was the light beer — in fact, the alcohol was so despised, the warehouse club discontinued it.
Another Kirkland Signature product customers aren't in love with? The facial tissues. Consumer Reports was not super impressed with the household staple, and you may not be either. Don't say we didn't warn you!
Why Kirkland Signature brand facial tissues aren't worth your shopping cart space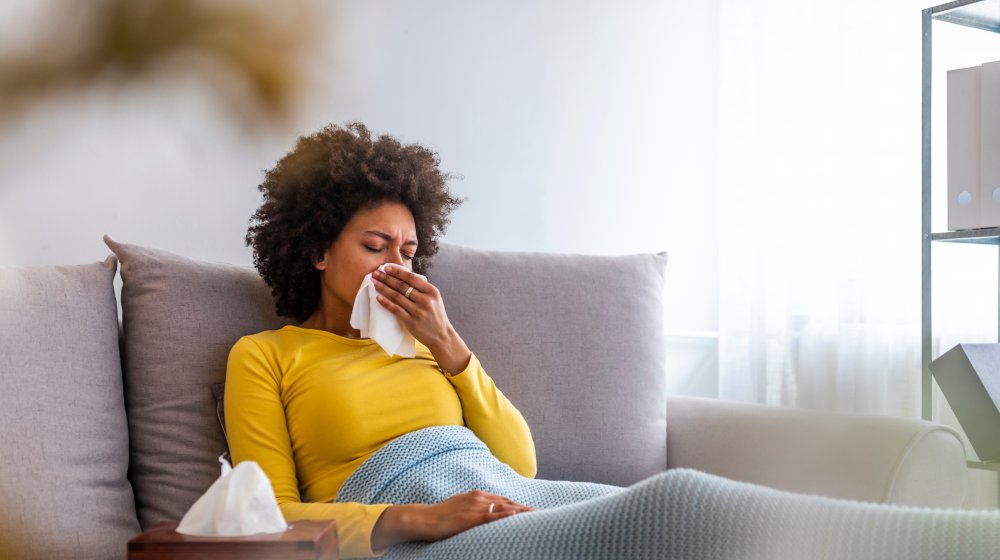 Shutterstock
With an overall score of 60, the tissues were rated in just middle of the pack by CR. Priced at $1.23, the product ratings bible says, "So-so strength is its big shortcoming." The softness of the tissues was pretty good, however. But when you are buying tissues, isn't strength super important? That is why CR touts the equally-priced Puffs Basic since this name brand boasts both strength and softness. To review, you don't even have to spend more money and you get better quality — this sounds like a no-brainer to us!
Customers aren't in love with the product either. "Not very smooth — the paper is very cheap and rough. I don't recommend it," one user says on Influenster. "These are not the softest tissue. However, the price is great!" admits another tissue user. To be fair, plenty of reviewers are happy with the tissues, especially one who says if you aren't picky about tissues, these are a great buy. 
The New York Times Wirecutter rates Puffs as the best buy. So if you don't want to mess around when it comes to tissues, you know what to do. If tissue quality isn't the most important thing in your world, by all means, go with the Kirkland Signature brand. Having some tissues on hand is better than nothing.