The Air Fryer Donut Trick You Need In Your Life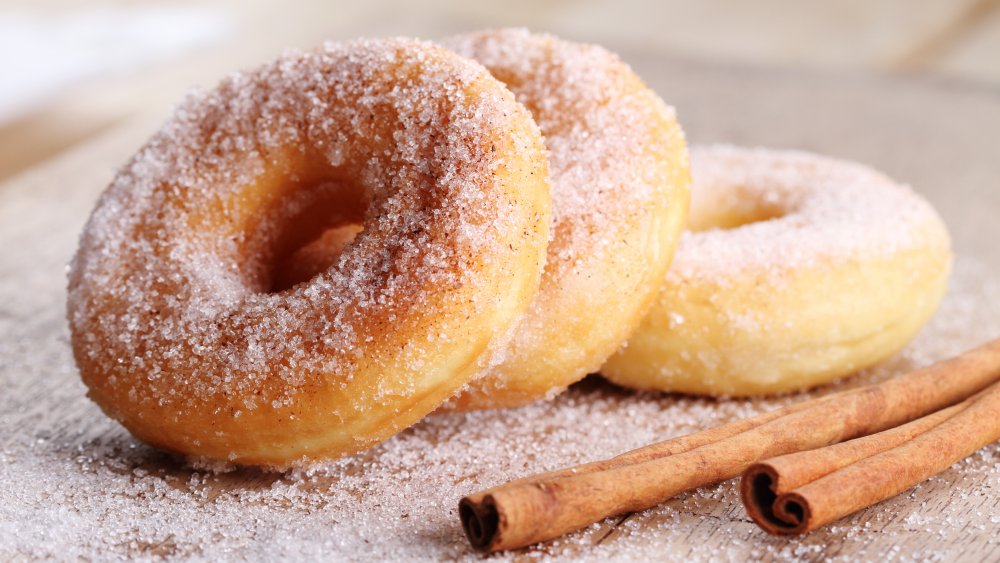 Shutterstock
Love donuts, but not ready to deep fry them yourself at home? Maybe you're not comfortable boiling a huge pot of oil and risking serious burns (or mess). Maybe the sight of your dessert totally submerged in pure fat puts you off. Good news — you can make donuts without the hassle of deep frying. With your air fryer, you can have donuts ready to eat in fifteen minutes with just a spritz of oil. 
According to This Old Gal, all you'll need is refrigerated flaky biscuit mix, a biscuit cutter, cinnamon, sugar, your oil of choice, and a glaze if you want it. You can use most cooking oil sprays, but steer clear of Pam, which will stick to the basket and could damage it.
Just remove the biscuits from the can, spray the fryer with your oil, punch a hole out of the biscuits' center with your biscuit cutter, put these on the air fryer basket/tray, and bake at 350˚ for 5 or 6 minutes until your donuts are golden brown. 
Preparing your donuts for serving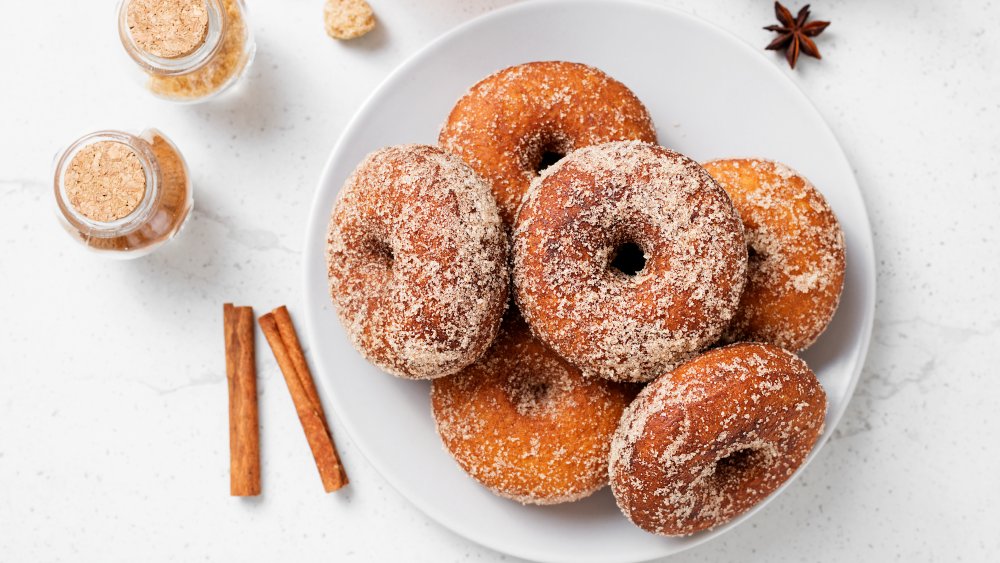 Shutterstock
You should mix your cinnamon and sugar together in a shallow bowl, according to Kitchn. Once your donuts are air fried, brush both sides with melted butter, place them in the cinnamon sugar and flip so that both sides are coated, and serve them warm. You can switch up the recipe to match your donut preferences — glazed, frosted, sprinkled. Whatever your favorite topping, go for it. For homemade Munchkins or Timbits, you can also cook the donut holes for 3 minutes.
Prefer croissants to biscuits? One other quick air fryer donut option is to make donut sticks from crescent roll dough. Allrecipes explains that you can cut the dough into strips with a pizza cutter, dip these in melted butter, air fry them at 380˚ for 4-5 minutes, coat them with cinnamon sugar as before, and serve them with jam. Yum. 
It may be a question of quantity—a 16-ounce can of biscuits make 8 donuts, while an 8-ounce package of crescent dough makes 48 donut sticks. So if you like your donuts large and substantial, go with the biscuit option. If you like them small and plentiful, definitely go crescent.