Why Eating Breakfast For Dinner Can Actually Be Beneficial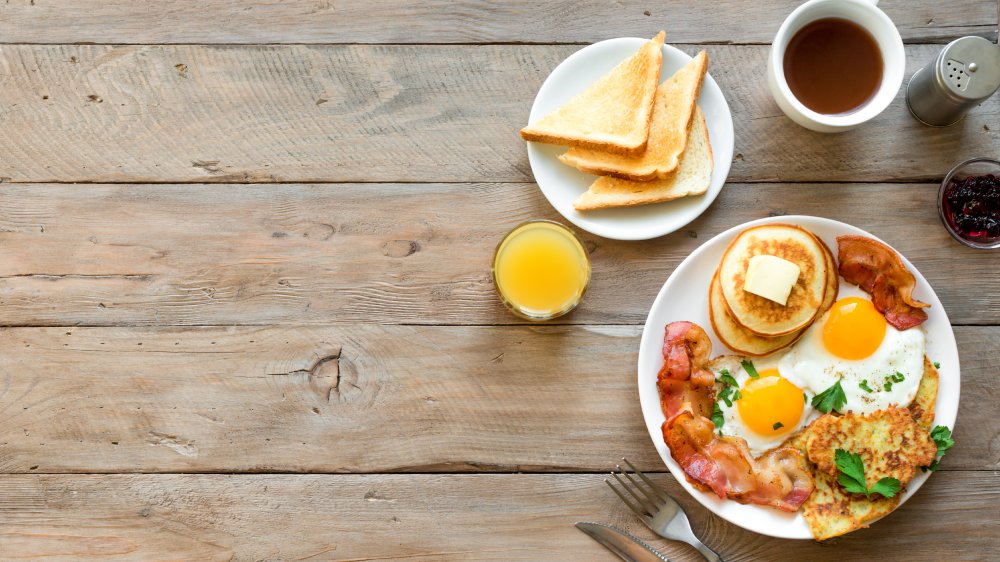 Shutterstock
After working hard all day, sometimes you don't have the energy to make that grocery run that you've been putting off since the weekend before. You find yourself checking every cabinet, and looking in the back of your fridge to see if you can pull together enough ingredients for dinner only to come up empty-handed. No surprise. In fact, the only items in your kitchen are breakfast friendly and aren't traditionally "dinner options".
If you've ever found yourself whipping up fluffy pancakes or frying eggs as a last-ditch effort, you're in good company. 91% of Americans substitute dinner with their favorite breakfast foods (via Marie Claire). The breakfast for dinner possibilities are endless. For starters, if you love eggs, you can choose between a savory omelette, eggs Benedict, or a bacon, egg and cheese bagel. It doesn't hurt that eggs are a great source of protein. Dr. Kurt Hong, an internal medicine specialist at Keck Medicine of USC, told the USC that eggs contain many healthy nutrients. "Eggs are a good source of protein (both whites/yolk). They also contain heart-healthy unsaturated fats and are a great source of important nutrients, such as vitamin B6, B12 and vitamin D," he explained.
The best part about eating breakfast for dinner is that you're not just limited to eggs.
Making breakfast for dinner is inexpensive and lets you get creative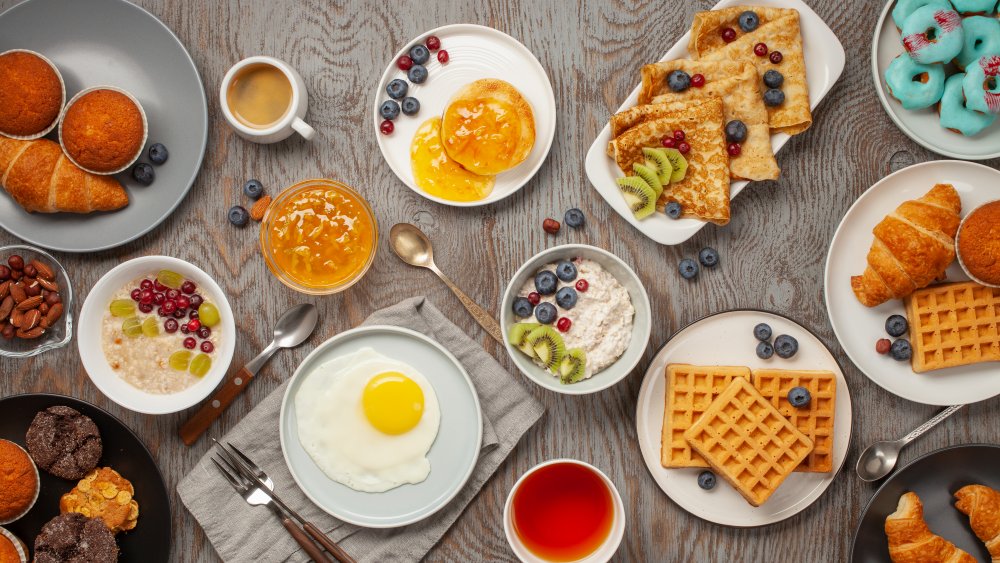 Shutterstock
Eating breakfast for dinner will save you a lot of money in the long run. Typical breakfast foods like eggs, cereal and oatmeal are much cheaper to buy than the cost of eating out or making a heavier dinner such as pasta or meat. Prices will vary depending on your local supermarkets or even corner stores, but it still stands that you'll spend less money (and time) pouring a bowl of your favorite cereal (via Delish). Your wallet will thank you.
Another perk that comes with breakfast for dinner is that it gives you the perfect opportunity to let your creative juices flow. Dr. Nevins, a board-certified family physician, explained to Doctors That Do different ways you can get creative with breakfast for dinner and stay healthy at the same time. "A veggie omelet topped with salsa and avocado offers plenty of nutrients in one dish. Instead of potatoes, serve fruit, or if you want the potatoes, bake instead of fry. Only dish out half a serving," Dr. Nevins explained.
Minor substitutions can make you look like an expert in the kitchen no matter what your comfort levels with cooking are. Whether you have a bit of a sweet teeth and love smoothies or can't get enough of all things bread-related, breakfast for dinner is the movement.