The Truth About Trisha Yearwood's Ex-Husbands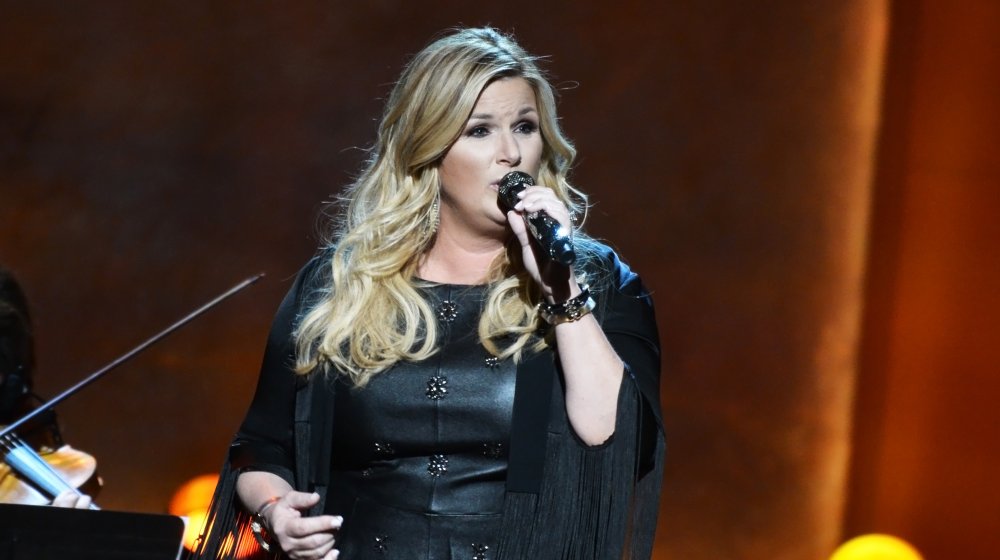 Shannon Finney/Getty Images
Trisha Yearwood and Garth Brooks are country couple goals. Married since 2005 and still going strong, these two musical powerhouses may give us all the feels now, but it was anything but love at first sight (via Wide Open Country). In fact, when these two first met in 1987, it was completely platonic. Before becoming the power couple we know today, Yearwood was married twice before (via Heavy).
Yearwood married long-time music producer Chris Latham in 1987; they later divorced in 1991. During this time, her career went from freshman to full-blown. As her marriage started, Yearwood became as an intern for MTM records as newlyweds. She launched her first hit single the same year they divorced with the chart-topping number one "She's In Love with the Boy." Latham, unlike Yearwood's subsequent beaus, isn't a public figure, so there isn't a large amount of confirmable info regarding the inside workings of this marriage. Like many rising celebrities, however, we can guess that work and fame likely played a part. Neither has ever publicly spoken about the reasons for their divorce (via Heavy).
Yearwood's marriages have always seemed to revolve around the music industry, however, and her next husband was a real maverick.
Trisha Yearwood married Bobby Reynolds in 1994
In 1994 Yearwood married Robert "Bobby" Reynolds, bassist and vocalist for the popular country band the Mavericks. You may know them from hit singles like "All You Ever Do Is Bring Me Down." With Yearwood's powerhouse performances and the Mavericks producing a Grammy award-winning album, these two made headlines as a top country power couple in the nineties. Sadly the two divorced in 1999. For Yearwood, this marked a difficult period, but also a time of self-discovery. "Since I do hang on to the past with my fingernails, divorce was difficult," she admits. "It's a serious decision involving someone you're tied to emotionally, so it's hard to move on" (via Country Daily).
Sadly, while Yearwood has gone on to well-known success and a long-lasting marriage, Reynolds hasn't fared quite as well, battling a debilitating opiate addiction in 2014 that caused him and the Mavericks to part ways (via Rolling Stone). Fortunately, by 2018, Reynolds was back on the road to success, sharing in an Entertainment or Die interview, "I take full responsibility for my failures and that's why I began the recovery process." Still creative, our last update on Reynolds shared that he was running an Etsy shop with partner Michelle, featuring original art and paintings (via Etsy).