The Queen's Wedding Ring Has A Secret That No One Has Uncovered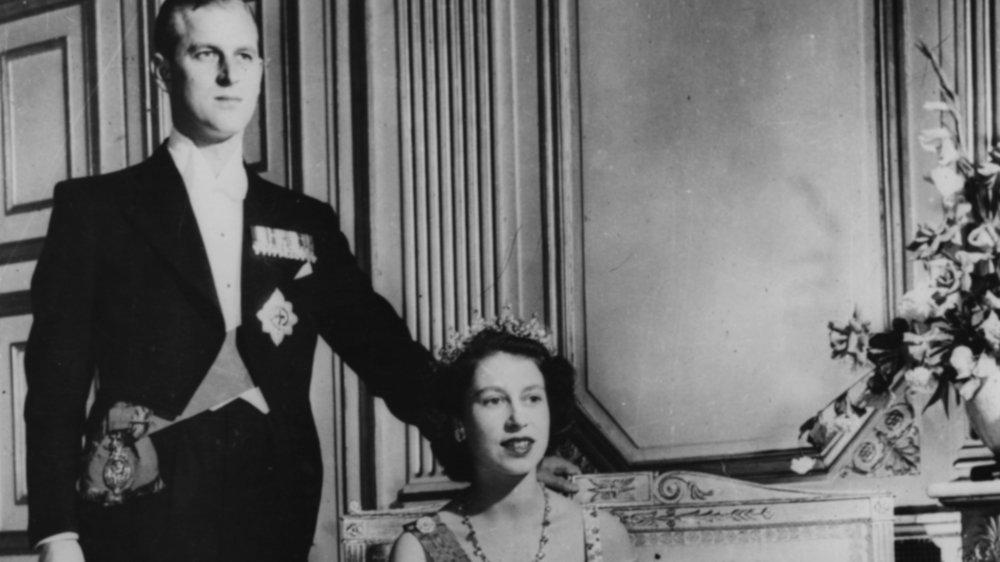 Keystone/Getty Images
Queen Elizabeth II became the longest-reigning monarch in British history in 2015 (via Britannica). With a tremendous life in the public eye, it's not surprising that she may want to keep a few details to herself. One of those secrets has been held close since she married Lieutenant Philip Mountbatten of the Royal Navy, formerly Prince Philip of Greece and Denmark, who would become Duke of Edinburgh shortly before their union in 1947. The secret involves her wedding band, and to this day she has shared this secret with no one but her husband and an honored craftsman. 
"She never takes it off and inside the ring is an inscription. No one knows what it says, other than the engraver, the Queen and her husband," shares biographer Ingrid Seward, author of the new book Prince Philip: A Portrait of the Duke of Edinburgh (via People). Sigh. An intimate secret shared after so many years of marriage, it sounds so sweet and romantic.
While we can't tell you what the Queen's ring says, we can share a little more about this traditional wedding piece.
Welsh gold is a royal wedding tradition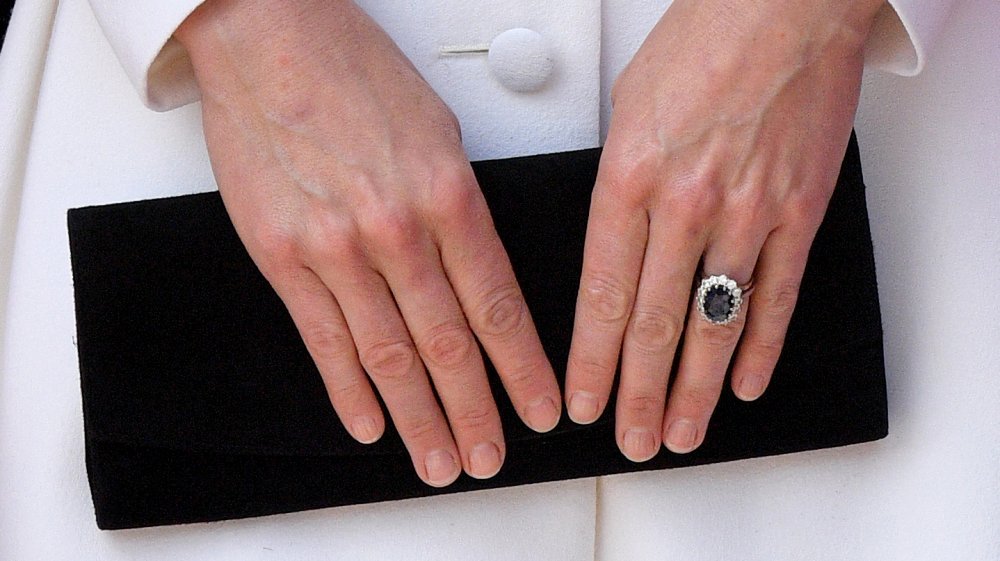 Pool/max Mumby/Getty Images
The Queen's wedding ring is made from Welsh gold. Notes Seward, "At least Philip didn't have the expense of a wedding ring, as the people of Wales supplied a nugget of Welsh gold from which the ring is made." The tradition of using Welsh gold for the bride's wedding band dates back to the Queen Mother in 1923, a practice followed in modern-day by Princess Eugenie, Meghan Markle, and Kate Middleton. You can see Kate's lovely ring pictured here.
Welsh gold is an incredible rarity, explaining why this precious metal is such a prized commodity by the royal family (via CBS). The metal is thought to date back to the Bronze Age, but was only commercially mined from the mid-1800's to the late 1990's. The Queen has a stockpile of this lovely metal, but it is difficult to find in unadulterated form. People can still scrape a few grams by hand panning at the Wales mine-turned-museum (via Luxury Insider). Made from an entire gold nugget, the Queen's ring originated from the Clogau St. David's mine. The metal is described as colored from a range of common yellow to yellow-white in its natural and unblended state.