Why A Billie Eilish Photo Has Her Fans Seeing Red
With five Grammy awards, including the titles of youngest person and first woman to take home Best Album, Record, Song, and Artist of the Year, and an ethereal voice that combines 1920's jazz singer with modern pop star, you'd think teenage savant would be what immediately comes to mind when talking about Billie Eilish, but sadly, it seems, the young songstress' baggy clothes, and what her body looks like underneath her cultural armor is bigger news (via Dazed).
A recently snagged paparazzi photo of Eilish shows the 18-year old musical sensation minding her own business in Los Angeles in a tank top and shorts, her distinctive neon hair pulled back in a messy bun. What shouldn't be a big deal to most, especially considering Southern California's weather, has become fuel for Twitter troll fodder, and fans are rightfully seeing red.
Twitter user @GamesNosh tastelessly reposted the pap snap to his account with the caption, "in 10 months Billie Eilish has developed a mid-30's wine mom body." His classless attempt at humor missed the mark, and the backlash has been justifiably swift. Sadly, it's not the first time that Eilish has faced objectification on social media, and it's also why she so rarely feels comfortable wearing anything other than oversized clothing out in public (via Page Six).
Billie Eilish has been open about her struggles with body image issues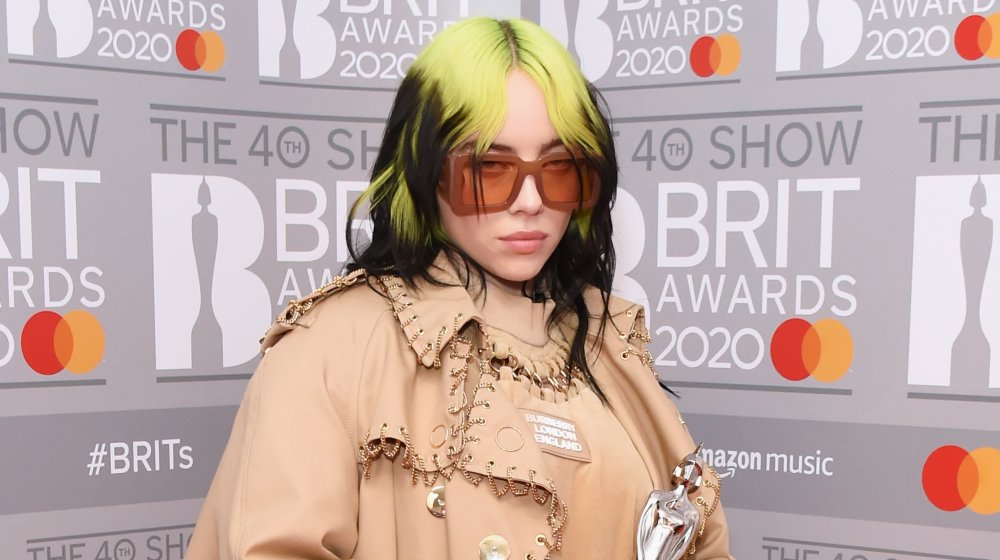 David M. Benett/Getty Images
Last year, Billie Eilish was featured in an ad campaign video for Calvin Klein where she candidly talked about her insecurities stating, "I never want the world to know everything about me. I mean, that's why I wear big baggy clothes. Nobody can have an opinion because they haven't seen what's underneath, you know? Nobody can be like 'oh she's slim-thick, she's not slim-thick, she got a flat ass, she got a fat ass.' Nobody can say any of that because they don't know." The harsh reality is, they shouldn't say any of those things anyway.
Not even a month later a since deleted fan photo of Eilish, who was just 17 at the time, surfaced on Twitter with the caption, "Billie Eilish is THICK." In an empowering move for herself and other young women, Eilish posted a spoken word, short film to YouTube entitled, "Not My Responsibility." In her unmistakable airy voice she revealed, "If I wear what is comfortable, I am not a woman. If I shed the layers, I'm a slut. Though you've never seen my body, you still judge it and judge me for it. Why? We make assumptions about people based on their size. We decide who they are, we decide what they're worth. If I wear more, if I wear less, who decides what that makes me? What that means? Is my value based only on your perception? Or is your opinion of me not my responsibility?"
Billie Eilish has taken to social media to respond to the most recent viral outrage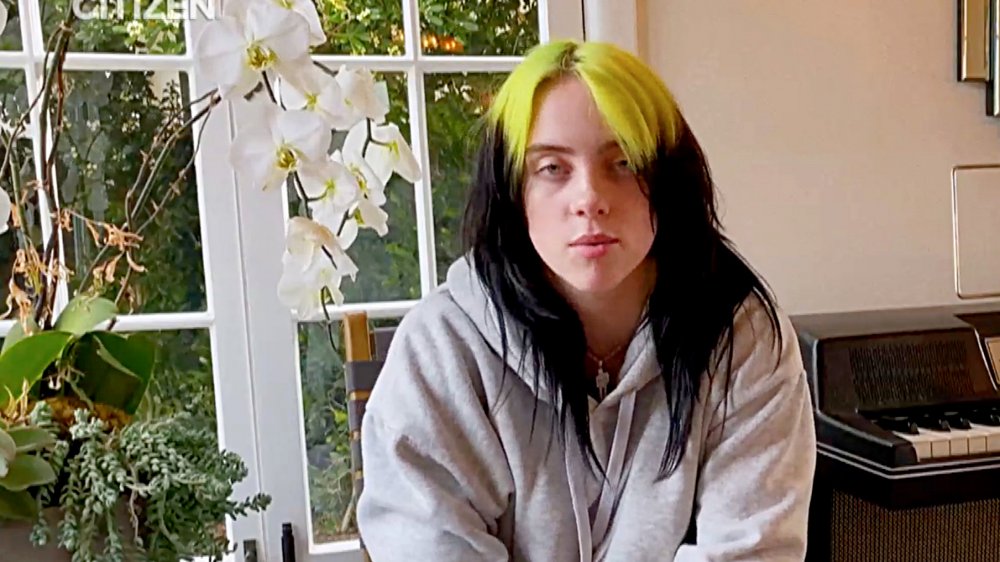 Getty Images/Getty Images
While her fans responded to the latest body shaming incident in droves with everything from simple statements like @BCB_G exclaiming, "body shaming a 18 year old girl must make you feel soooo confident and manly," to @btsmajesties pointing out the obvious, "1) her body is none of your business and it's extremely beautiful no matter what it's shape or size is. 1 again) do you understand how disgusting and creepy it is for a grown man like you to be body shaming a teenage girl?" Eilish herself took to social media to respond to controversy.
The "Everything I Wanted" singer took to Instagram and initially reposted a TikTok video of body positive influencer, Chizi Duru from earlier this week that is simply entitled "Can we normalize normal bodies?" She followed it up with an Instagram photo of herself in a black tank top with the caption, "Do you really wanna go back in time?" A direct reference to her "Not My Responsibility" YouTube film.
Incidents like this make the issues of body shaming, objectification, and the subsequent body image issues that young girls face even more glaringly obvious. As Twitter user @coolAngieWalton, honestly responded to the most recent troll, "If you ever have kids I hope you have a daughter because you WILL remember this" — and truer words were never spoken.