Alicia Keys' Bangs At The Billboard Awards Are Turning Heads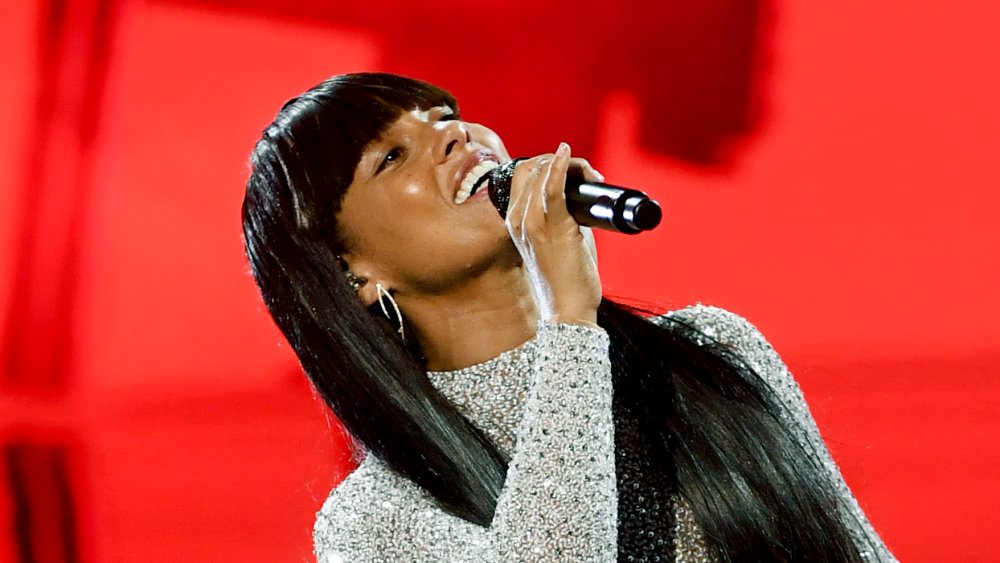 Kevin Winter/bbma2020/Getty Images
We all know Alicia Keys for her amazing voice, but there's something else that makes her stand out with fashionistas: The statements she makes with her 'dos. HuffPost calls her a "hair chameleon," and she's been known to sport everything from her signature braids, to an amazing Afro; she's rocked finger waves, barrel curls... and she's stepped out in public with her hair done straight and chic.
Keys was all about her braids when she hosted the Grammys earlier this year — and back then her stylist told Vogue, "I wanted to celebrate authentic 'Alicia,'" Nai'vasha says. "She's iconic for braids. However, I wanted to create a fresh approach and modern twist to her custom '90s-inspired Versace wardrobe."
For this year's Billboard Music Awards, Alicia Keys performed "Love Looks Better" dressed up in a sparkling body suit — and bangs. We can't say we didn't get any warning, because she took to Twitter to post a photo of her look for the evening with the caption: "New side of Alicia to introduce you to. Nice to meet you. I'm ready 4 tonight at the @BBMAs" 
Social media didn't fall in love with Alicia Key's new 'do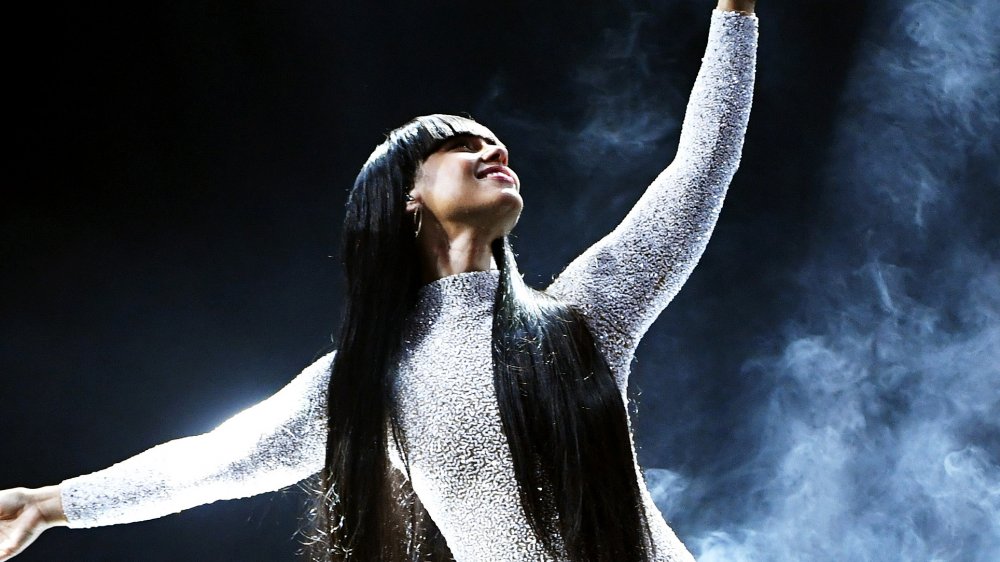 Kevin Winter/bbma2020/Getty Images
The Twitterverse was divided on the new look, with one user praising her choice, saying: "Alicia Keys said "no makeup, yes bangs!" #BillboardMusicAwards" But most of the social media didn't seem taken with the look. One fan tweeted: "Someone said Alicia Keys got the Dora the explorer bangs. Another said: "I'm mad at whoever cut Alicia Keys bang." A third tweeted: "Alicia Keys dancing with bangs and not in front of a piano just feels wrong." A fourth fan even referenced Jane Lynch's Glee character in a tweet saying: "Now why does Alicia Keys look like Sue Sylvester when she sang Super Bass?🥴 #BBMAs #DemiOnBBMAs"
And while no one is certain who was behind the new look, We Love Aloe Vera seems to think that Keys' go-to stylist, Nai'vasha Johnson, would have had something to do with it, and there is some certainty that hair extensions were used to give Keys' hair extra length. If you can get over the bangs, you might notice something else about the look, and that's the fact that she's not wearing any makeup at all. With talent like hers, though, she can wear her hair any way she pleases.