Demi Lovato's Billboards Message To Trump Is Causing Quite A Stir
Kevin Mazur/bbma2020/Getty Images
Awards shows have long been a platform for artists to show their political colours, but no one seems to have done it the way singer Demi Lovato did with the debut of her new song, "Commander in Chief," which she performed at the audience-free, socially-distanced, sometimes awkward 2020 Billboard Music Awards. The song is Lovato's message to President Donald Trump and is a response to his administration's handling of the different problems that are plaguing the country. 
Before the song made its debut, Lovato told CNN, "There's been so many times that I've wanted to write the President a letter or sit down with him and ask him these questions. And then I thought, I don't really actually want to do that and I thought one way that I could do that is writing a song and releasing it for the whole world to hear and then he has to answer those questions to everyone and not just me."
Lovato, who co-wrote the song, featured a teaser on Twitter before the BBMA performance. The clip was captioned, "Won't give up, stand our ground... We'll be in the streets while you're #CommanderInChief. Video dropping tomorrow.
The song seems to be a shoutout to President Donald Trump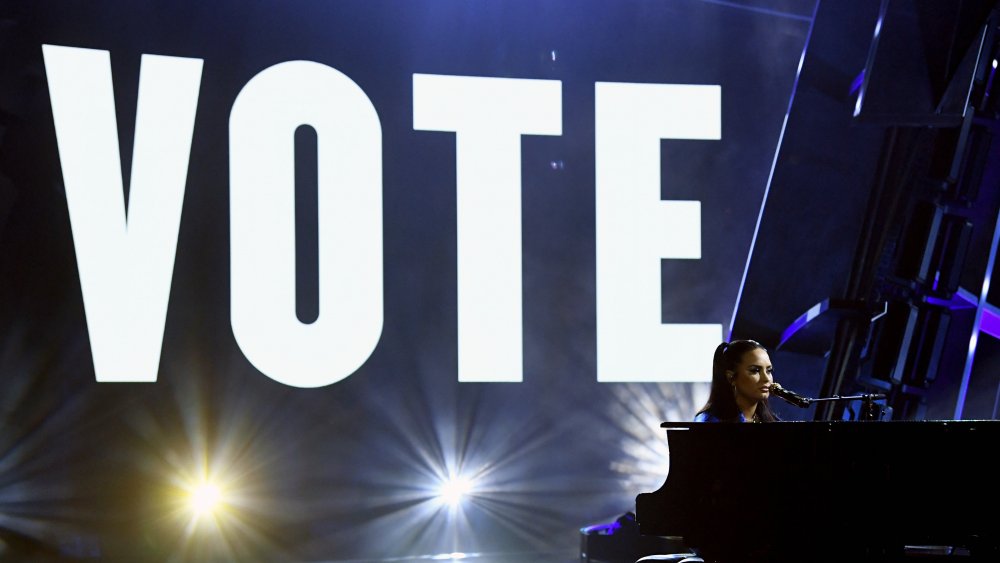 Kevin Winter/bbma2020/Getty Images
Demi Lovato says the song isn't directed at any one party, though fans clearly took it differently. "We have to turn up and vote because it's so important that our voices are heard. And, honestly, for me, whether you are a Republican or Democrat, just get out and vote," she told CNN. But with lyrics like, "Do you even know the truth/We're in a state of crisis/People are dying/While you line your pockets deep/Commander in Chief/How does it feel/To still be able to breathe? it's hard to dispute the song's meaning.
Fans applauded Lovato's powerful performance as the highlight of the awards evening — host Billboard Music Awards was (virtually) on its feet, saying, "Now THAT'S how you do a world premiere performance! A powerful moment from @ddlovato of her new song "Commander in Chief." #BBMAs." The performance also proved to be one of the most popular of the evening, with one fan saying simply, "SHE DID THAT !!!" Another fan tweeted, "DEMI LOVATO IS THE GOAT!! Stream #CommanderInChief". A third tweeted: "Demi Lovato BEEN delivering all this year, from an empowering song like "Anyone" to a self love anthem like "Still Have Me" and now a song like "Commander In Chief"? She deserves all the love and recognition."
One fan took the opportunity to both praise Lovato for her powerful performance and to throw some shade at the awards show organizers by tweeting: "oh yes pls is the only reason why i'm not sleeping rn."