The Strict Rules Royals Must Follow When Wearing Tiaras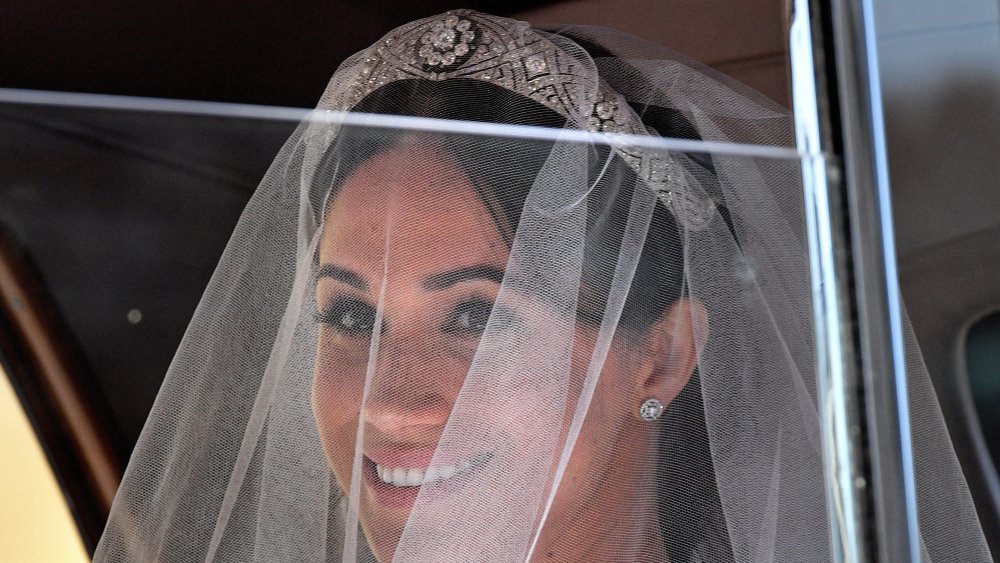 Pool/max Mumby/Getty Images
Just about every little girl (and boy!) has worn a toy tiara at some point when they're in a regal mood. But the British royal family is lucky enough to have access to the real thing, so a special occasion will often find Queen Elizabeth II and other royal women wearing a gorgeous band of diamonds and other precious gems atop their royal 'dos (via Harper's Bazaar and Vogue UK). Still, it's not like the Duchess of Cambridge can just toss on a tiara when she's playing with the children or volunteering at a hospital. Like most matters in the royal family, there are long-established rules for wearing tiaras that not even a less traditional member like Meghan Markle would dare flout.
On the top of the list is the rule that a tiara may only be worn for the first time on one's wedding day (per Grazia). As London jewelry expert Geoffrey Munn told Town & Country, "Ancient tradition has it that [women] must be a bride or already married" before they can don the headpiece. The exception, according to etiquette expert Grant Harrold (per Insider): Princesses born into the family can wear tiaras as single women, though they rarely do. Since they weren't royal-born, Kate Middleton and Meghan Markle had to wait until their big days to enjoy the honor.
No tiaras at breakfast, please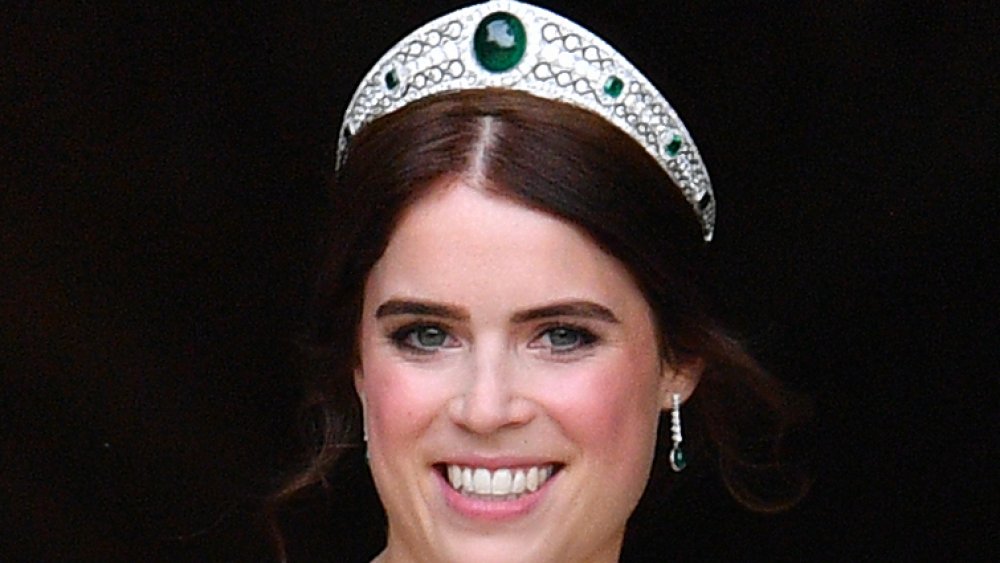 Pool/max Mumby/Getty Images
Other restrictions regarding tiara-wearing include not sporting them before 6 PM (per Marie Claire), since tiaras are considered the black tie of headgear. (Morning weddings, obv, are an exception.) There's no rule about not wearing the same tiara more than once; Kate Middleton has worn the Lover's Knot Tiara on a number of occasions (per Us Weekly), and the Lotus Flower Tiara twice (don't you love these names?) However, you won't see Meghan Markle sporting the Lover's Knot anytime soon; as the Australian edition of Harper's Bazaar reports, once a royal receives a tiara, it stays with her for her lifetime. The Queen hand-selects the headgear (or offers a choice of several) for each bride, most recently the stunning Greville Emerald Koskoshnik tiara (seen here) to her granddaughter Princess Eugenie (via TODAY). 
As for the jewels themselves, there are no regulations on what types of sparklers a royal can wear. As the Christie's auction house explains, traditional gemstones such as rubies and sapphires were popular in the late 19th century, but more recent designs have featured less expensive, yet still stunning, stones. But diamonds are still a girl's best friend, and the tiaras sported by the royals have plenty of this traditional bling.