The Truth About Cristina Cuomo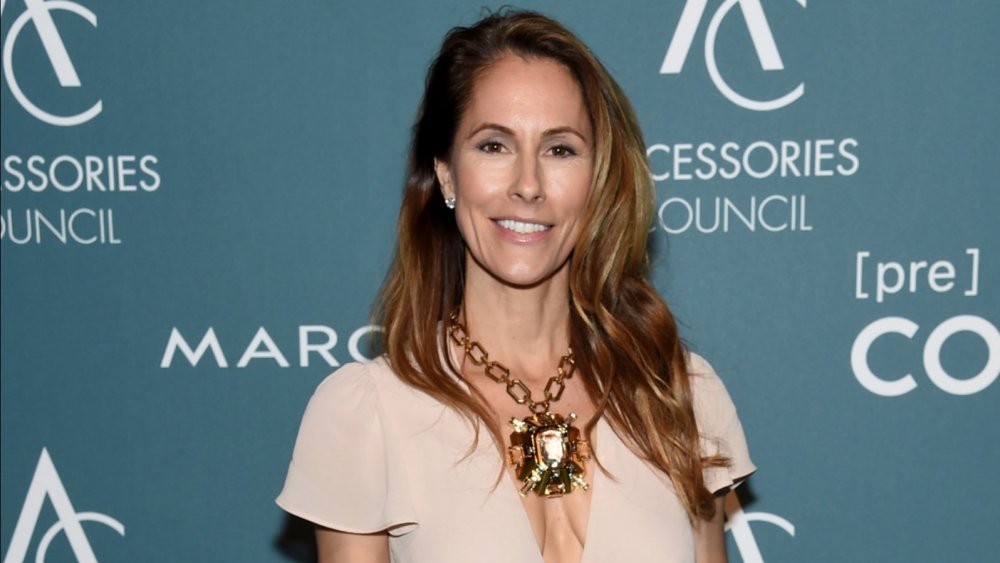 Cristina Cuomo, the wife of CNN host Chris Cuomo and sister-in-law to New York Governor Andrew Cuomo, made headlines in April when she blogged about taking a bleach bath as a form of treatment for the coronavirus (per Elle). Cristina was diagnosed with COVID-19 in April, two weeks after her husband's positive diagnosis and roughly a week before her middle child's diagnosis, according to NBC. She documented her experience with the virus, including numerous alternative treatments and that infamous bleach bath, on her website, Purist.
The website is the digital accompaniment to the wellness-focused print magazine Purist, which Cristina founded in 2017. According to Elle, Purist caters to a wealthy, elite crowd with an interest in alternative medicine and holistic living. The timing of Cristina's post about her bleach bath treatment happened to coincide with Donald Trump's speculation about whether injecting disinfectants could cure coronavirus, and Cuomo told Elle, "The media was just like, 'Oh, this bleach bath thing is going gangbusters! Chris Cuomo's wife is recommending it.'" She added that she thought the hype was due in part to "politically motivated journalists" and click-bait. Although this controversial incident may be what many know Cristina Cuomo for today, there is more to this high-profile wife and mother's story.
Cristina Cuomo has a journalism background
Before she entered the zeitgeist as a wellness maven, Cristina Cuomo built a career working for several New York magazines. According to Oprah Magazine, Cristina Cuomo (formerly Cristina Greeven) worked for Gotham and Hamptons magazines and served as editor-in-chief for Manhattan and Beach magazines. While working for Manhattan magazine, Cristina awarded her then-boyfriend, Chris Cuomo, a spot on the Top 100 Most Eligible Bachelors list. On November 24, 2001, when Cristina was 31, she put an end to Chris' bachelor status by marrying him in a ceremony at the Sacred Hearts of Jesus and Mary Catholic Church on Long Island (via The New York Daily News).
Cristina was reportedly more than half an hour late for the ceremony but eventually arrived, clad in an Oscar de la Renta gown. Her groom's job on the ABC show 20/20 helped lend some star power to the affair; Diane Sawyer was in attendance as well as The View's Lisa Ling, and actress Lori Singer. According to Oprah Magazine, Cristina and Chris now have three children: daughter Bella, 17, son Mario, 14, and daughter Carolina, 11, whom they call "Cha Cha." 12 years into her life as a wife and mother, Cristina received a health diagnosis that influenced her unconventional approach to coronavirus this year.
Cristina Cuomo was diagnosed with chronic Lyme disease
Cristina Cuomo told Elle that at age 43, she began experiencing daily fatigue, which led her on an exploratory wellness mission. She was eventually diagnosed with chronic Lyme disease, likely a result of childhood tick bites. This year, when she was diagnosed with COVID-19, she began pursuing unorthodox treatments similar to those she underwent for Lyme disease. Speaking about the bleach bath and other regimens, she wrote on her site, "If you think these are far-fetched treatments, think again. I went through tons of antibiotics for Lyme Disease this past year, which did not help eradicate the Lyme. I decided to take a natural course... only then did I get better. We decided to apply that information to this virus because currently, there is no proven remedy for it." 
According to USA Today, medical experts disagree with Cuomo's approach. One expert commented on the bleach bath saying the chemical is abrasive to skin and adding that since the bleach does not have a path through the skin to the virus, it's an ineffective means of treatment. Criticism aside, Cuomo, her husband, and her son did recover from the coronavirus. Judging by the self-proclaimed wellness worshiper's Instagram, which now features guided meditations and tips from various wellness experts, Cristina seems entirely undeterred by the whole experience.