The Biggest Mistakes You're Making With Your Graying Hair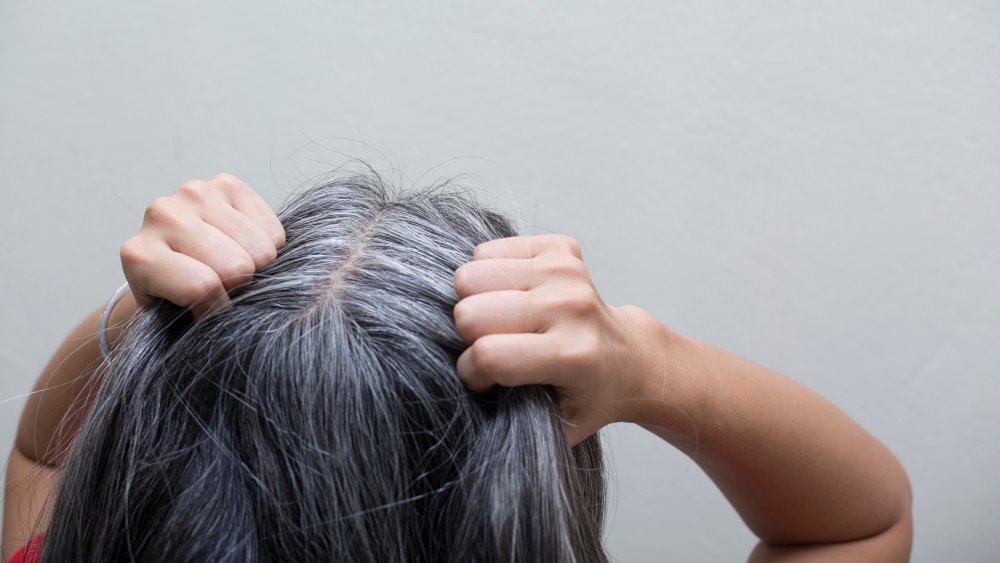 Shutterstock
Going gray should be just about the most low-maintenance hair decision you make. Rather than trying to retain the color you had in your youth or figuring out for yourself whether blondes really do have more fun, you simply allow your hair strands, one by one, to lose their pigmentation. After years of fussing over your looks, it can feel liberating to just let nature run its course, as many silver foxes have claimed. "I was done, D O N E. I didn't want to do it any more. I'm over fifty. I know it. You know it and everyone that sees me knows it. I'm embracing it. This is what fifty looks like," wrote a former hair dye regular in Making Midlife Matter.
The problem is that going gray does not equal zero upkeep. In fact, you can run into issues if you don't adapt the hair products you use when your hair color changes because gray hair is more prone to dryness and wiriness than brown, red, and blonde shades (via Healthy Wife). This means you need to swap out your paddle brush for a boar bristle brush when you use a blow dryer, and hair oils are a must. Plus, since your hair is more fragile than it was, you need to start pampering it. That means sleeping on a silk pillowcase and using a microfiber towel instead of a regular terry cloth towel when you dry it.
Water can turn your gray hair an unflattering shade of yellow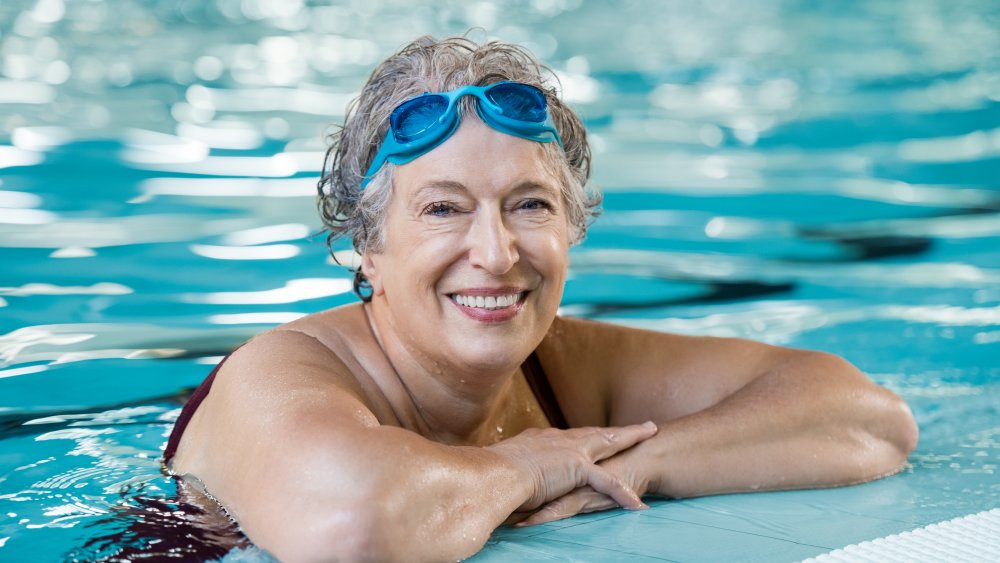 Shutterstock
Since there's less pigmentation in your hair, it's more likely to become discolored by the water. So, you'll need to add a water filter to your shower head because "hard water and minerals can make gray hair look dingy or brassy," according to Amelia Trammell, a colorist at the Bumble and Bumble Downtown Salon in New York (via Prevention). 
Other color experts noted that chlorine — which can exist in the tap water you use in the shower, as well as in swimming pools — can give your hair a greenish tinge. And just to be clear, the yellowing of gray hair from unfiltered water won't result in a flattering blonde color, and the green from chlorine won't have a "punk grandma" vibe — it will just look off-color. 
If this has happened to you, an easy fix may be using a shampoo designed for gray hair. "I love having clients with gray hair use a purple shampoo," a colorist at the salon David Mallet told Town & Country. "It helps cancel out any yellow tones keeping your grays on the cool/white side."