Nutritionist Exposes Everything Kate Hudson Eats In A Day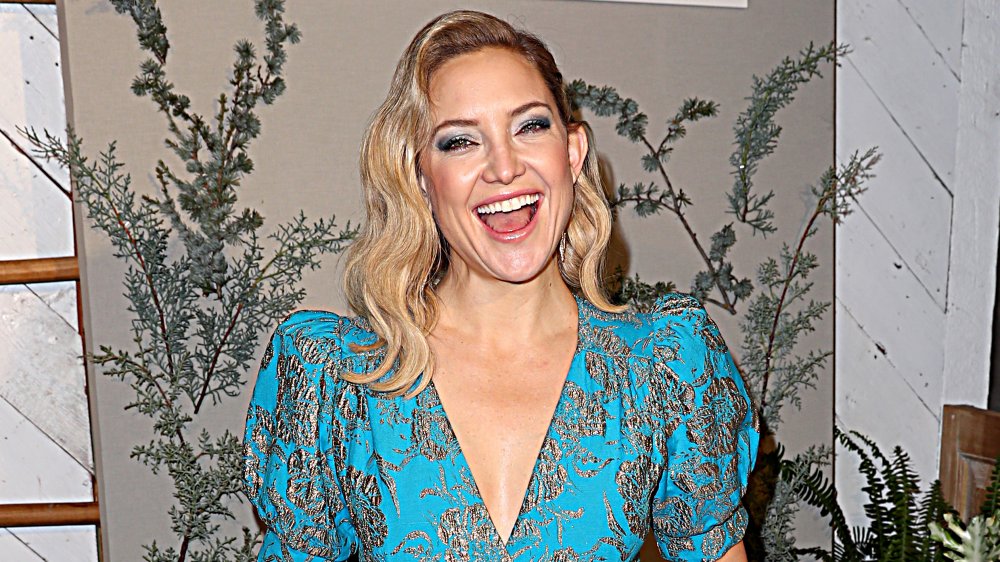 Joe Scarnici/Getty Images
One look at Kate Hudson, actress, entrepreneur, author, and mom of three kids, and it's clear she is fueling her looks (and boundless energy) from the inside out. From breakfast through dinner — with room for a few snacks and indulgences along the way — Hudson has a wholesome, well-balanced diet (via E Online).
Although meals and snacks vary, Hudson likes to enjoy a plant-based diet two to three days per week, because she's felt the best (and had the best skin) while adhering to a vegan regime (via Self). And pH is on her mind, too, so Hudson strives to maintain an alkaline diet, which emphasizes whole, plant-based foods and lean protein, and shuns dairy, gluten, caffeine, refined sugar, and most meat (via Eating Well).
Hudson shared more about what she eats daily with Harper's Bazaar (via YouTube). Her morning ritual starts with a glass of celery juice. Full of nutrients, the low-cal drink is likely to help her keep things moving (via Live Science). Later in the morning, Hudson often sits down to one of two breakfast options. The first is a nutrient-dense meal of two soft-boiled eggs, chunk of sourdough bread with butter, and fresh avocado with olive oil and sea salt. This eye-opener delivers the ideal balance of protein, carbs, and healthy fats (via Healthline). On non-egg days, she opts for a warm bowl of oatmeal with almond butter, bananas, blueberries, maple syrup, cinnamon, a few chia seeds, and walnuts.
Kate Hudson eats healthy — with a few indulgences
After a nutritious start to the day, lunch is no different for Hudson. When dining out, she adores the Original Chopped Salad from La Scala, with some slight modifications. Hudson keeps the cucumbers and basil, but ditches the mozzarella and tomatoes in favor of extra salami and house-made Leon dressing. When home, Hudson whips up a protein smoothie – always chocolate — and made with a base of bananas and almond butter. And for snacks, Hudson's first choice is chips and salsa. But if her jeans feel snug, she backs off for a while. Another go-to when snack attacks strike: Simple Mill's Farmhouse Cheddar Almond Flour Crackers, what Hudson dubs "a healthy Cheez-It."
Dinner time is family time, and one favorite is "nutmeg chicken," a vibrant dish boasting shallots, lemon, fresh herbs, and a savory nutmeg gravy. On pasta night, Hudson often prepares "sweet corn pasta," a hearty bowl of comfort featuring pancetta, peas, corn, white wine, butter, olive oil, and cream. Clearly not diet food, but Hudson leaves room for indulgences. When mom Goldie Hawn is doing the cooking, they enjoy matzo ball soup, chicken and dumplings, and biscuits and gravy.
When late-night snacking compels, Hudson reaches for ice cream; a non-dairy, frozen concoction made with oat milk. And, more than likely, it'll be mint chip or caramel-like dulce de leche.
A pretty good — and healthy — day all around.
Robin Miller is a nutritionist, chef, and food writer.