The Truth About Kelsea Ballerini And Halsey's Friendship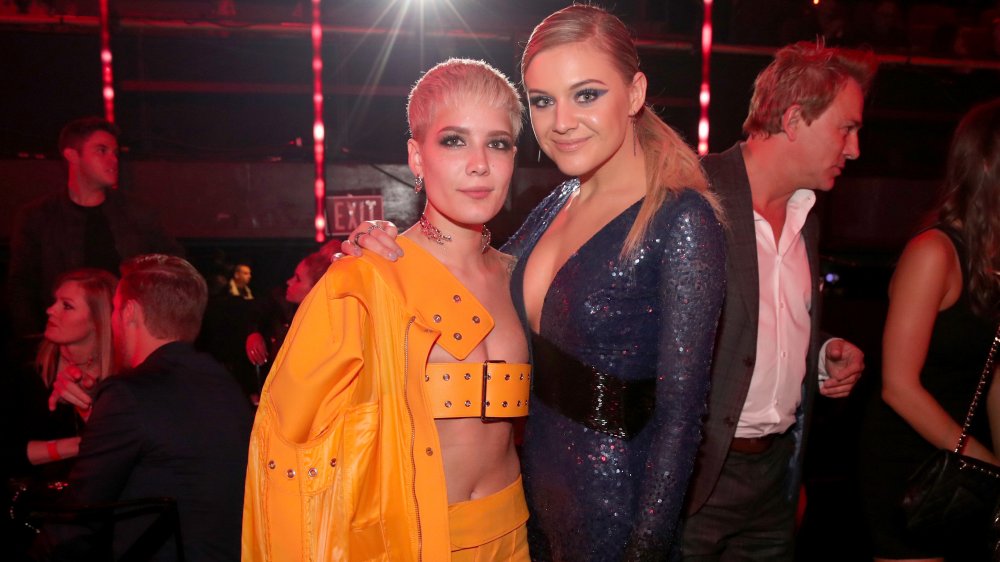 Christopher Polk/Getty Images
It's not unheard of for pop musicians and country stars to collaborate on music together, but in the case of Kelsea Ballerini and Halsey, the unlikely duo featured on Ballerini's new hit "The Other Girl," they're more friends than colleagues. In an interview with Billboard, the 26-year-old country star revealed, "I've never had a collaboration on an album before. I only wanted one if it was someone that I was real-life friends with, because you end up spending so much time with them, with the music video and the performances and the press and all that. I was like, 'I just want to do it with someone that I enjoy spending time with'" (via Tulsa World).
Although the women had met a few times in the past, it wasn't until Ballerini attended a 2018 Halsey concert in Nashville that the famous singers bonded. A night out on the town drinking too many beers and visiting all the best honky tonk bars in Music City resulted in a fast friendship that has grown over the years, and will now gift us with, what is bound to be, an epic live performance at the CMT Awards on Wednesday night (via People and Pop Culture).
Kelsea Ballerini and Halsey's friendship was born at a karaoke bar
Kelsea Ballerini had always been a fan of Halsey's music, so when the pop star had a show in Nashville in the summer of 2018, she didn't hesitate to grab her friends and go. Hearing that Ballerini was in the audience, Halsey invited her backstage after the show and the two ended up hitting the town afterwards. In a joint interview with CMT, that offered the perfect glimpse into their fun friendship, the two hilariously disagreed about the chain of events that lead up to their night out.
Ballerini tells the story as Halsey invited her to "hang," after the show, whereas Halsey jokingly recalled, "Kelsea was like, 'you're coming out with me, tonight, in Nashville!' And I was like, 'I'm tired, I'm tired.' And she was like, 'you have to come out!' That's what happened!" Followed up with Ballerini announcing, "You're so glad," and Halsey agreeing, "I am so glad!"
The singers ended up at the famous Nashville karaoke dive bar, Santa's Pub, and the entire night was documented on social media. "We karaoke'd kid rock & dixie chicks til 3am on a Wednesday and it was glorious," captioned Ballerini in an Instagram post from that evening.
When asked about their friendship, Ballerini told People, "We're both really similar in age and had a lot to talk about; it was cool to be around someone who's so creative and so driven and so down-to-earth. She really is so lovely."