The Dolly Parton Song That Made Stephen Colbert Cry On Live TV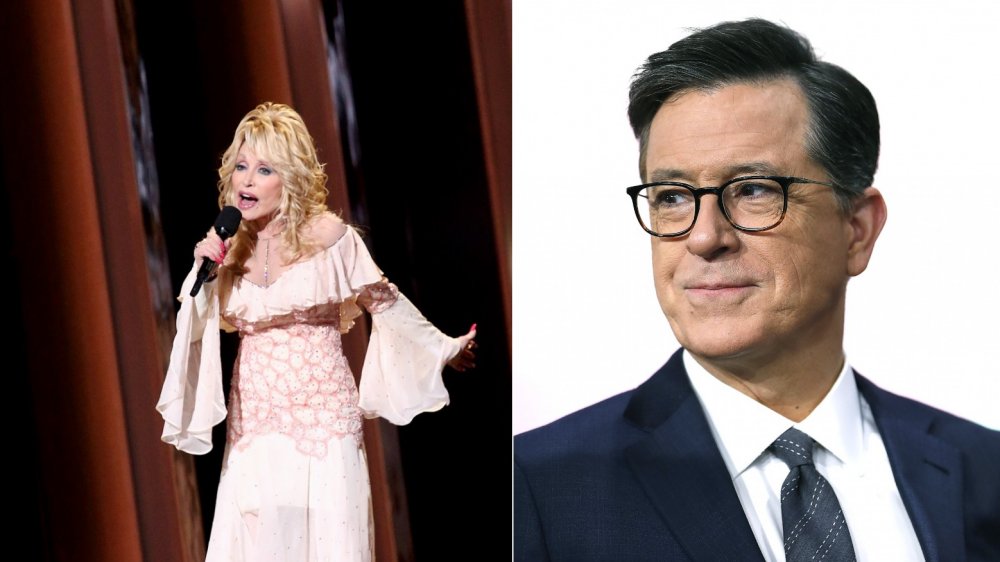 Terry Wyatt, John Lamparski/Getty Images
It's hard enough to imagine having a friendly chat with a musical icon like Dolly Parton — talk about being star-struck. But just imagine how emotional and consuming it would be to have that level of musical genius serenade you with an impromptu performance? It would be hard to hold back tears. That's exactly what happened to Stephen Colbert last night during a virtual interview with the superstar songstress on The Late Show (via Rolling Stone).
Intended as a promotional appearance for Parton's new coffee table book, Songteller: My Life in Lyrics, it's obvious Colbert had no idea that simply bringing up the folk songs Parton's mother used to sing to her when she was a little girl would inspire her to break into song, nevermind subsequently cause such an emotional reaction in the comedic host (via Spin). Trying to smile through the tears, even Colbert had to readdress his tender response on Twitter with a clip from the show and the caption, "@DollyParton sings "Bury Me Beneath The Willow" and I think somebody is cutting onions."
Stephen Colbert's response to Dolly Parton's singing reflects how we all feel right now
Stephen Colbert had no idea that innocently asking how Dolly Parton's mother, Avie Lee, inspired the 74-year-old's love of music and songwriting would result in a mini-acapella concert. But Parton, in describing those old folk songs that, "Mamma used to sing ... brought over from the Old World," decided that the best way to showcase how sad and "plum pitiful" some of those old songs really were was to sing a few verses of "Bury Me Beneath the Willow" (via YouTube). 
Dating back to the late 1800s and popularized in the 1920s, the song tells the sad tale of a jilted young woman who is abandoned right before her wedding. Before ending her own life, she asks her friend to bury her under the weeping willows so that maybe when her former lover finds out she has died, the tree will make him think of her (via Bluegrass Messengers).
After only a few bars, Colbert begins tearing up and uncomfortably laughing through those tears in an effort to get his emotions under control. In re-watching the clip you can see him looking off-camera and mouthing that he has "goosebumps." As he wipes his eyes with tissues, Parton continues singing until she jokingly announces, "I better hush before you cry yourself to death and we can't finish the show!" Colbert candidly exclaimed, "Like a lot of Americans, I'm under a lot of stress right now, Dolly!" He went on to say, "You got under my tripwire right there. That was pretty beautiful," (via People).