Here's Why Everyone Is Talking About Mitch McConnell's Hands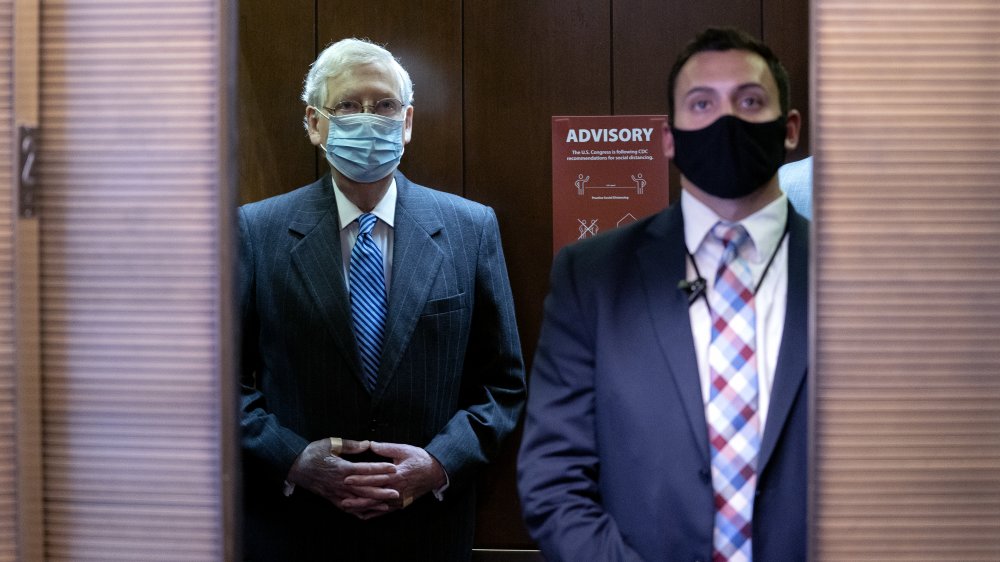 Stefani Reynolds/Getty Images
U.S. Senate Majority Leader Mitch McConnell is running for a sixth term in Kentucky, making it one of the most-watched races in the November elections. The Washington Post says McConnell has served as President Donald Trump's virtual prime minister during his first term, and expects to continue on in that role if Trump gets a second mandate in November. 
Social media isn't focused on McConnell's reelection chances at the moment, though — they're more interested in his hands, which appear to be dark and discolored by bruises, and marked by Band-Aids on both sides. As with the way things go on Twitter, and the internet as a whole, "Mitch McConnell's hands" is now trending, along with close-up photos which at first appear to be doctored, but with a second glance and a search, we can say are actually legit. 
The first alarm was raised by one Twitter user who picked up a photo from the Associated Press with the caption: "Uhhhhh look at this picture of Mitch McConnell's hands that @lizzyratner found on AP." The news agency caption confirmed that the photo had been taken on October 20.
A discoloration is apparent around Mitch McConnell's mouth, too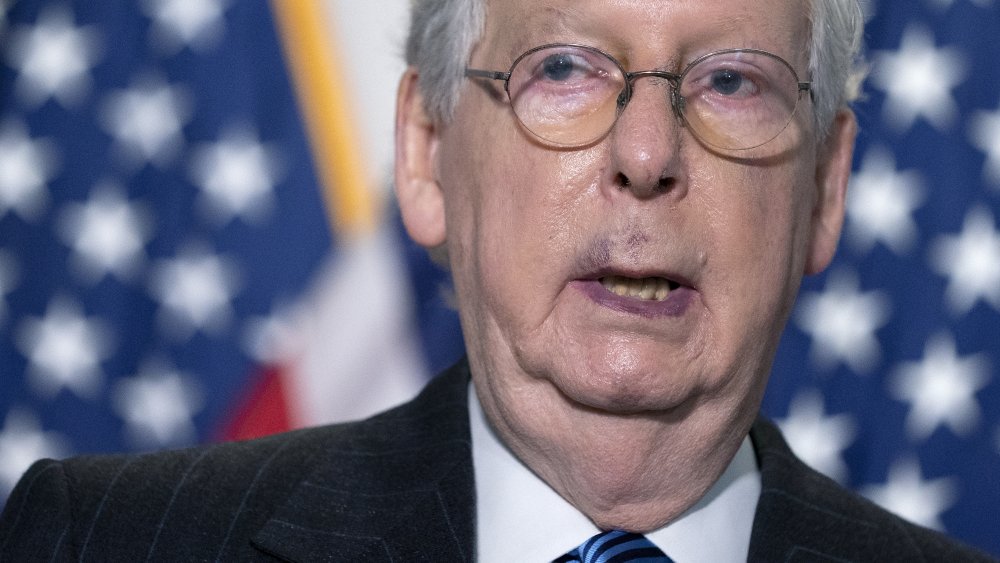 Stefani Reynolds/Getty Images
Other Twitter users have pointed out that the discoloration is visible around McConnell's mouth, too, which set off more speculation. One user said: "He's on heavy blood thinners, which cause that discoloration and bruising. So his doctors think he's at risk of stroke, since that's what they're prescribed to prevent. My mom was on those, and showed the same." Another took a flying leap and said: "Possibly COVID rash. COVID is a weird disease. Even if you don't exhibit the common symptoms (cough fever etc) you can exhibit others. I had a rash from March to about August. Still flares up every so often." 
A healthcare worker offered up this educated guess: "As a nurse, I would say he's on an anticoagulant (?for a-fib) and he fell forward hitting his face causing bruising around his lips and his glasses bruising the left side of the bridge of his nose. Then in the ER the IV's caused hand bruising." And there were those who let their imaginations go, saying: "Omg. This is scary. It's like he's being consumed by his own evil."
To be fair, it was pointed out that the speculation on McConnell shouldn't be too surprising, as one person tweeted: "Mitch McConnell needs to tell Kentucky what's up with his health." The Tweeter continued: "The press was obsessed about Speaker Pelosi's haircut & Hillary Clinton having pneumonia. Mitch McConnell has an obvious health condition and not one question and no reporting? Why?"