The Real Reason Ashley McBryde's Band Had Duct Tape On Their Masks At The CMT Awards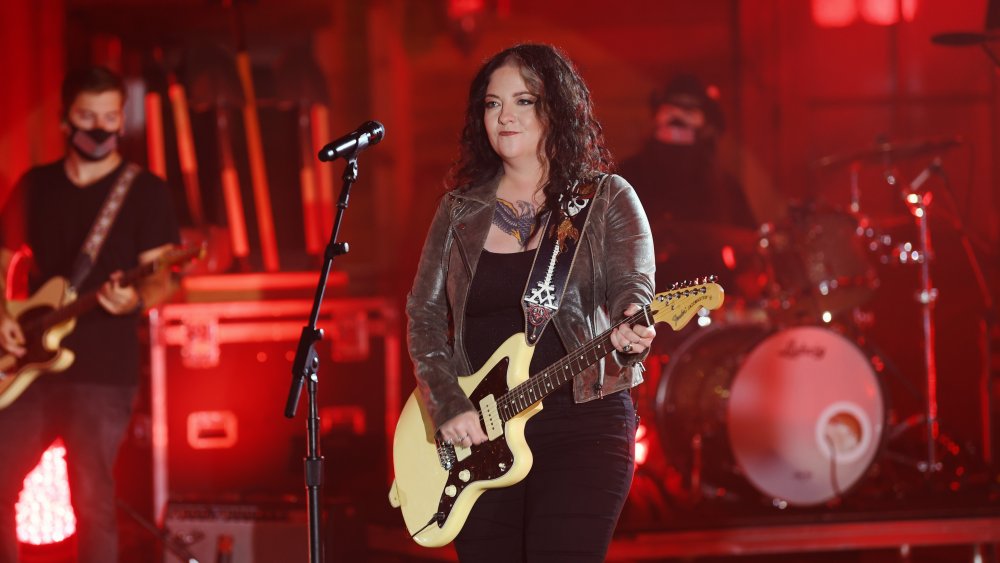 Jason Kempin/cmt2020/Getty Images
Ashley McBryde is no doubt having a moment this year, and tonight's CMT Awards were no exception. In between her hosting duties, the Video of the Year, Female Video of the Year, and CMT Performance of the Year nominee gave a stirring performance of her hit "Martha Divine." The song is the single from McBryde's latest album, Never Will, and she described it to American Songwriter as "a southern gothic tale" based on a young woman seeking revenge on her father's mistress.
It seems McBryde's Martha Divine character was loosely based on real life. When it came time to shoot the video, she reportedly told director Reid Long, "Martha's gotta be a redhead. All I can tell you is one of my dad's girlfriends was a redhead, and I want to see her fall down a flight of stairs." So, McBryde obviously had a pretty specific vision for this song and, given her band's interesting choice in mask-wear tonight, and it's clear her intentions carried over into the performance.
Ashley McBryde's band wore masks that fit the theme
McBryde's CMT Awards performance took place at The Barn at Sycamore Farms in Arrington, Tennessee (per Billboard), and that eerie-looking location really set the tone for such a haunting song. As her band carried out the rhythmic intro to the song, a leather-clad McBryde approached the mic and launched into the lyrics: I've got this feeling / And I got this shovel / Between me and you and it / You're in a little trouble.
The pulsing red lights left the stage in near darkness, but they were still enough to illuminate rows of shovels sitting atop guitar amps and the bands' interestingly-embellished face masks. Each band member sported a plain black mask with thick strips of silver duct tape stretched across the front. Fans will surely recognize this fashion statement as a nod to the song's vengeful storyline and will no doubt appreciate how it tied in the with the video. In the "Martha Divine" video, McBryde left nothing to chance when it came to the titular character's punishment and made good use of a roll of duct tape (via YouTube). We have to say, we appreciate the drama of it all. That performance and those masks were utterly unforgettable. Some Martha's out there may be sleeping with one eye open tonight.