The Truth About Joe Biden's Brothers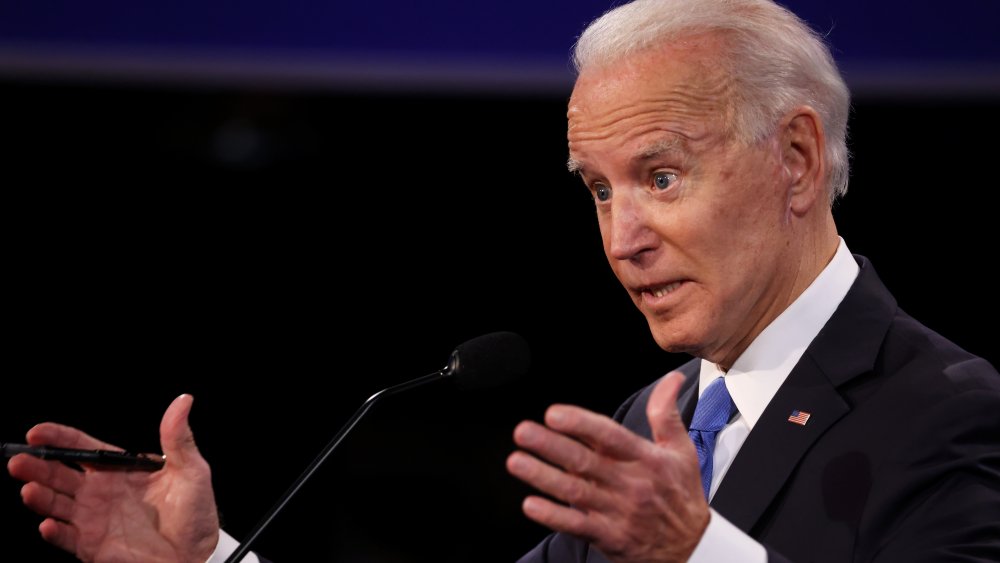 Justin Sullivan/Getty Images
At the third presidential debate, former Vice President Joe Biden was quick to bring up his Scranton, PA roots. From the beginning of Biden's career, he was helped along by his family members (via New York Times). During his 1972 Senate campaign, his brother James took charge of fundraising, and his brother Frank organized volunteers. Though neither brother would remain very involved in Joe Biden's political career, their names would still continue to make headlines.
While Joe Biden went into politics, his brother James dove into the business world, becoming what friends called a "serial entrepreneur" (via Politico). Despite their different career tracks, James appears to have enjoyed the access his successful brother allowed him; over the years, he joined Joe Biden on congressional trips to Ireland, Rome and Africa (via NY Post). After Joe Biden became Vice President, James Biden was a guest at several important state dinners, including a 2015 visit from Pope Francis.
However, James' career has been studded with controversy. After he became the executive vice president at construction consulting firm HillStone International in 2010, the company landed a deal to build homes in Iraq, which critics suggested might have been helped along by Biden's last name. Regardless, it seems James has enjoyed a level of success; in 2012, he had an estimated net worth of $7 million (via Fox News).
Frank Biden and Joe Biden have a close bond
11 years younger than his big brother, former Vice President Joe Biden, Frank Biden has always looked up to and admired his brother. Although they were more than a decade in age apart, the boys shared a natural athletic ability and affinity for sports, they even shared the same childhood stutter!
Raised to always support each other, the youngest Biden was barely out of high school before he was helping his brother campaign and eventually get elected as the youngest Senator in history. With that notable experience under his belt, Frank Biden turned his attention to philanthropic endeavors specifically in education (via The Daily Mail). Before turning his attention to starting and growing charter schools in Florida, Biden worked with Hand in Hand Ministries in Central America, a non-profit organization that provides educational services to the disadvantaged (via ABC).
However, controversy is no stranger to Frank Biden. Though he's been accused of using his brother's fame to further his own career, it's obvious that the brothers trust and care deeply for each other. It can't be easy to live in the shadow of a man on the cusp of becoming the President of the United States, but Frank Biden along with the rest of his family, are always supportive and active in Joe Biden's career (via New York Times). In an interview with the Charter School Alliance of Florida Frank Biden unabashedly stated, "Joe is my hero. My older brother is the best man I know."