The Real Reason Jared And Ivanka Are Threatening To Sue The Lincoln Project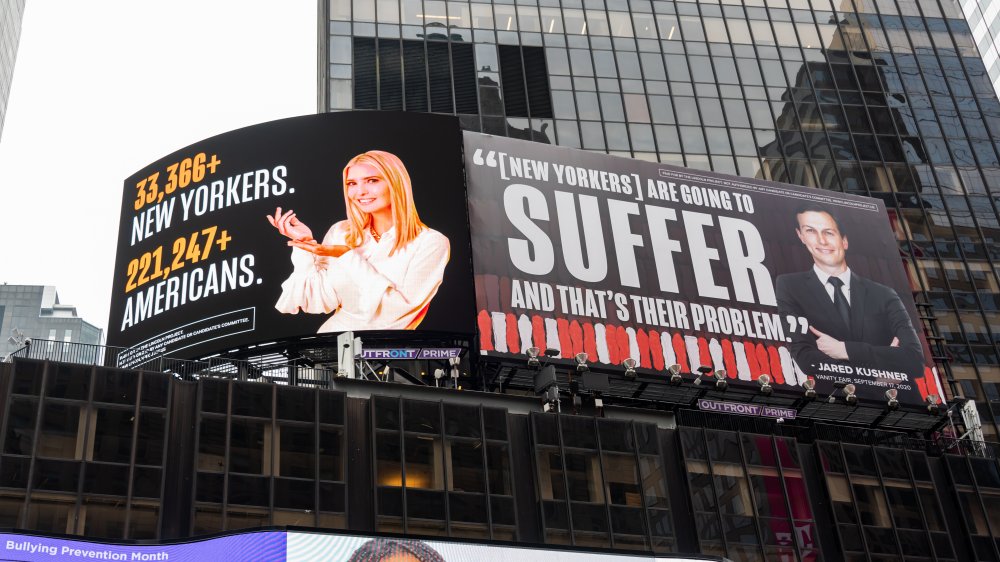 Noam Galai/Getty Images
Two massive billboards with the images of presidential daughter Ivanka Trump and her husband Jared Kushner, both of whom hold jobs as White House advisers, are staring down on onlookers from atop Manhattan's Times Square — but the Kushners aren't amused and are threatening to sue. Their lawyer claims, "Those ads show Ms. Trump smiling and gesturing toward a death count of Americans and New Yorkers, and attribute to Mr. Kushner the statement that '[New Yorkers] are going to suffer and that's their problem... Of course, Mr. Kushner never made any such statement, Ms. Trump never made any such gesture, and the Lincoln Project's representation that they did are an outrageous and shameful libel. If these billboard ads are not immediately removed, we will sue you for what will doubtless be enormous compensatory and punitive damages."
The larger than life ads are courtesy of The Lincoln Project — a Republican-led political action group whose main goal is to get Donald Trump voted out of office. Its original group of founders include the husband of former White House adviser Kellyanne Conway, George, and political strategist Rick Wilson. Its board of advisers include The Daily Beast's editor-at-large Molly Jong-Fast, CNN Political Commentator Tara Setmayer, and former RNC chairman Michael Steele.
To be clear, the group points out that the image of Ivanka was taken from a social media post where she posed with a can of Goya Beans, and the one of Kushner was pulled from a Vanity Fair story, where he said New York Governor Andrew Cuomo "didn't pound the phones hard enough to get PPE for his state.... His people are going to suffer and that's their problem."
Ivanka Trump and Jared Kushner are public officials: The Lincoln Project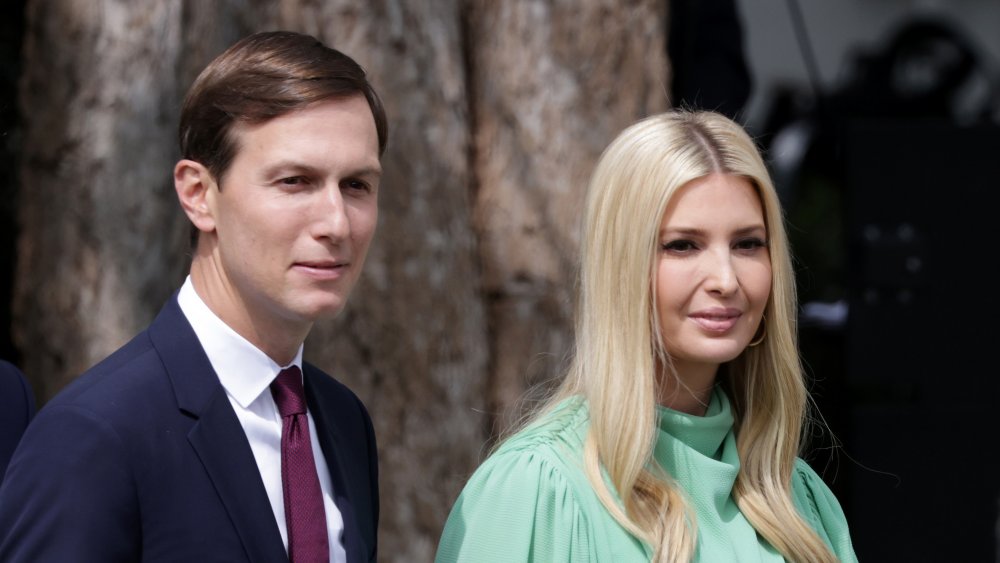 Alex Wong/Getty Images
Suffice it to say that The Lincoln Project is ticked off. And they've shared their legal team's response to the lawsuit threat, saying: "Your clients are no longer mere Upper East Side socialites, able to sue at the slightest offense to their personal sensitivities. Mr. Kushner and Ms. Trump are public officials. They have been public officials since President Trump, in a gross act of nepotism, awarded Mr. Kushner and Ms. Trump senior White House positions in 2017. The placement of Mr. Kushner and Ms. Trump in these high-level White House offices has been disastrous for Americans everywhere, but it is now also devastating to the prospects of your would-be lawsuit. Americans have the right to discuss and criticize their public officials freely. The U.S. Supreme Court has described this as a 'profound national commitment to the principle that debate on public issues should be uninhibited, robust, and wide-open, and that it may well include vehement, caustic, and sometimes unpleasantly sharp attacks on government and public officials.'
Since the board went up, the death toll from COVID-19 is on track to hit 225,000 cases, and the national trajectory has worsened. Wisconsin has had to open a field hospital to contend with the outbreak, and North Dakota now has the most per capita cases in the country (via The New York Times).