Busta Rhymes' Stunning Body Transformation Has Fans Talking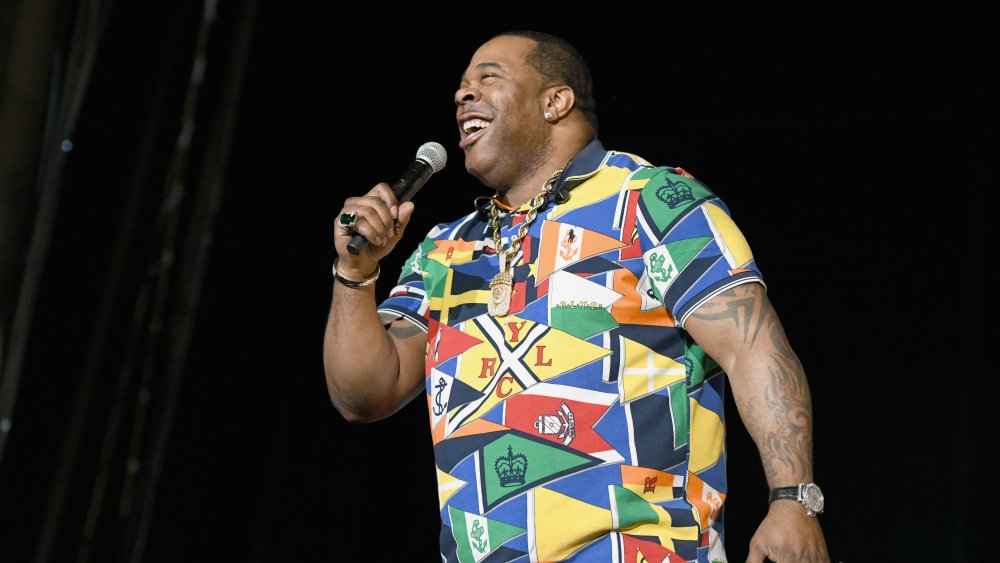 Craig Barritt/Getty Images
Amid post after post on Instagram promoting his newest album, Busta Rhymes just casually dropped in a photo that has followers downright stunned (per Page Six). We just saw the "Gimme Some More" rapper on The Masked Singer in September and were maybe too distracted by his dragon costume to pay any mind to the body underneath, but it certainly has our attention now.
In the side by side photo Busta posted, it's clear he's dropped some serious pounds and his pot belly has been completely shredded into a prominent six pack. At 48 years old, Busta Rhymes is officially #goals. He didn't accomplish these incredible results alone; according to People, Busta worked with celebrity trainer Victor Muñoz, Dexter "The Blade" Jackson, Kai Greene, and Victor Martinez.
Muñoz told TMZ he and Busta tackled this transformation during quarantine, when the rapper would otherwise be traveling for performances. They focused on full-body workouts multiple times a week to trim down belly fat and strengthen his chest muscles. The rapper's eating and drinking habits were whipped into shape as well — Busta hired a chef to prepare meals rich in lean proteins like salmon, bison, and chicken and he cut down on his alcohol intake. It seems even Busta's mindset is in a healthy place now, too.
Busta Rhymes encourages fans not to give up on themselves
If you can tear your eyes away from the "Touch It" singer's shocking photo, you'll see his caption is just as inspiring as his appearance. He wrote, "DON'T EVER GIVE UP ON YOURSELF!! LIFE BEGINS RIGHT NOW!!! MY DEDICATION IS DIFFERENT!!"
Busta's motivation came from his upcoming album release, the first work fans are getting from the artist in eight years. He said, "I WOULD NEVER PUT OUT AN ALBUM AND NOT BE IN THE BEST SHAPE OF MY LIFE!! I RESPECT MYSELF TOO MUCH AND I RESPECT Y'ALL TOO MUCH!!! I'M ONLY HERE TO INSPIRE!!" Fans and fellow superstars are feeling it, big time.
Alicia Keys' husband, producer Swizz Beatz, commented, "I'm so proud of you King!!!!! It's your time King!!" and one impressed fan gushed, "Incredible transformation...inspiring." If Busta's time in the studio working on his new album, Extinction Level Event 2: The Wrath of God, was anywhere near as productive as his time in the gym, we're sure it will be a massive hit.