You Don't Need A Coffee Maker For Great Coffee. Here's Why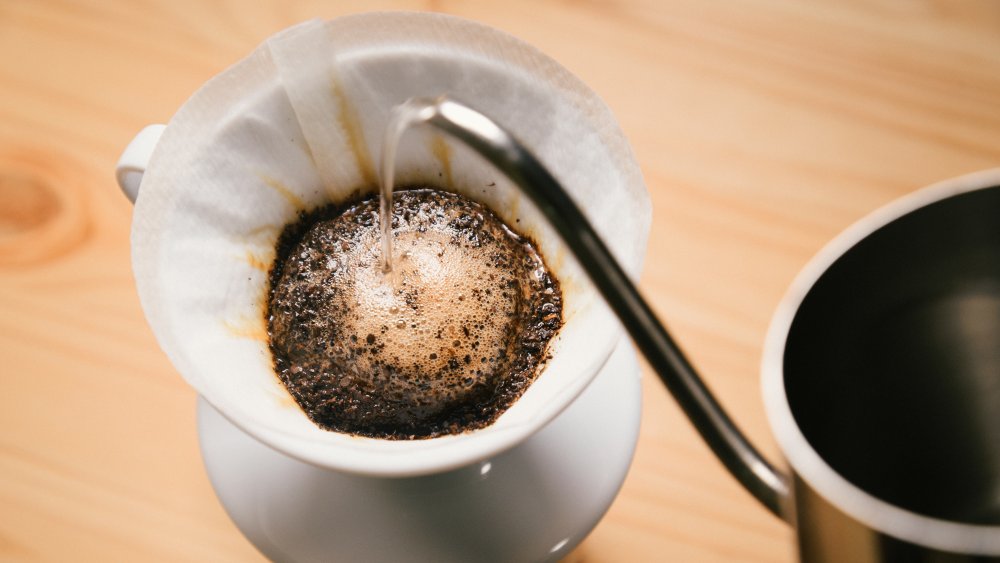 Shutterstock
If you love coffee, the question of what coffee machine you should buy would seem to be nearly as important as what your next car purchase should be. After all, much like your car, coffee is what drives you every morning! So do you want a Keurig machine, where you can pop in a pre-measured K-cup every morning, or an espresso maker that produces fresh milky froth for the perfect latte? Or perhaps you're looking into a more traditional brewing machine, the kind you find at diners, for a smooth, even cup of joe. We're going to save you some time and money: you actually don't need any machine to make great coffee. You just need those paper filters that drip machines require, and an inexpensive piece of plastic called a dripper; one of the very best options is only about thirty bucks, according to The New York Times buying guide.
With these two items, hot water, and ground coffee beans, you have everything you need to make the perfect cup of coffee using the pour-over technique, which produces coffee that's even better than what comes out of a machine. "A pour over coffee has a clarity of flavor that's hard to attain from an electric drip coffeemaker," explained the Blue Bottle Coffee blog. "The flavors will be more pronounced, and the mouthfeel will be silkier. In the best-case scenario, the routine of making a pour over coffee becomes a ritual, even a meditation."
How to make pour-over coffee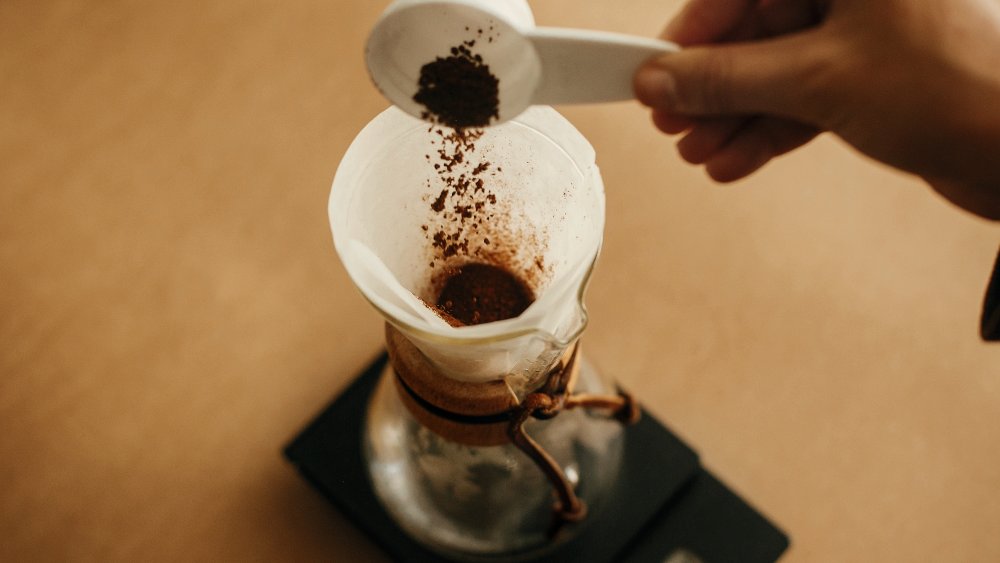 Shutterstock
A "Low-Tech Coffee Pour-over" recipe published by The Washington Post simply calls for a tea kettle, a paper filter, and ground coffee. You'll need a quarter cup of coffee per one and three-quarters cup of boiled water. You put the filter in the dripper, perched atop your mug, then wet the filter first with the boiling water. Add the grounds, then pour over a little water to dampen them. Then, 30 seconds later, slowly pour in the hot water in concentric circles, until the kettle is empty. You'll be jonesing to drink it right away — but wait a few minutes to really let the flavors settle.
If this sounds super easy, it's because it is. But there are a lot of small decisions along the way that will help you calibrate exactly the right cup. For example, you want to make sure your filter fits perfectly in the dripper. Also, with a hand pour-over, the grind size of your coffee really matters, and so does the water temperature. "We use finely ground, not coarse," explained barista Stathis Koremtas, winner of the 2018 Greece National Brewer's Cup Champion, in Perfect Daily Grind. "We play with the temperature of the water. So we have... [198 degrees Fahrenheit] water and we try to make a fast extraction, to finish the whole process in two minutes to two minutes, 10 seconds."