The Pioneer Woman's Actual Name Is More Complicated Than You May Think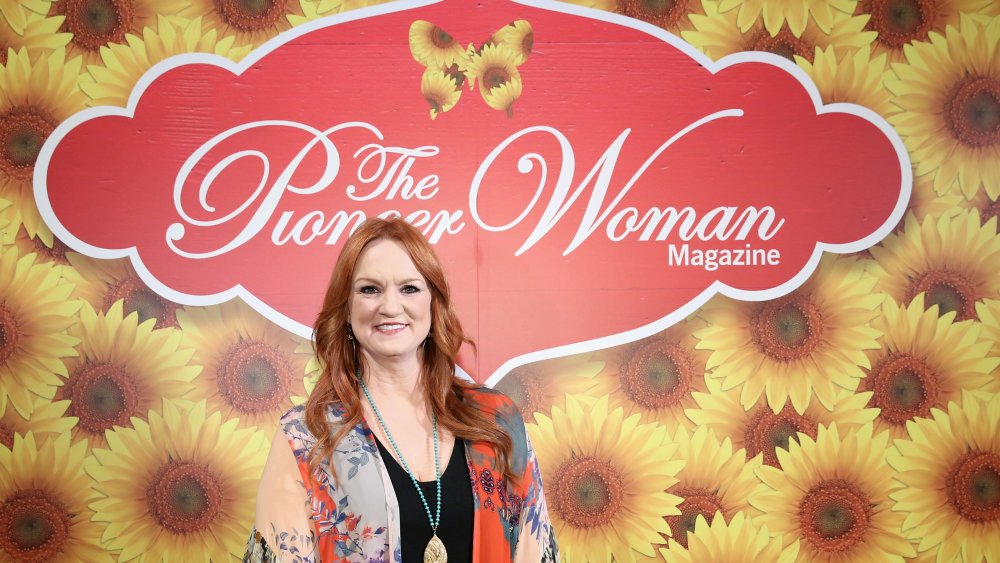 Monica Schipper/Getty Images
We may receive a commission on purchases made from links.
Ree Drummond, the Pioneer Woman, comes in second only to Laura Ingalls Wilder as America's most beloved prairie-life icon. The blogger-turned-Food Network star has built a huge brand around her belief that even city slickers can enjoy the cozy pleasures of simple country living. In addition to her cooking show, Drummond has published a number of cookbooks (and an autobiography, Frontier Follies, dropping next month), helmed a magazine, launched a line of cookware at Walmart, and even revitalized the sleepy town of Pawhuska, OK, by building The Boarding House "cowboy luxury" hotel and The Mercantile restaurant/country store (via People).
Her image seems too good to be true: a happily married wife and mom living in small-town America (albeit in a beautiful, sprawling multi-acre ranch), who prefers a heaping plate of homemade chili or mac and cheese to fussy five-star cuisine. Even her name evokes a friendly, down-home aura that makes you feel that you, too, could translate your grandma's recipes into worldwide fame.
But not everything is as it seems, and in this case, Ree Drummond's image is carefully crafted to full effect. Even her name isn't an original.
Drummond kept her childhood nickname
Monica Schipper/Getty Images
Drummond's birth name is actually as ordinary as they come: She was born Ann Marie Smith in Bartlesville, OK (via Mashed). She was dubbed "Ree" as a child, and like most childhood nicknames, it stuck. The Southern tradition of giving children two names dates back to the 19th century, when the popular poetry of the time featured a rhyme scheme that perfectly suited multi-part names (per Psychology Today). Southern families are also known for calling children by their middle names, according to Country Living. So name-wise, Drummond is a Southern traditionalist through and through. 
Her Food Network brand moniker — which graces everything from cooking utensils to slow cookers to fabric to (yes) trash cans — has an even more entertaining history. As Drummond herself explains on her Pioneer Woman website, people started jokingly calling her "Pioneer Woman" when she left her comfortable city life to live on her new husband's cattle ranch. Years later, when a plumbing fiasco left the family without water for four whole months, the nickname returned. "A neighboring ranching friend, upon hearing of my plight, called and told me I was a real Pioneer Woman — only this time it wasn't a joke!" Drummond recalls. She then began using the name on her blog, and the rest is floral-printed, country-cozy history.