Meghan Markle's Latest Accessory Broke A Major Royal Rule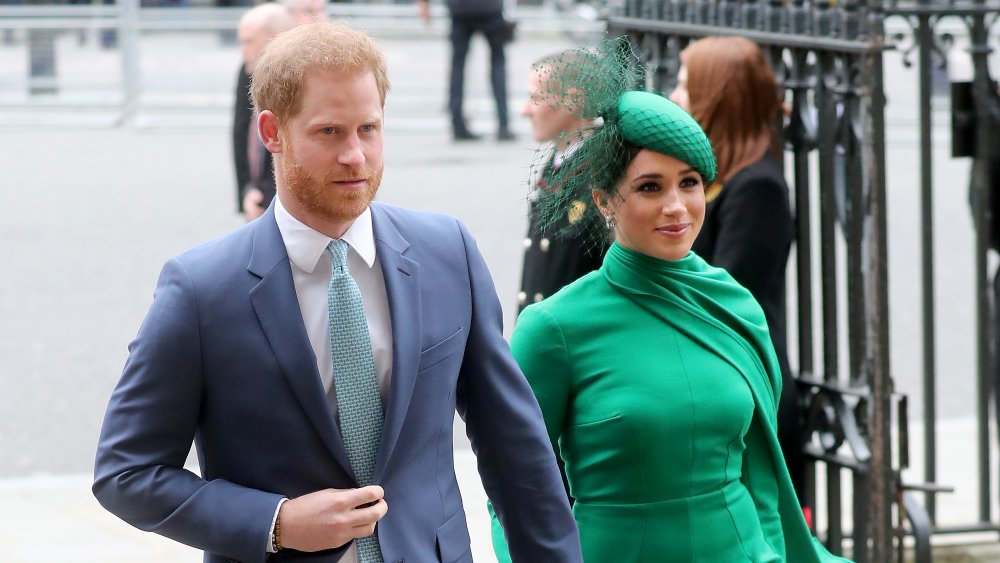 Chris Jackson/Getty Images
Many royal-family insiders were quick to notice the clash in viewpoints between the Windsors and their latest addition: Meghan Markle. The outspoken actress ruffled a few more feathers recently after wearing a t-shirt with the letters "RBG", honoring the late Supreme Court justice, Ruth Bader Ginsburg.
Markle and her husband, Prince Harry, recently recorded a podcast with Teenager Therapy, and her relaxed outfit paid homage to Bader-Ginsburg, as noted by PopSugar. Additionally, her face mask displayed one of the supreme court justice's most famous lines, "when there are nine." This refers to when RBG was asked how many women would be enough for the supreme court and she responded by saying that there would only be enough when all nine seats were filled by women (via PopSugar). Both the duchess' shirt and face mask are from Etsy, as noted by People. 
As members of the royal family are not permitted to showcase their political views, Markle's public statement raised some eyebrows. But, according to CheatSheet, after the Duke and Duchess of Sussex stepped down as senior members of the royal family, their strict rules have loosened slightly.
Meghan paid homage to RBG in a statement
As Markle has been a long-time feminist advocate, she also released a statement on Bader-Ginsburg's passing. "With an incomparable and indelible legacy, Ruth Bader Ginsburg will forever be known as a woman of brilliance, a justice of courage, and a human of deep conviction. She has been a true inspiration to me since I was a girl. Honor her, remember her, act for her," she said (via Fox News). 
Despite her outspoken ideals, the duchess insists that her viewpoints aren't anything that should cause alarm from the establishment. Last month, Markle spoke about the age of digital misinformation during Fortune's Most Powerful Women Virtual Summit, explaining, "If you look back at anything I've said, what ends up being inflammatory is people's interpretation of it. But if you listen to what I actually say it's not controversial" (via Fox News). 
As Markle continues to get more vocal about her political opinions, it may lead to continued stress between the House of Windsor and the Duke and Duchess.