Gwen Stefani Just Dropped Huge News About Her Relationship With Blake Shelton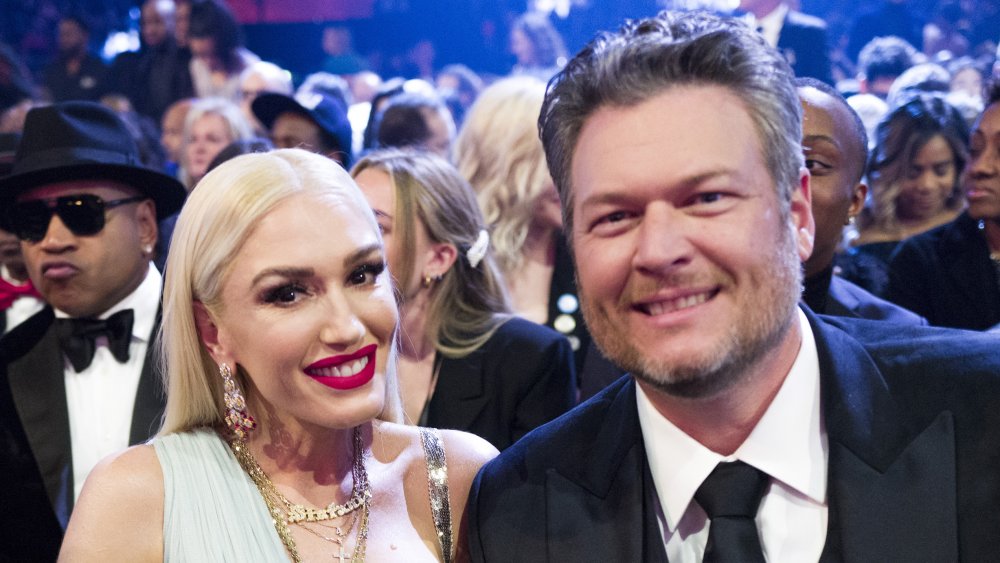 John Shearer/Getty Images
Gwen Stefani is engaged! The singer broke the news on Instagram, posting a photo of her kissing Blake Shelton as she holds up her ring finger — sporting a gorgeous engagement ring — to the camera. Stefani tagged her fiancé in the caption writing "yes please!"
Shelton posted the same photo on his own Instagram account. "Hey @gwenstefani thanks for saving my 2020," he wrote in the caption. "And the rest of my life. I love you. I heard a YES!"
As noted by Page Six, the couple first got together in 2015 after Stefani split up with her ex-husband, Gavin Rossdale, and Shelton broke up with his ex-wife, Miranda Lambert. Stefani has hinted before that wedding bells are in the future for the celeb couple. "You know what? I love weddings, the kids love him," she said on The Ellen DeGeneres Show in 2018. "We love him. Everybody loves him. He's lovable... I think about it all the time."
Gwen Stefani and Blake Shelton have a powerful bond
Stefani and Shelton make an adorable couple, and their relationship has always seemed like a strong one. Both claim to have changed for the better since being together. "I don't want to remember what I was like before Gwen, actually," Shelton once told ET.
"Blake saved my life, everybody knows that," Stefani told the outlet. "Like, we're just having the time of our lives, and we never expected that this late in our lives, so we're just trying to savor every moment together... I love being with him."
Shelton has a special bond with Stefani's children with her ex, Kingston, Zuma, and Apollo. In a Father's Day post on Instagram in June, Stefani thanked Shelton for helping her raise the boys. "That's a scary moment for me, because it's one thing for me to be with the kids all the time and be their buddy," Shelton said on Today via (USA Today) when asked about the touching post. "But then you do have to consider after awhile, that they're starting to listen to things that you say, and there's a lot of responsibility that comes with that, which is new to me."