This Is Why Donald Trump And Melania Don't Share A Bed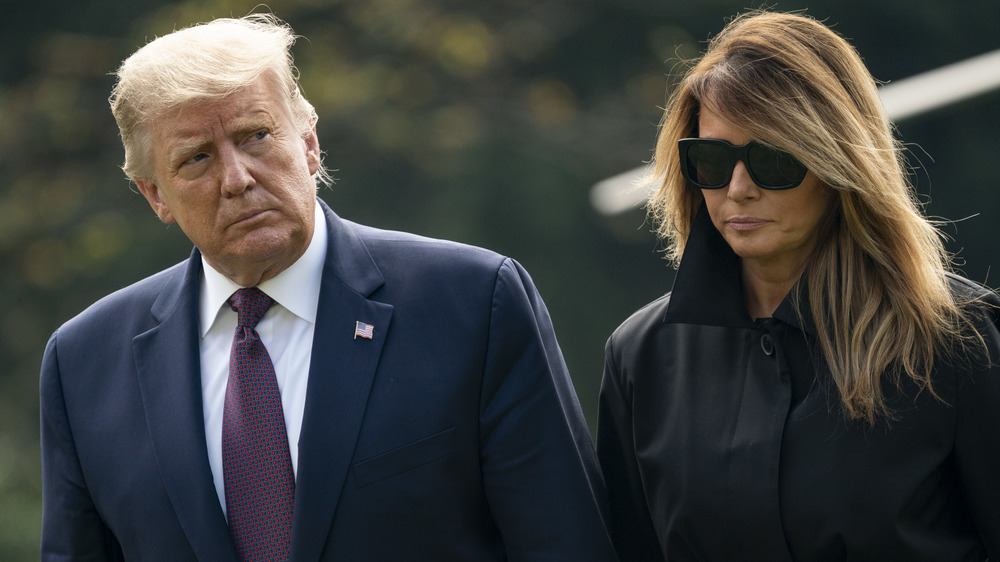 Drew Angerer/Getty Images
We may receive a commission on purchases made from links.
Former President Trump and Melania Trump's relationship has been under a microscope since the outspoken real estate mogul took office in 2016. From her refusal to move into the White House until after their son Barron finished out the school year, her less than joyful facial expressions at most public events, and the countless hand holding gaffes between her and her husband, most recently upon the couple's arrival in Florida after a very strange inaugural departure, it's understandable that the public is fascinated with their seemingly unconventional marriage and relationship (via Business Insider, Bustle, and The Guardian).
Gossip is always swirling around the former FLOTUS who shares very little with the public, and theories that she wanted nothing to do with the role of First Lady seemed to be confirmed after secretly recorded tapes came out featuring the former model disparaging migrant children at the border as well as her obligations to decorate for the Christmas holiday (via The Guardian). Let us never forget the shock and uncomfortable hilarity after hearing the First Lady, on record, drop an f-bomb when talking about Christmas decorations!
Earlier this summer, The Art of Her Deal, by Washington Post reporter Mary Jordan was released and seems to confirm what Free, Melania by CNN correspondent Kate Bennett addressed in her book from last year — POTUS and FLOTUS basically lead separate lives, and that includes sleeping in separate suites in the White House (via New York Times). Although both books are unofficial biographies of the elusive Melania Trump, they seem to confirm what insiders have said long before the couple came to Washington, they never sleep together and it's not something new (via US Weekly).
Donald and Melania Trump have allegedly slept in separate bedrooms for most of their marriage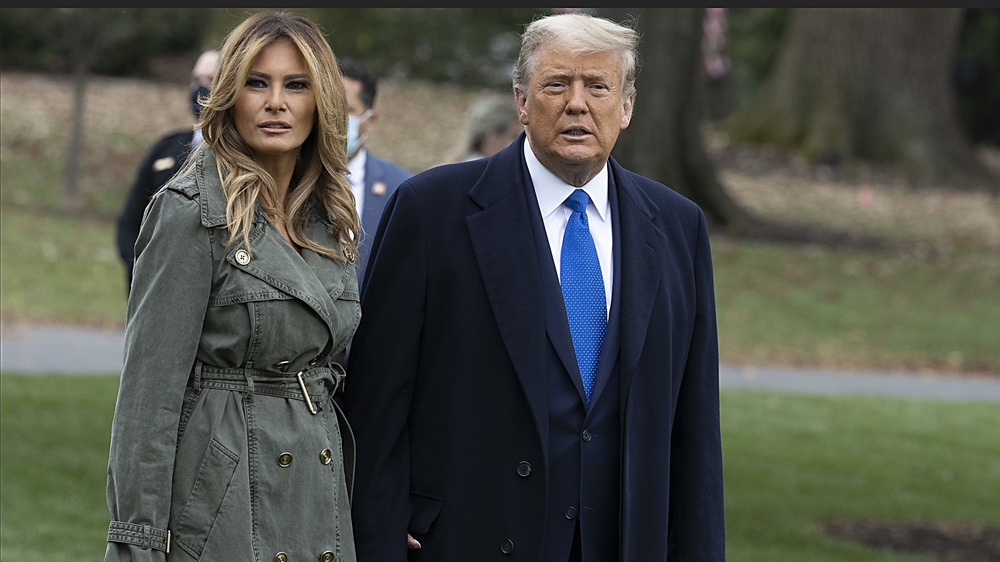 Tasos Katopodis/Getty Images
Speculation about Donald and Melania Trump's sleeping arrangements began surfacing back in 2016 when Trump moved into the White House surreptitiously alone. It was glossed over by Trump staffers as the former FLOTUS thoughtfully trying to ease young Barron into the move by letting him finish out the school year in New York, but the rumors began flying about the state of their relationship and level of intimacy in their marriage, anyway.
Multiple anonymous sources, at the time, revealed to US Weekly that Melania Trump never sleeps with her husband even when they are in the same residence, telling the outlet, "They have separate bedrooms." Another insider revealed, "They never spend the night together — ever."
According to Business Insider, these anonymous accounts about the unconventional couple have been traced back to 2006 when a Playboy Playmate purportedly had an affair with Trump just a year after the former POTUS and FLOTUS were married. The unnamed woman alleged Trump took her to his then residence at Trump Tower and showed off his wife Melania Trump's separate bedroom.
Seemingly confirmed in Bennett's book, which details that while president, Trump slept in the White House master suite located on the second floor of the estate, while Melania spent her private time in a two room suite on the third floor of the White House, previously occupied by Michelle Obama's mother, Marian Robinson. At the time, Trump addressed his wife's preference for a separate bedroom stating that she, "liked her space to read or be alone."
It's possible Donald and Melania Trump don't even live in the same estate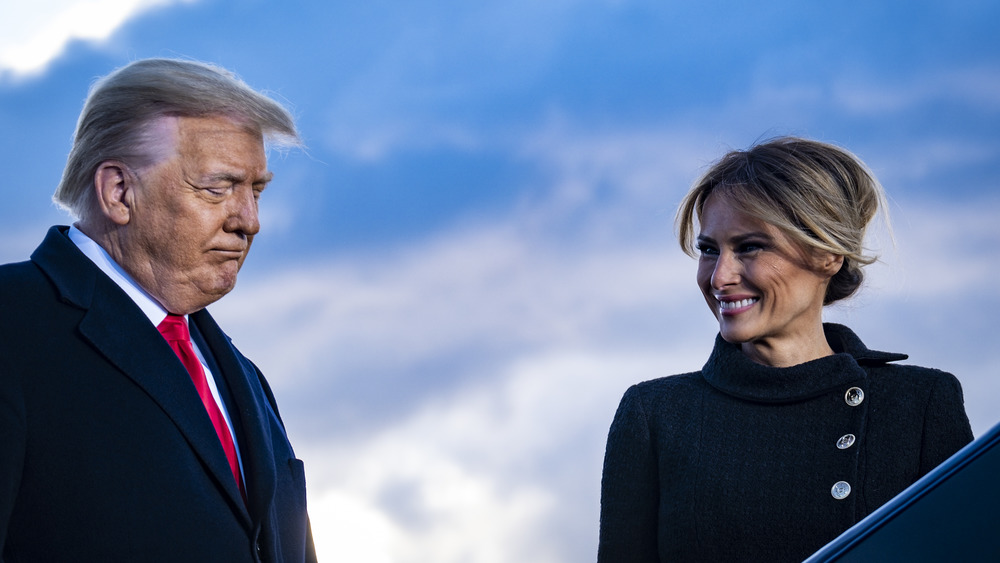 Pool/Getty Images
Much like rumors about their sleeping arrangements, rumors have also swirled about their actual living proximity from each other. When Melania Trump finally moved to Washington D.C. with Barron he was promptly enrolled in an exclusive private school in Maryland, and according to Business Insider, a theory started swirling around the Capital that the former First Lady, along with her parents and her son, actually lived in either a townhouse in D.C. or in the suburbs of Maryland.
Dismissed by her official spokesperson at the time as "1000 percent false," the rumors still persisted, and now, they may have been confirmed, at least near the end of her tenure. According to an article in the New York Times, although the former FLOTUS was said to be handling renovations for their private estate at Mar-A-Lago, she was also house hunting in other parts of Florida including, as the Twin Cities Pioneer Press noted, in Jupiter close to where Donald Trump, Jr. and Kimberly Guilfoyle were looking.
According to Page Six, Melania Trump also toured a ritzy private school in Ft. Lauderdale for Barron which is a 40 minute drive from Mar-a-Lago without traffic, making a separate residence even more likely should he officially enroll at the prestigious Pine Crest School.
House hunting separate from her husband could also be as simple as a fail safe in the event Mar-A-Lago and the legal troubles caused by local Palm Beach residents makes living at the private club permanently impossible (via New York Times).
Whatever agreement Donald and Melania Trump have it seems to work for them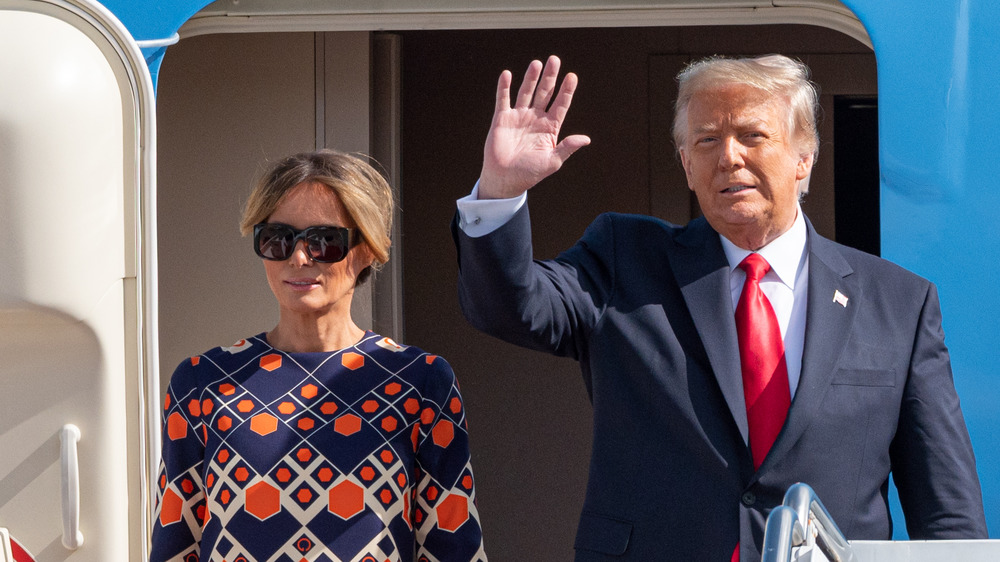 Noam Galai/Getty Images
When most people dream of getting married, it usually doesn't involve living in separate rooms from their spouse. But when you're five years in and can't get a good night's sleep because your partner snores like a bear, having a separate suite with a "glam room," your own private gym, and decorated without any complaints from your significant other including throw pillows and blankets galore, Melania Trump's former third floor White House suite, as described in Bennett's tell-all book, sounds like a fairy tale (via Business Insider)
And actually, it might not be that uncommon. According to a 2017 survey from the National Sleep Foundation, nearly 1 in 4 married couples in the US sleep in separate beds (via USA Today).
While what really goes on behind closed doors in this obviously unconventional marriage is mostly fodder for gossip, the Trump camp certainly tries to keep the information about where the former POTUS and FLOTUS sleep under wraps. History seemed to be repeating itself, however. It wasn't that long ago that the Kennedy's slept separately while JFK was in office. As long as each partner is happy in the relationship, none of it matters (via Business Insider).