The Reason You Should Drink Herbal Tea During Pregnancy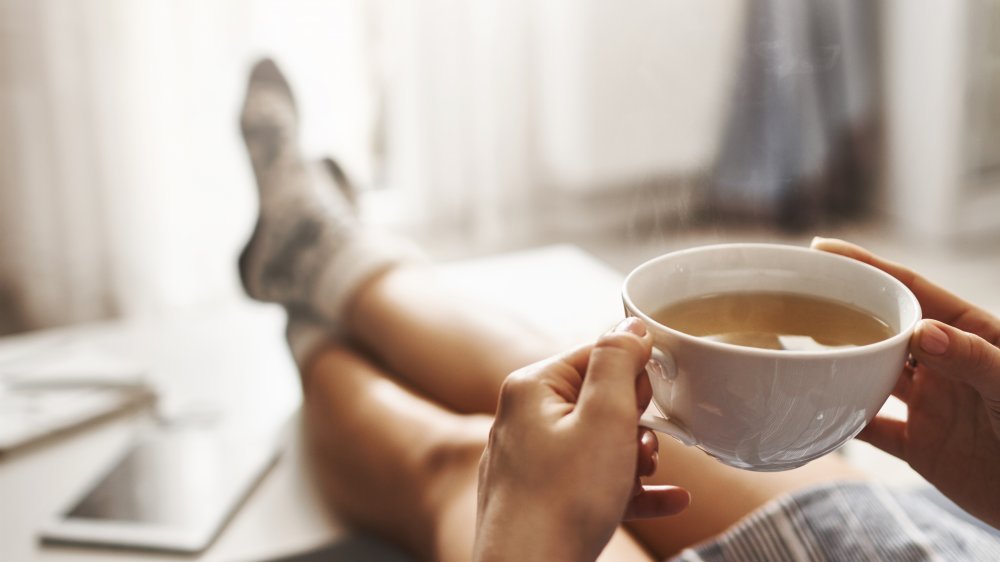 Shutterstock
With low levels of caffeine, high levels of polyphenols and a cozy taste, tea makes a worthy addition to your routine while you're expecting. Tea's many different types and flavors come in handy during pregnancy due to their antioxidant, anti-nausea and soothing properties. Herbal teas differ from the non-herbal varieties in that they're derived from roots, flowers, berries and other non-caffeinated sources, as explained by the American Pregnancy Association. Since consuming caffeine can cause infant sleep disorders, it's important to avoid it entirely while you're expecting. 
Depending on what symptoms you're experiencing, you can add rooibos tea to your routine for its high levels of antioxidants and lack of caffeine, as noted by Parents. But, perhaps the most commonly recommended tea during this time, raspberry leaf is said to shorten labor since it tones the uterine muscle, making the organ stronger when it's time to give birth (via Healthline). Amelia Hirota, D.Ac., shares with Parents, "Many midwives believe that drinking red raspberry leaf tea during pregnancy tones the uterine muscle, which may help make contractions more efficient."
Find an herb that's right for you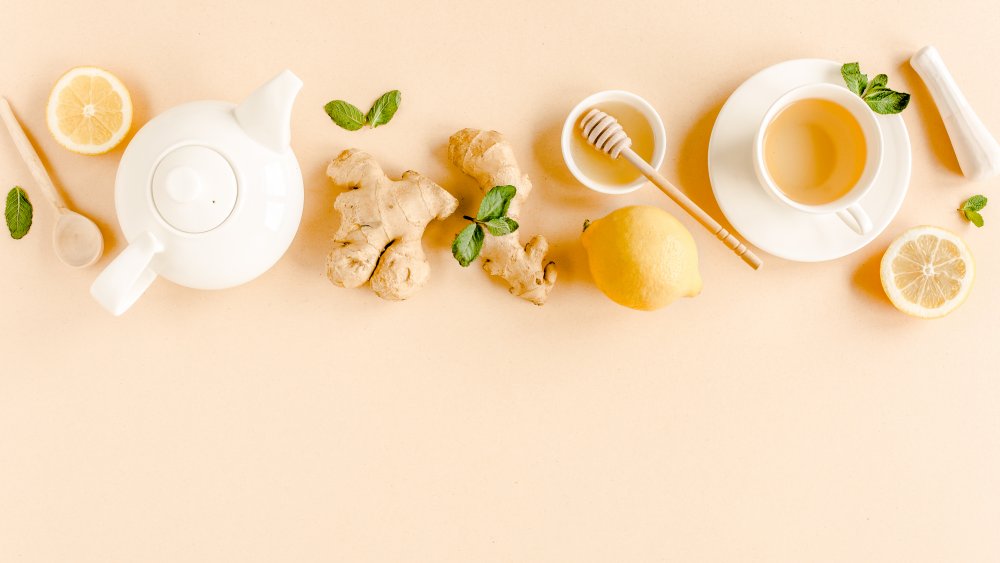 Shutterstock
As their name suggests, herbal teas contain a variety of herbs with different healing properties. For instance, if you're suffering from indigestion or nausea, peppermint tea might be your new best friend. Trading peppermint for ginger tea is also an option depending on which flavor works better for you. Both of these help to alleviate morning sickness symptoms (via Parents).
As anxiety, insomnia and other issues can arise while you're expecting, having lemon balm tea on hand is also a good idea. Furthermore, nettle leaf tea can also be a great addition to your morning during pregnancy since, "it's a fabulous source of vitamins and minerals, including iron, vitamins A, C and K, and potassium," Hirota said to Parents. Just make sure that the tea you use comes from the leaves rather than nettle root and avoid it in large amounts during your first trimester.
However, it's important to speak with your doctor when starting something new to make sure that it's safe to ingest throughout each of your trimesters.