Here's What Really Happened When Chelsea Handler Asked Out Andrew Cuomo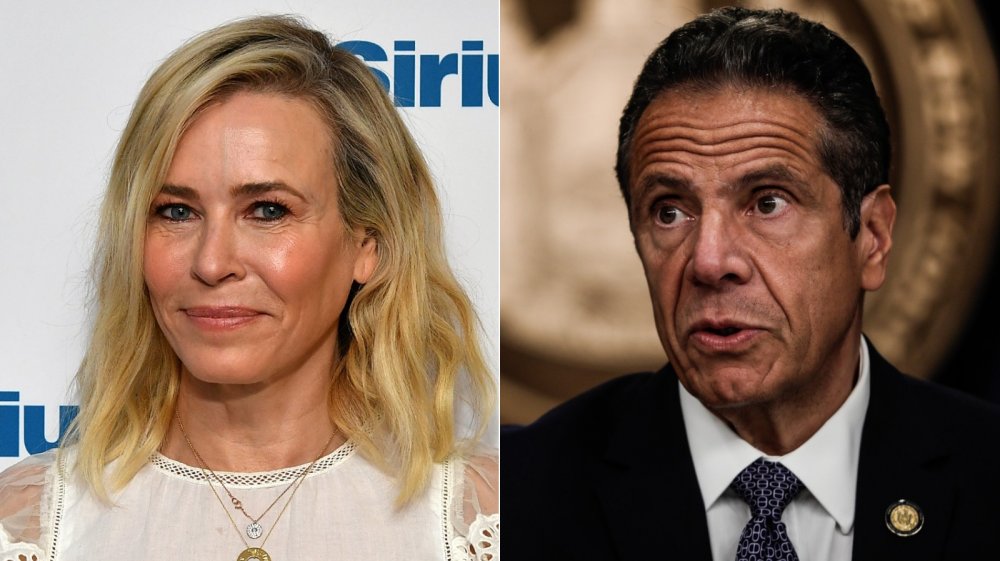 Slaven Vlasic, Byron Smith / Getty Images
Comedian Chelsea Handler never shies away from telling it like it is. Her comedy specials are always packed with brutally honest, gut-busting moments that have you hitting rewind over and over again. Handler's take-no-prisoner attitude has gotten her far in the entertainment industry, including landing her a special on HBO Max titled Chelsea Handler: Evolution. Her memoir, Life Will Be the Death of Me, also graced the New York Times bestseller list, proving that her fans love hearing what she has to say (via Variety).
Although she's known for her comedic timing, Handler often gets real about her struggles, such as going to therapy, managing her drinking habits and experience with relationships (via Health). In fact, Handler has been very open about her dating experience, has joked around about her "favorite ex" 50 Cent on social media, and has also admitted that she is into dating older men.
In a recent appearance on The View, Handler shared that she actually asked New York Governor Andrew Cuomo out on a date, but he ghosted her. "I did have a conversation with Cuomo a few months ago, and I did ask him out on a date, and he did say yes. And then I never heard from him," she explained. In typical Handler fashion, she encouraged hosts Whoopi Goldberg, Joy Behar, Sunny Hostin, and Sara Haines to follow up with Cuomo when he appears next on the show and get answers from him on why the date never happened (via Us Weekly).
Handler's crush on Cuomo has been brewing for awhile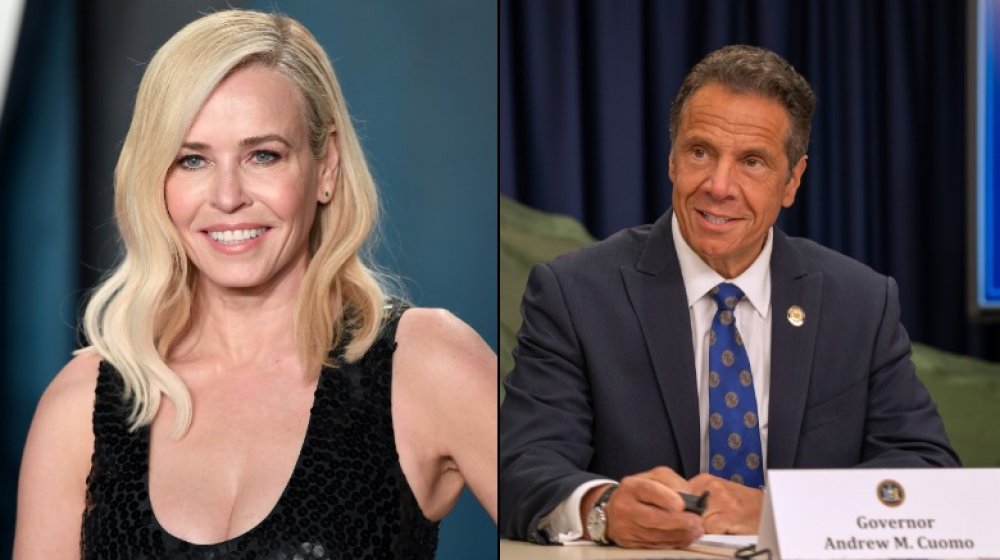 Karwai Tang, David Dee Delgado/Getty Images
Chelsea Handler's crush on Andrew Cuomo is well documented. In an op-ed for Vogue, she penned a "love letter" to the NY governor, where she praised him for his leadership during the beginning stages of the COVID-19 pandemic. "Do you know how thirsty we are to have a real leader, someone who can speak about policy, who can humanize statistics, who can string together a complex sentence that doesn't contain a single lie — or just string together a complex sentence? Armed with facts, you are giving us the courage to face our fears," she wrote. She isn't the only person who developed "Cuomo fever." So many people praised Cuomo's response to the pandemic on social media that the hashtag #Cuomocrush ended up trending (via New York Post).
Handler's comments about Cuomo didn't stop there. She also mentioned her very public feelings for the governor in an interview with ET. "We had this man, this big Italian meatball coming to the floor who looked like the Incredible Hulk and he was like, 'Yeah, I'm gonna flatten your curve.' I'm like, 'I'm gonna flatten your curve and then apex together,'" she joked. Now we're invested. We're sure Handler's fans and Cuomo enthusiasts will be keeping a close eye to see if this develops into anything more.