The Real Reason Why Pink And Carey Hart's Marriage Works
Alberto E. Rodriguez/Getty Images
Celebrity relationships seem like they're available in only two flavors: magical, happily ever after...or splitsville. With almost no in-between. One obvious exception to this rule is Pink and Carey Hart, who have been open about their high highs–and low lows. In fact, Pink kept it real in an Instagram tribute to their marriage: "He and I have been at this a long time, and it is our relentless and stubborn idealism that keeps us together. Marriage is awful, wonderful, comfort and rage. It is boring, terrifying, and a total nail biter. It is loving another fallible creature while trying to love yourself. It is a lifetime of coming back to the table. People laugh at us because we're either fighting or laughing. They roll their eyes when we talk about therapy. But I'll tell you what. It's worth it. All of it..."
"Rage" and "boredom" sure don't sound like sweet nothings — so how has Pink's and Carey Hart's at-times strange marriage managed to endure? In an interview with The List, Susan Trombetti, matchmaker and CEO of Exclusive Matchmaking, said that it all comes down to prioritizing their relationship. "It doesn't take a matchmaker and relationship expert to see that Pink is committed to her husband and family," Trombetti remarked, adding, "They have a true love that has stood the test of time and kids."
Pink and Carey Hart worked hard on their relationship, according to expert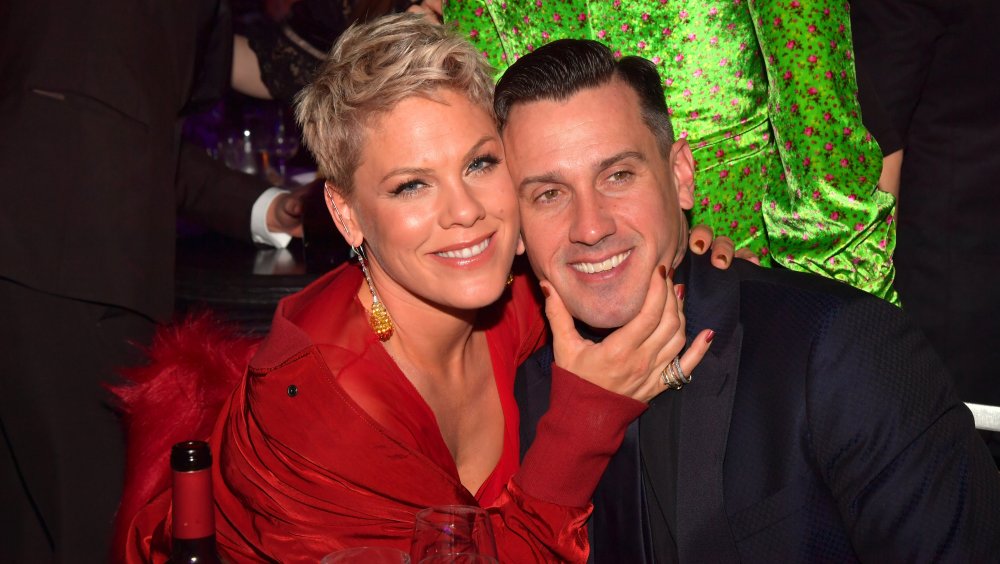 Lester Cohen/Getty Images
True love is a great starting point, but Pink and Carey Hart have weathered some tough storms. "Pink witnessed her parent's rocky relationship, and has been through a lot," Trombetti pointed out. "For her to still be able to work through things with her husband is a testament to their love and devotion. Let's face it, this is a relationship that has endured, even though they split up over ten years ago for a short period of time." Trombetti analyzed the language Pink used to describe the ups and downs of her marriage, and said it spoke volumes about the songstress's maturity. "The fact that she comments that her relationship is boring tells you that Pink is accustomed to major upheaval from childhood relationships and probably a great relationship without arguing and volatility probably does seem a little boring in comparison," she noted, adding, "This is where the therapy she mentions comes in, and helps her to be more self-aware and grounded, which no doubt helps their relationship."
Trombetti also suggested that it took courage for Pink to share her relationship struggles on social media. "I do not know what Carey is like, but Pink is an amazingly talented and an awesome woman. She puts it all out there, is an inspiration and role model for all especially after seeing her success in her career and her personal life," she said.