Scarlett Johansson And Colin Jost Just Revealed They Tied The Knot In A Surprising Way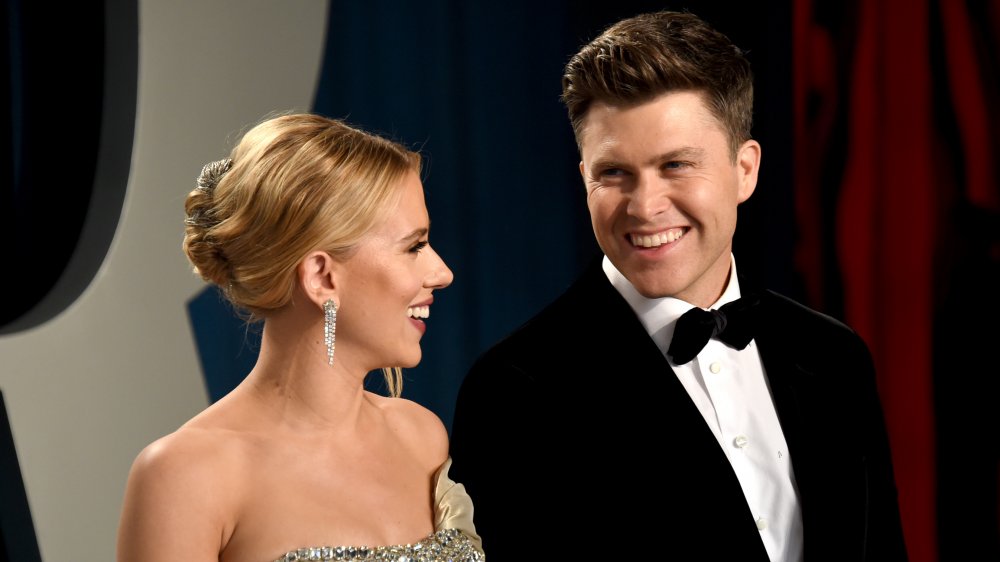 John Shearer/Getty Images
Scarlett Johansson and Colin Jost announced they tied the knot over social media. However, neither used their own platform to share the happy news. Instead, the official account for the charity Meals on Wheels announced that ScarJo and ...CoJo(?) had officially gotten married. "We're thrilled to break the news that Scarlett Johansson and Colin Jost were married over the weekend in an intimate ceremony with their immediate family and love ones, following COVID-19 safety precautions as directed by the CDC," Meals on Wheels said next to a photo of the Staten Island Ferry stamped with the pun "Jost Married."
So why did the newlyweds choose to announce via a charity's Instagram? To use their fame to shine a light on a good cause. According to the Instagram announcement, Johansson and Jost's "wedding wish is to help make a difference for vulnerable older adults during this difficult time by supporting @mealsonwheelsamerica. Please consider donating to celebrate the happy couple by clicking the link in our bio." For those unfamiliar with Meals on Wheels, the long-running charity delivers meals to seniors in need.
Scarlett Johansson and Colin Jost keep their relationship private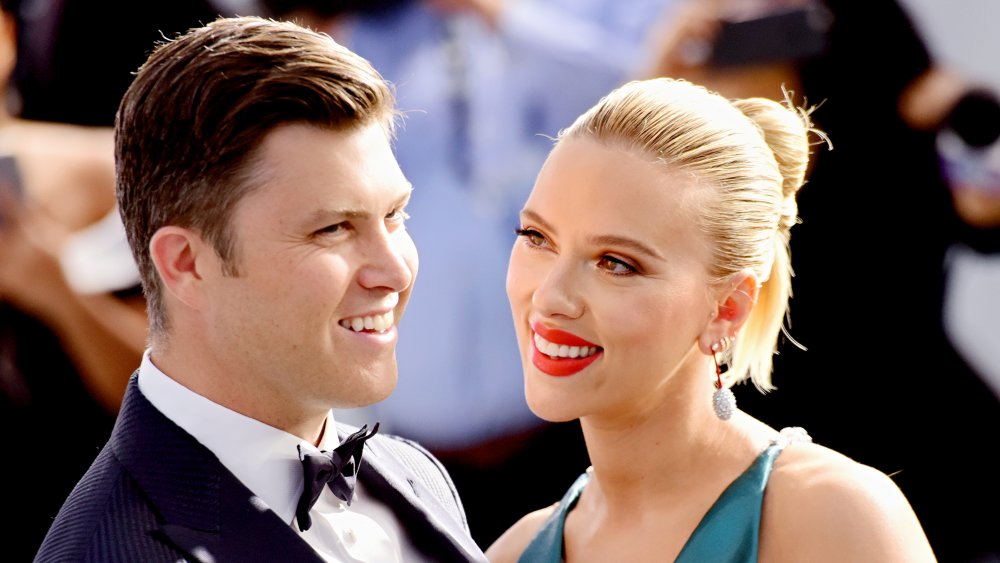 Chelsea Guglielmino/Getty Images
Both Johansson and Jost prefer to keep their relationship out of the spotlight, per Page Six. So fans would be forgiven for forgetting the pair has been together for over three years. They were first spotted kissing in May 2017, shortly after Johansson hosted an episode of Saturday Night Live. However, they didn't make their relationship officially public until December of that year. After two years of dating, they announced their engagement in May 2019.
Despite their preference for privacy, the pair has shared a little of what makes their relationship work. In October 2019, Johansson told Ellen DeGeneres that Jost "killed it" with his proposal, and said "He's very charming and very thoughtful and romantic" (via People). 
Though it took a while for them to connect romantically, the pair actually first met way back in 2006, when Jost was a first year SNL writer and Johansson was hosting for the first time (via Daily Mail). Jost described finding Johansson, then just 20 years old, was "beautiful, smart, sweet, and intimidatingly sophisticated." According to Johansson, she noticed Jost, too, though he takes that with a grain of salt. "She claims that she remembers thinking I was 'cute,' but I know what I looked like and that's not the word I would have used. ('Shaggy' would have been generous. 'Slovenly,' more accurate)," Jost wrote in his book, A Very Punchable Face: A Memoir.
Mazel tov to the happy couple and, of course, consider a donation to Meals on Wheels to celebrate.