Here's Why Banana Powder Should Be Part Of Your Makeup Routine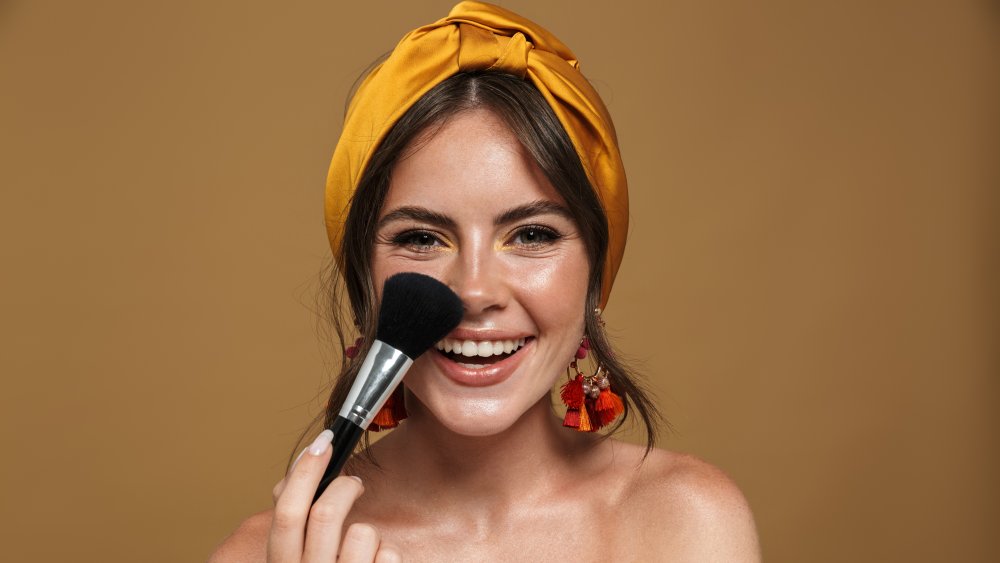 Shutterstock
If you want a matte finish to your makeup as compared to a dewy look, the secret weapon you need in your makeup collection is banana powder. Nope, not made from bananas. The name comes from the powder's color, which is a loose powder with "yellow pigments that highlight and reduce the risk of making you look ghostly in selfies" (via Refinery29). 
It's a multitasking powerhouse. Byrdie outlines the powder's powers, "[they] are frequently used for highlighting, baking, and setting areas of the face." Translucent powders are often used for setting your makeup, but that can be problematic. Makeup artist and US brand ambassador for Maybelline New York Jenna Kristina told PopSugar why banana powder beats translucent powder. "Banana powder doesn't just set your makeup, it brightens and is perfect for baking under your eyes. [It's] more advanced than translucent powder because it illuminates, smoothes, and brightens all at once."
Banana powder started with the film industry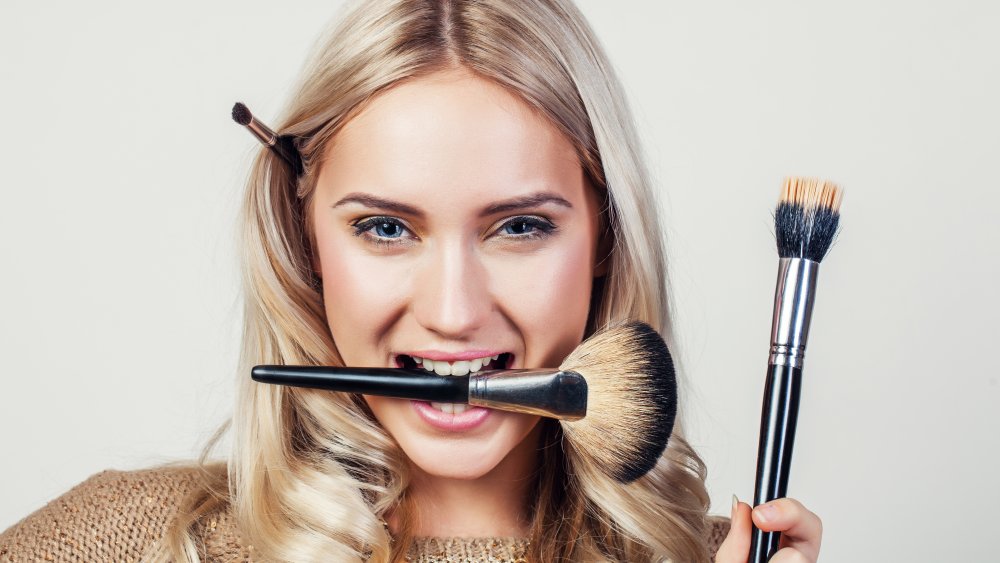 Shutterstock
Banana powder may just now be coming onto your radar, but it has been around for a while. Byrdie goes into the history of the product. "The first banana powder was created by Ben Nye, a wildly successful artist and makeup director for 20th Century Fox who oversaw makeup for the likes of The Sound of Music and Gentlemen Prefer Blondes." It made the transition from film sets to nightclubs where drag queens would use the powder to help keep their makeup in place under the heavy lights and long nights.
Kim Kardashian West has been said to use banana powder, specifically the Ben Nye version, and that idea has helped power sales. Anna Daoud McConnell, the VP of Product + Brand Development at Ricky's, told Refinery29, "The increase of Ben Nye Banana Powder sales is definitely linked to Kim Kardashian."
Turns out that it's just a rumor. Her makeup artist Mario Dedivanovic confirmed that he wouldn't use the product on his client's famous face. "It would look too yellow under her eyes, way too muddy. I've never used banana powder, no" (via Racked).