Kate Beckinsale's Election Day Look Is Causing Quite A Stir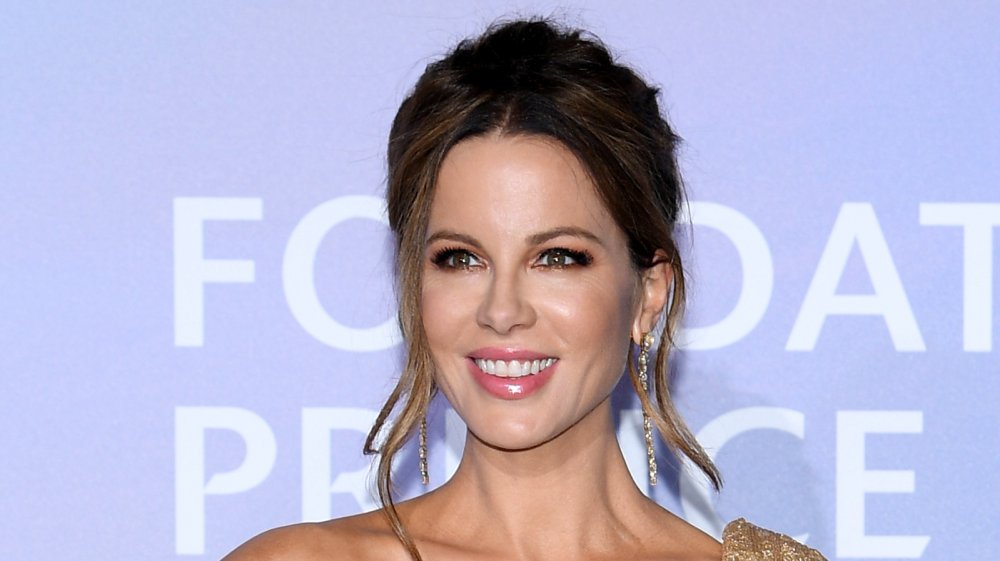 Pascal Le Segretain/Getty Images
Kate Beckinsale may not be an American citizen, but that doesn't mean she isn't doing her part to get out the vote. The English actress, who lives in the U.S., took to Instagram with a powerful selfie urging people to vote in the 2020 presidential election. Beckinsale wore a black bandeau bra decorated with gold letters spelling out the word "VOTE."
"Good luck everyone," she wrote in the caption of her Instagram post. "Be kind to yourselves, and each other x."
Beckinsale also joked about the figure that can be seen in the background of the picture, joking that it's the "ghost of Whistler's mother," referring to the classic painting by James McNeil (via Fox News). She wrote that the so-called ghost, "on top of having produced such a fine American artist son (despite his being primarily based in the UK), crossed the Atlantic herself 11 times and lived in both Russia and London – is also clearly observing social distancing from beyond the grave."
Kate Beckinsale's election day look drew a mixed response
Not everyone was pleased with Beckinsale's message. "You're British," wrote one person in the comments of her Instagram post (via Fox News). "Shut up."
Others took to the comments to reveal who they voted for, while many complimented Beckinsale on her stunning election day look. "Holy freaking moly," wrote one Instagram user. "Yeah vote." Another said, "Now I want badly to vote."
This isn't the first time Beckinsale has urged her followers to vote this year. She wore the same bra in an Instagram post a few days ago, posing in front of a fireplace. "I can't vote due to being [British] but I CAN wear a custom golden VOTE bra and encourage you to," she wrote. "In fact please vote on my behalf. If the voter registration deadline has passed, you can still register to vote in person at a designated Election Day Registration office. Contact your Local Election Office if you have any questions. Check your state for details. Also do not wear a metal bra next to an open fire for an extended period of time. VOTE."