Why Kim Kardashian's Altered Election Day Pic Has People Seeing Red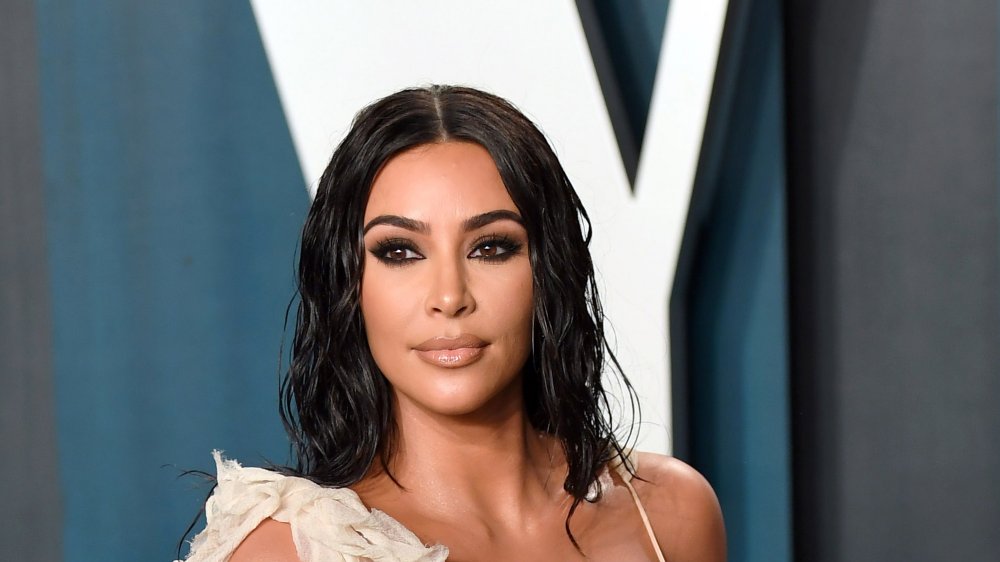 Karwai Tang/Getty Images
Did Kim Kardashian West accidentally reveal her presidential pick? Fans seem to think so, following a very telling choice she made on Twitter on Election Day.
On the evening of Nov. 3, the Keeping Up With the Kardashians star joined the millions sharing their photos and messages on the social media site. She tweeted, "I VOTED!!!! Did you?!?! If you are in line when the hours of operation close at the polls, they are required to stay open and allow you to vote, so do not get out of line." Accompanying the tweet was a photo of her posing for the camera and giving a thumbs-up, with an "I Voted" sticker attached to her thumb.
While her pride in doing her civic duty gained praise at first, fans were quick to press her about her choice. Many speculated that Kardashian cast her vote not for President Trump or Joe Biden, but for her own husband, Kanye West, who put his own name on the ballot (via Forbes). The hip-hop icon incurred the anger on both sides of the political fence, since he has the potential to siphon votes away from the main candidates and weaken their campaigns.
Kim appeared to cover up her election preference
But sharp-eyed fans also noticed that she altered the photo not long after her original tweet. The image, originally in color, was altered to a black-and-white filter — a move that some saw as a cover-up of her vote. The fact that Kardashian West wore a red dress was seen as a sign that she voted Republican, either for Trump or for her husband. 
One disappointed follower called her out on the change, adding that it was "just such a let a down and to be quite honest it's irresponsible knowing the climate that we are in rn." Another sighed, "I hope you didn't waste your vote on your husband." 
Not everyone was harsh. One supporter refused to believe the de-coloring had any significance: "Such a reach your shoulder must hurt." Another chided, "Stop bashing her for who she supports! Y'all ridiculous." 
It's entirely possible that people are reading too much into Kardashian West's actions. On Monday, she retweeted a post from Democratic vice-presidential candidate Kamala Harris on the importance of voting, so perhaps a red dress is simply...a red dress.