Jennifer Lawrence Causes Quite A Stir With Her Reaction To Biden's Win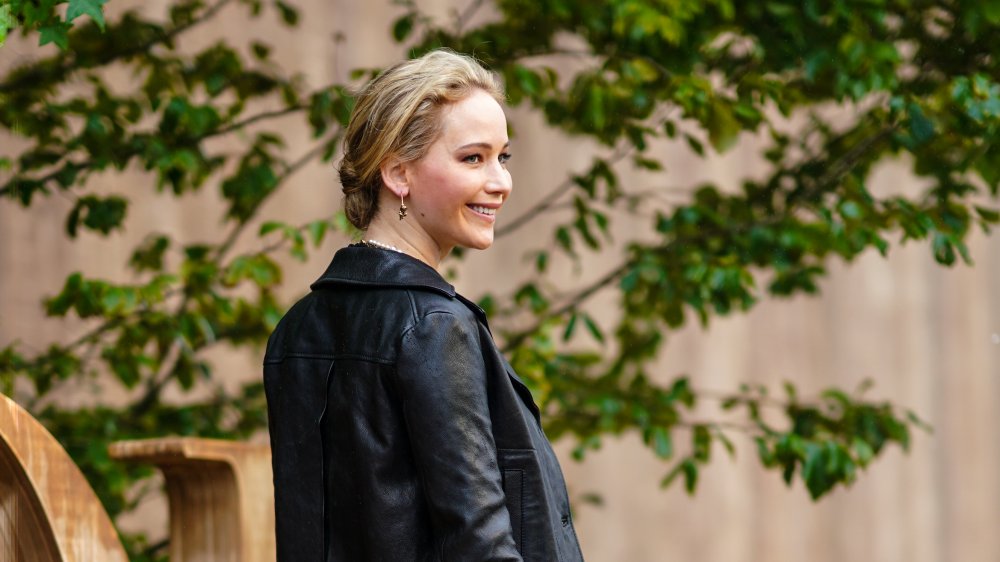 Edward Berthelot/Getty Images
We often see Jennifer Lawrence poised and polished in front of the cameras. But not on Saturday when she took to the streets in Boston in an animal-print face mask and what some have called pajamas. It was her celebrating excitement about the presidential election being called for Joe Biden and Kamala Harris on Saturday. The movie star tweeted a video of herself running up and down the sidewalk in a residential neighborhood, wearing an animal-print face mask, and screaming in glee, stopping for a bit to dance with some impressive head banging / hairography. The caption reads: "Had no choice but to throw a party for 1 #comeonbosnnletsparty".
Back in 2008, Lawrence voted for McCain over Obama, but she explained why she's voting for a Democrat in this year's election to V Magazine earlier this year. "I'm voting for Joe Biden and Kamala Harris this year because Donald Trump has and will continue to put himself before the safety and well-being of America. He does not represent my values as an American, and most importantly as a human being."
Jennifer Lawrence sends her most personal tweet yet
She doubled down on her feelings against Trump in an interview on the comedy podcast Absolutely Not, when she said, "This is an impeached president who's broken many laws and has refused to condemn white supremacy, and it feels like there has been a line drawn in the sand. I don't think it's right, It just changes things for me. I don't want to support a president who supports white supremacists."
The Oscar winner only joined Twitter in June of 2020, with posts about Black Lives Matter, Breonna Taylor, and the importance of getting out and voting and connected to her work on the board of Represent.Us, which is according to their website: "A powerful movement of independents, progressives, and conservatives is building on America's long tradition of pursuing federal reform through the states." This is the first thing she tweeted that shows us a glimpse inside her life.
Lawrence is in Boston to film the Netflix movie Don't Look Up, starring alongside Leonardo DiCaprio, Meryl Streep, Jonah Hill, Cate Blanchett, and Ariana Grande; the film's about a meteorite that will destroy the planet and the scientists trying to warn the world (via Hot 96.9).