The Surprising Way Wonder Woman And Kamala Harris Share History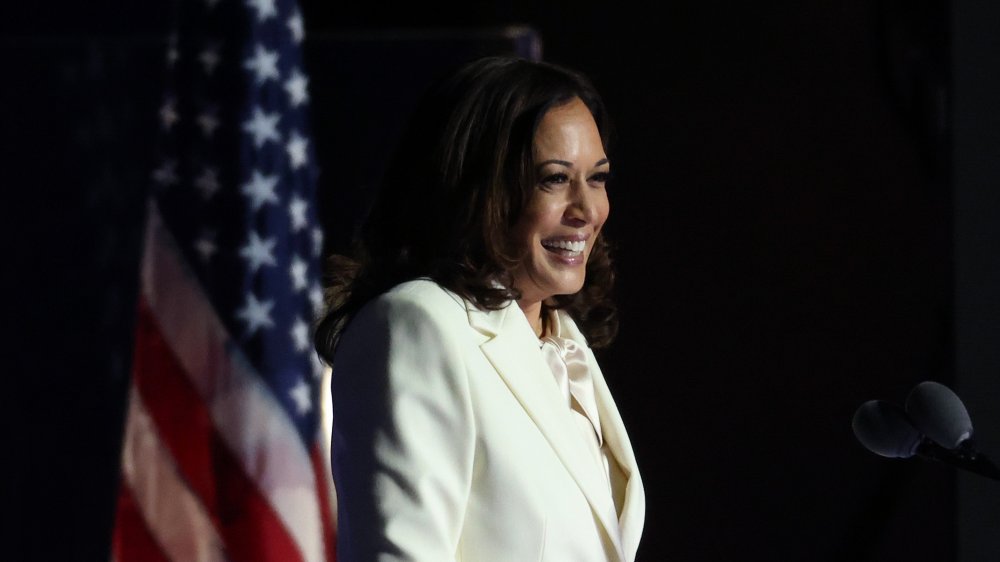 Win Mcnamee/Getty Images
The contrasts might appear more obvious from the get go. One was dressed in a colorful red, white, blue, and gold character costume inspired by a comic strip, the other emerged in a stark white pantsuit that Vogue called a "suffragette white pantsuit." But Wonder Woman and Kamala Harris share an important day.
As the country's first woman vice president and its first person of color to serve in that post, Vice President-elect Harris is aware of the impact her rise has on the country's historical narrative surrounding women. In her November 7 victory speech, she said: "All the women who worked to secure and protect the right to vote for over a century: One hundred years ago with the 19th Amendment, 55 years ago with the Voting Rights Act, and now, in 2020, with a new generation of women in our country who cast their ballots and continued the fight for their fundamental right to vote and be heard. Tonight, I reflect on their struggle, their determination and the strength of their vision — to see what can be unburdened by what has been — I stand on their shoulders." 
November 7 marks an important day in pop culture history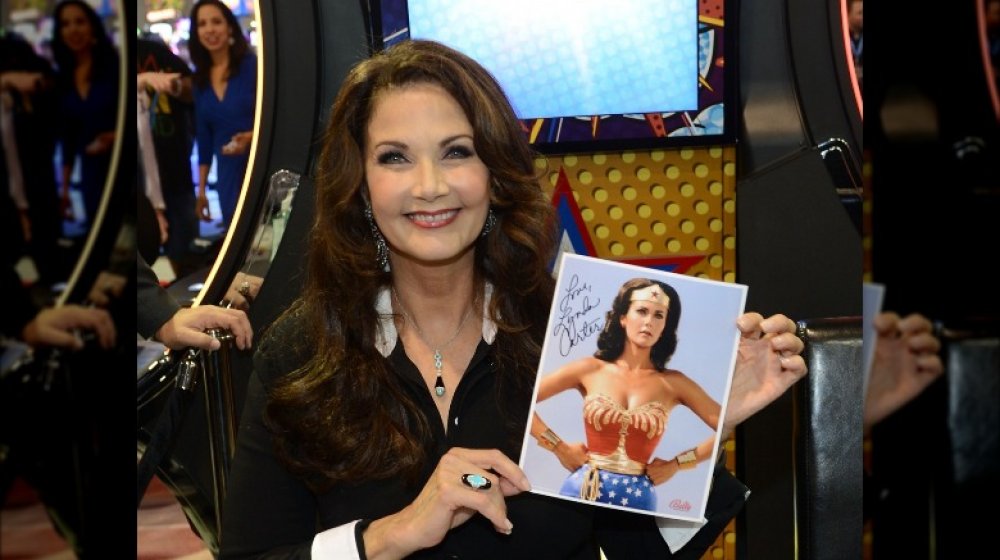 Denise Truscello/Getty Images
November 7 also marks an important day in pop culture history. As actress Lynda Carter — the actress who famously played Wonder Woman in the hit TV series pointed out via Twitter: "On this day 45 years ago, I appeared on television as Wonder Woman for the very first time. I am honored to be a part of this legacy and everything that it represents, and so thrilled to celebrate the power of women on such an auspicious day!" Along with the comment was a clip from the TV show, with actress Cloris Leachman — who plays Queen Hippolyta — explaining that "the colors (of the costume) were chosen to show your allegiance to freedom and democracy." 45 years between Wonder Woman's first appearance and the election of the nation's first woman VP might feel like a long time, but better late than never.
Carter's social media supporters acknowledged the impact she had on their lives, too. One tweeted: "When I was a little girl, I wanted to be you. I imagined I had your powers and I believed I could save the world. I was able to see possibilities for myself as a girl in this world thanks to you and this show. So, thank you." Another expressed the wider impact the show had on him, saying: "I realized last year, one thing I appreciated about the show: Steve Trevor had complete faith in Diana Prince w/o even know who she was because he had faith in her competence. He never 2nd guessed her because of her gender."