Ken Jennings Reacts To Alex Trebek's Tragic Death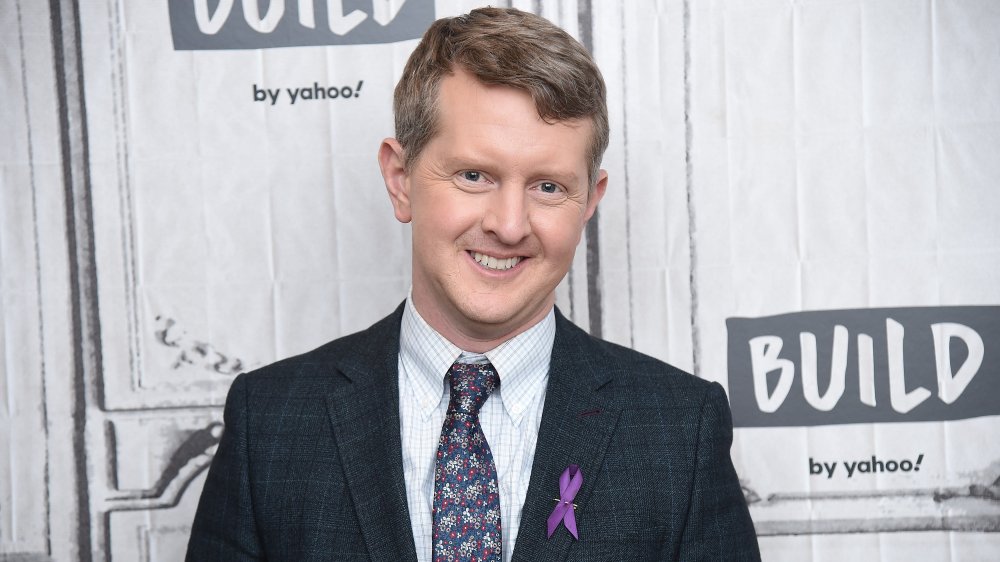 Gary Gershoff/Getty Images
The name Ken Jennings is synonymous with Jeopardy!, as the 45-year-old Washington native had the longest winning streak on the iconic show, ever (via ESPN). Incredibly, Jennings won 74 consecutive games in 2004, according to The Seattle Times.
Given his long stretch of time on the show, it's no wonder that the famous contestant formed a relationship with beloved host Alex Trebek. Upon learning that the 80-year-old lost his battle with stage 4 pancreatic cancer this weekend, Jennings took to social media to share his fond thoughts about a man people around the world will sorely miss (via Page Six).
"Alex wasn't just the best ever at what he did. He was also a lovely and deeply decent man, and I'm grateful for every minute I got to spend with him," the trivia genius posted to Twitter Sunday afternoon. Jennings, who according to Page Six is now a consulting producer on the game show that made him a household name, went on to share another heartfelt message with fans of Alex Trebek, also tweeting, "Thinking today about his family and his Jeopardy! family—which, in a way, included millions of us."
Ken Jennings and other Jeopardy! champs react to the loss
Sweetly, commenters to Jennings' post not only shared in his sadness that Trebek was gone, but also took a moment to say they were sorry for his loss. For instance, one commenter said in part, "You were the first person I thought of." Another tweeted, "I am sorry for your loss. It is really all of ours as well." One more commenter lamented, "So sorry for your loss. He meant a lot to a lot of people." Clearly, the two men became close and the Jeopardy! record holder is mourning the star's death. 
Meanwhile, James Holzhauer, who, according to Biography won 32 consecutive games on the show, and competed against Jennings in a Greatest of All Time tournament, tweeted, "It was one of the great privileges of my life to spend time with this courageous man while he fought the battle of his life. You will never be replaced in our hearts, Alex." The other GOAT contestant, Brad Rutter, tweeted, "Just gutted. There will never be another. RIP, Alex, and thank you so much for everything" (via USA Today).