Four Seasons Total Landscaping Explained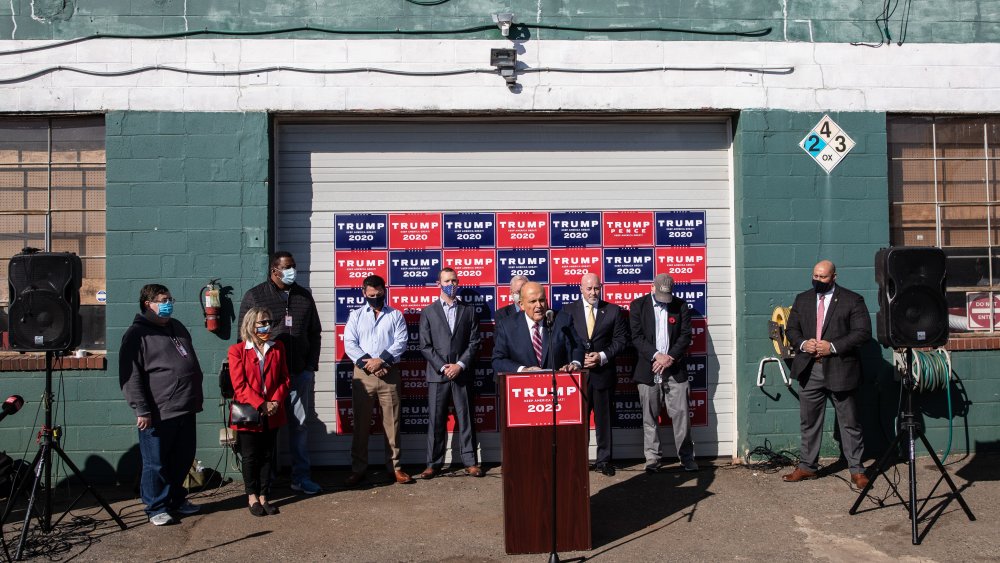 Chris Mcgrath/Getty Images
It started as a "blink and you'll miss it" series of tweets from President Donald Trump, which was subsequently captured and shared on social media by Bloomberg reporter Josh Wingrove. Trump first announced a "Lawyers Press Conference at Four Seasons, Philadelphia. 11:00 A.M," followed by what should have been a clarification but instead confused social media watchers even more when he said, "Four Season's Landscaping!" Both tweets were then taken down and replaced by one that offered more clarity, saying: "Big press conference today in Philadelphia at Four Seasons Total Landscaping — 11:30am!" 
Reporters could be forgiven for thinking that the Four Seasons Total Landscaping and the Four Seasons Hotel were one and the same, so it fell to the luxury hotel brand to set things right via Twitter, saying: "To clarify, President Trump's press conference will NOT be held at Four Seasons Hotel Philadelphia. It will be held at Four Seasons Total Landscaping — no relation with the hotel."
The confusion was finally clarified when the Trump Campaign announced it would be holding its Pennsylvania press conference with Rudy Giuliani, Pam Bondi, and Corey Lewandowski at Four Seasons Total Landscaping, with an exact address, which a Google maps search revealed to be what it said it was: a garden center (via Twitter).
Giuliani's presser was held in the garden center's carpark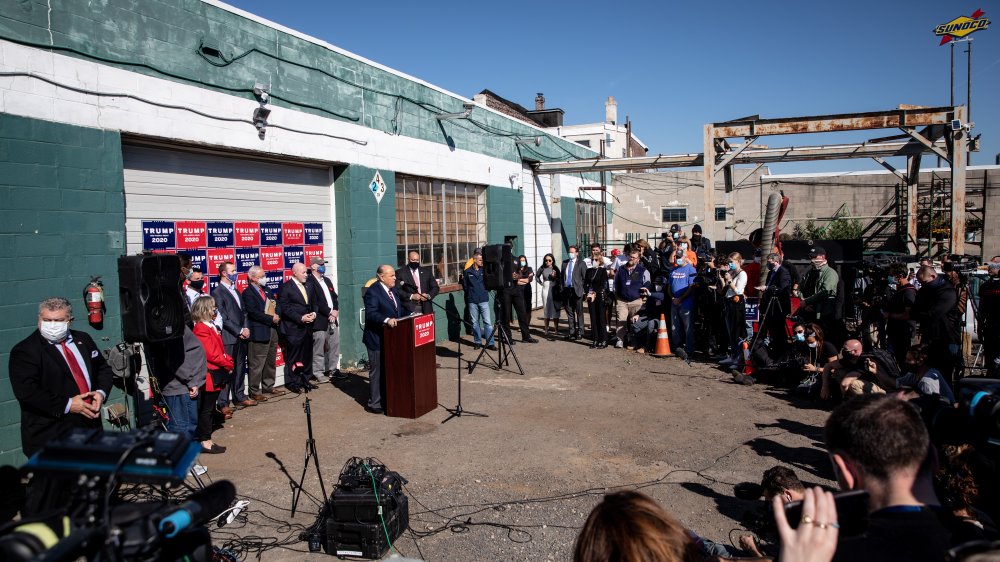 Chris Mcgrath/Getty Images
And so it was that Giuliani presented more unsubstantiated claims about voter fraud at the same time networks were carrying the news that proclaimed Joe Biden the winner of the 2020 presidential election from the parking lot of a garden center. It was also at the Four Seasons Total Landscaping carpark at which Giuliani declared, "Trump won't concede [because] networks don't get to decide elections." (via USA Today).
Some reporters were disappointed by the lack of substance; one tweeted: "I came to Four Seasons Total Landscaping to see if the president's lawyers would offer any evidence of the fraud they have been alleging. They haven't. So I'm leaving."
But the location choice was a gift to social media, which went to town over the location. Comedian Patton Oswalt tweeted a series of photos that showed the area, along with the caption: "This is not over. For we shall mount our righteous stand at Four Seasons Total Landscaping. Next to Fantasy Island Adult Books. Across the street from the Delaware Valley Cremation Center. Between the fire extinguisher and yellow hose. #MAGA"
CNN's Jake Tapper also tried to summarize the experience in one tweet: "Some say the world will end in fire/Others say at Four Seasons Total Landscaping north of the Tacony-Palmyra bridge, near the porn shop.
If Joe Biden hadn't been declared the winner of the 2020 elections on Saturday, we have little doubt Four Seasons Total Landscaping would have made it into the Sunday headlines in a bigger way.