The Truth About Reba McEntire's Decades-Long Friendship With Dolly Parton
Taylor Hill/Getty Images
You don't need to be a country music fan to know that Reba McEntire and Dolly Parton are of two of country music's most legendary ladies. While it wouldn't surprise anyone that the two singer and songwriters have run in the same circles, you might not have realized that these ladies have also been friends for over 40 years. Dolly recently shared on Instagram, "With a friendship that's lasted over 40 years, @reba and I always have a lot to talk about! I am honored to be a guest on her brand new podcast 'Living & Learning with Reba McEntire.'"
Dolly is referring to Reba McEntire's new Spotify podcast, "Living and Learning With Reba McEntire" which debuted on Monday, September 21. Sharing advice on forging one's own path both career and in one's life, these two ladies have a lengthy shared history from which to draw material. 
The friendship began when McEntire played the Grand Ole Opry for the first time in 1977 alongside Parton, and it has continued strong ever since (via Closer). The two women are said to share so much in common, from a love of gospel, to acting as mentors and leaders in country music, and adding successful acting careers too. 
Leading through adversity, these friends have a lot in common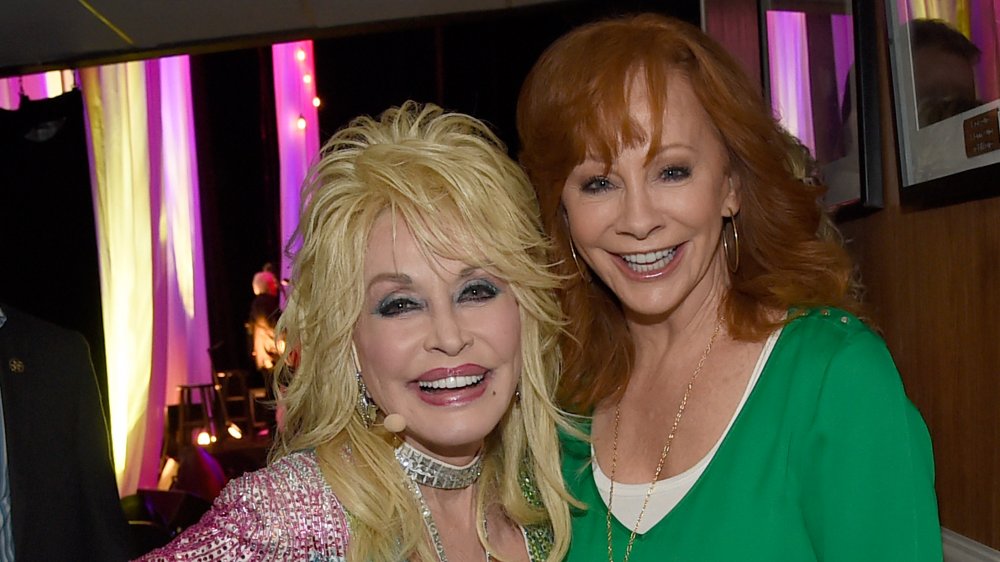 Rick Diamond/Getty Images
The two leading ladies took time in the podcast to discuss how they've both had to battle through difficult situations, which have helped make them stronger (via Sounds Like Nashville). While McEntire shared her story of getting back to business for her production crew after divorce, Parton shared her tough decision not to sell away her rights to hit song and save her legacy for her family with "I Will Always Love You" when Elvis' agent asked for more than she felt was fair. These women are strong leaders, savvy businesswomen, and talented entertainers, who still show immense heart for those that are part of their lives. 
McEntire describes the relationship during the podcast saying to Parton, "It's true Dolly, you've always [been my idol]. I've always looked up to you," (via Gossip Cop). The two have worked together in tv appearances, but have never recorded and album or toured together musically, although they both seem to like the idea — they're just very busy women (via Cheatsheet). McEntire has once used Parton's band, though, as Parton offered her a hand up when McEntire's lost her own crew in 1991.
It's a lengthy history of helping hands and forging new futures for these country queens, and we wish them many more years of friendship. It's music to our ears after all.