Maren Morris' Daring CMA Awards Look Is Raising Eyebrows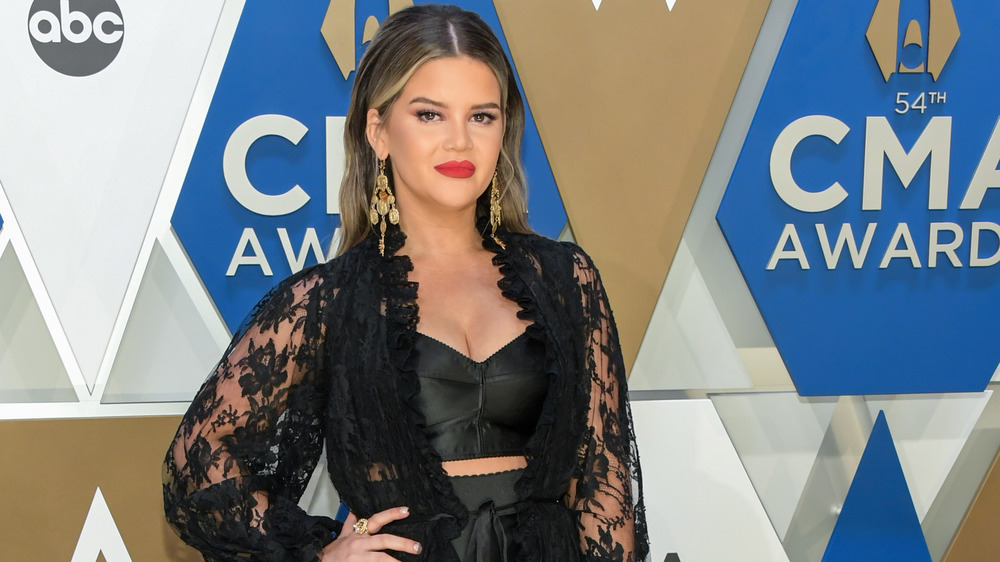 Jason Kempin/Getty Images
Awards shows are about so much more than just a shiny little trophy. If they were, then they'd be presented at the local pub or Elks Club hall, and no one would give them more than a passing glance. No, entertainment awards are all about the emotional acceptance speeches, the mid-show performances, the behind-the-scenes drama, and the living-room debates over who should have won. And the outfits... we can't forget the outfits. When it comes to awards show fashion, only two types are worth noting: stunningly gorgeous, and omg-did-s/he-actually wear that?! outrageous. You can keep your ho-hum tuxes, your basic blacks, and your simple sheaths. If you want to make headlines, you have to go bold or go home. 
At the 2020 CMA Awards ceremony, Maren Morris did just that. The singer quickly won attention not only for snapping up two early awards — Single of the Year and Song of the Year for "The Bones" (via YouTube). But Morris may have gotten even more attention for the attire that, um, barely covered her own bones.
Maren Morris wore a nightgown-inspired look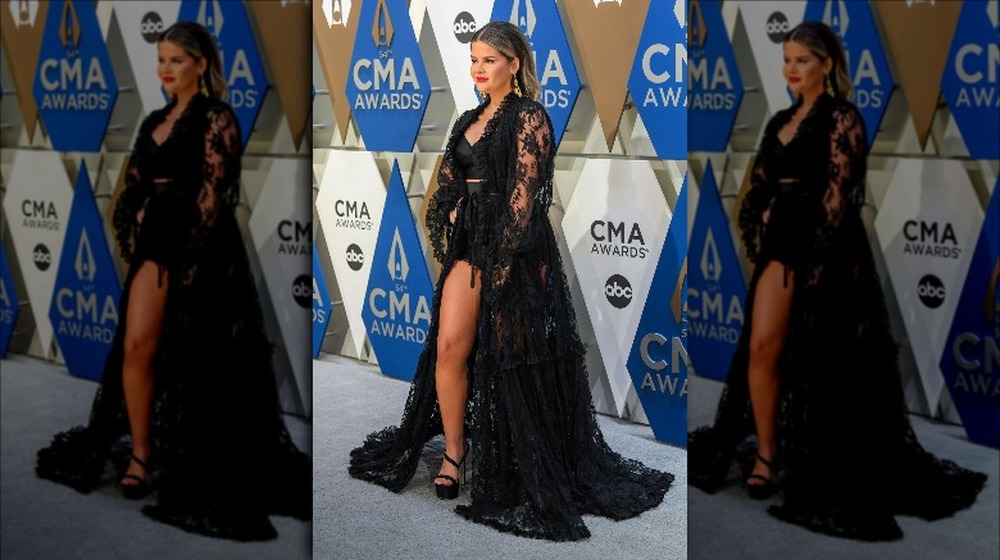 Jason Kempin/Getty Images
Morris donned a Dolce & Gabbana ensemble that looked more like a wedding-night confection than traditional awards-show finery: a black satin teddy-style two-piece with a black lace floor-length gown. The eye-popping outfit looked spectacular on her, but more important, it marked a personal triumph for the country singer. 
"I had a baby eight months ago, so just being out tonight is a win in itself," Morris explained in a pre-show interview (per Just Jared). She went on to discuss her award-winning hit: "This song has kind of been a medicine for this year — this crazy year." Indeed, "The Bones" is a song of a relationship's triumph over hard times: "We're in the homestretch of the hard times/We took a hard left, but we're alright/Yeah, life sure can try to put love through it, but/We built this right, so nothing's ever gonna move it" (per Genius).
Morris did ditch the lingerie look in favor of a more traditional spangled dress when she took the stage to perform her song at the ceremony. Shortly afterward, she accepted her third award of the night for Female Vocalist of the Year.