Charlize Theron's People's Choice Awards Makeover Has The Internet Buzzing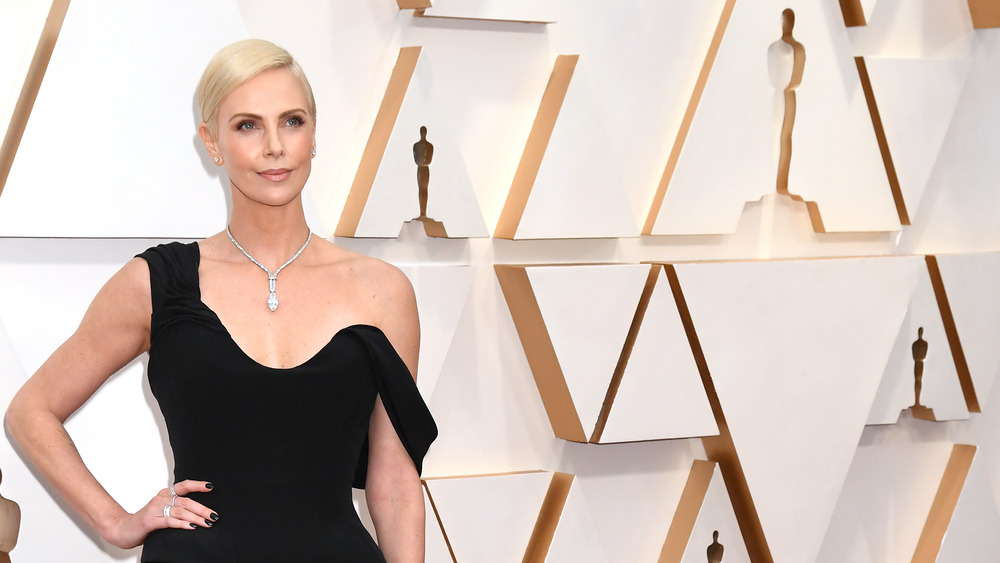 Jeff Kravitz/Getty Images
Charlize Theron, who is, hands down, one of the most beautiful women in the world, has been nominated several times for E!'s People's Choice Awards for her role in the action movie The Old Guard (via Us Magazine). But her nomination for best Female Star and Best Action Star isn't really what has social media really talking right now — but rather a photo she posted to Twitter of herself getting ready.
Captioned, "You guys...getting ready for the #PeoplesChoiceAwards #Crossed fingers #bestmakeupartistever #alreadywinning," 45-year-old Theron is dramatically side-eyeing the camera with bright red lipstick smeared all over her face and what looks like one of her kids, either Jackson or August Theron, clearly "working" as the makeup artist for her look.
Unsurprisingly, the A-lister looks gorgeous even smeared in red with a hint of what looks to be copper shimmer eyeshadow on her eyes. Not surprisingly, the sweet tweet has fans reeling and posting all the well wishes for her awards show appearance.
Twitter is pulling for Charlize Theron to win tonight
While there is a lot of competition at the People's Choice Awards, fans of Charlize Theron are hoping she has got at least one of her nominations in the bag. And with her hot makeup look, how could she not?! As superfan @Charlize_fanacc wrote, "Ahhhh so exciteddd, you're gonna rock the red carpet with your beautiful makeup, I love it! Btw, i hope you win an award today. LOVE YOU!" Or as Twitter user, @MileyisMyAlias, pointed out, "All real artists are expressive in their craft.....yep she's definitely gonna go far in life."
Theron has definitely already won as a mom. Her two beautiful daughters are the light of her life and her eldest, who came out as transgender at the age of three is being raised with all the love and support all children deserve. In an interview with DailyMail, the Oscar winner revealed, "I have two beautiful daughters who, just like any parent, I want to protect and I want to see thrive ... They were born who they are and exactly where in the world both of them get to find themselves as they grow up, and who they want to be, is not for me to decide."