Tiffany Haddish's People's Choice Awards Red Carpet Interview Caused Quite A Stir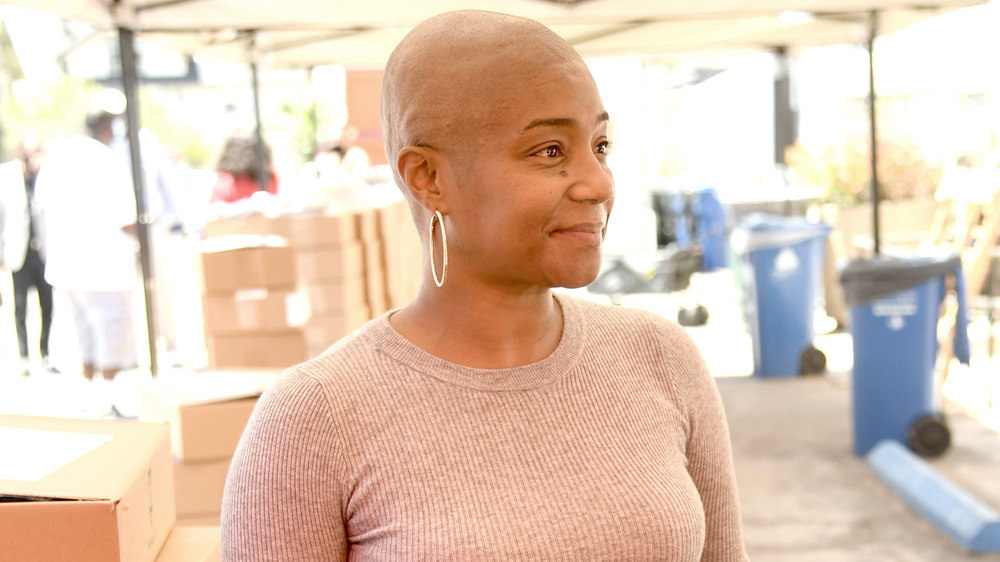 Kevin Winter/Getty Images
If you're walking the red carpet at just about any awards show, it would make sense that you're at the top of your game and overall killing it; Tiffany Haddish was here to make sure that everyone knew it. When an interviewer asked "How are you," she came back with, "I'm successful, how are you?" Fans went crazy for it. One user, @marihorrorstory, tweeted, "AN ABSOLUTE QUEEEEEEEN!!!!! i love you so much mrs. tiffany haddish. looking fabulous as always. stay safe queen." Another tweet, by Haddish fan @project470, said, "'im successful how are you' OMFG TIFFANY HADDISH IS A ICON"
Haddish is even more successful now than she was at the beginning of the night. The comedian and actor won the People's Choice Award for Female Movie Star of 2020 for her work in Like A Boss; she was up against, among others, her co-star Salma Hayek from the same film. Like A Boss also is nominated in the People's Choice Awards category for Comedy Movie of 2020.
Haddish knows what makes for success
Getty Images/Getty Images
Haddish spelled out some of her rules for success to W Magazine back in 2018, "Laugh at (and learn from) your own failure: 'Epic fails are funny to me because, you know, in failure, there's success. You learn what not to do, and so I can find the funny in a lot of failures. 'Cause I've had enough of them.'"
Another one of the star's rules for success is standing up for yourself no matter what. When she wanted to audition for Girls Trip, at first her agent seemed to try and dissuade her from it. "My agent says, 'Tiffany, they only want to see names. They don't want to see you. They only want to see names.' And I told my agent, 'You call them back and you tell them that I've had a name since 1979, and it's Tiffany motherf***in' Haddish, and they better let me audition'" (via W Magazine). Looks like much of that hard work is paying off, so her response how she was doing was an honest one. Tiffany Haddish is successful.