How Barack Obama's Childhood Affected His Relationship With His Daughters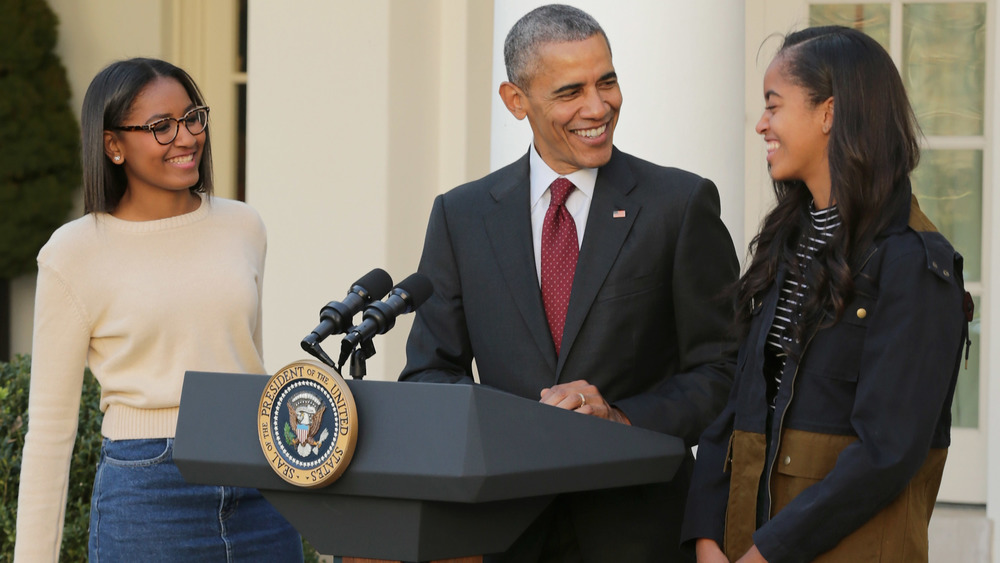 Chip Somodevilla/Getty Images
Barack Obama has a close bond with his daughters, Malia and Sasha. During his time in the White House, we saw how much the former president loves his kids. Obama even dedicated his latest memoir, A Promised Land, to Sasha and Malia as well as to his wife, Michelle (via Elle).
While the Obama sisters have a close relationship with their dad, Obama himself did not have a close relationship with his own father, Barack Obama Sr., growing up. As noted by Biography, the elder Obama left the family shortly after his son's birth. Obama was primarily raised by his mother, Ann Durham, and his maternal grandparents.
Growing up without his father was difficult for Obama, and it had a big impact on how he raised how own kids. "The fact that my own father was largely absent from my childhood helped shape my ideas about the kind of father I intended to be," wrote Obama in a recent Instagram post.
Barack Obama has always put his daughters first
Obama explained that when he became a father, he vowed to always prioritize his children. "When Malia was born, I made a promise to myself that my kids would know me, that they'd grow up feeling my love keenly and consistently, knowing that I'd always put them first," he wrote.
While his time in the White House was a busy one, Obama didn't let his duties as president interfere with his relationship with his daughters. He made sure to always make time for them, no matter how hectic things got. "While serving as President, I made sure to have dinner with Michelle, Sasha, and Malia every evening by 6:30," he wrote. "We'd eat some good meals and catch up on our days. That was one of the best parts of living above the store, as I sometimes called it."
He continued, "Seeing them grow up into the intelligent, strong, and compassionate young women they've become has been the greatest joy of my life. I'm reminded constantly that there's no place in the world I'd rather be than with Miche and our girls — and it's why I've dedicated my memoir to them."