The Bachelor's Jade And Tanner Share Exciting Family News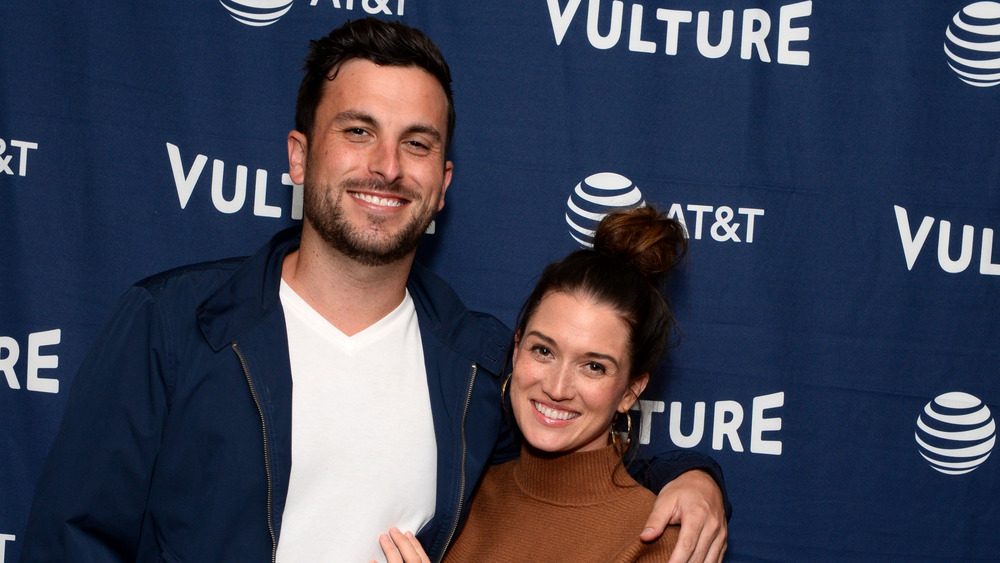 Andrew Toth/Getty Images
Jade and Tanner Tolbert of Bachelor fame have welcomed their third child. The couple announced the arrival of their baby boy via Instagram, naturally, and shared adorable photos from the birth (via Page Six). "He's here and he's perfect," Jade captioned a sweet image of herself holding her newborn boy. Fellow former Bachelor cast members quickly chimed in with their comments. "Aaahhhhh! He is! Congratulations to each of you!" Catherine Giudici said, while Tenley Molzahn complimented Jade, "You are INCREDIBLE mama! Congratulations!"
The new mom of three next shared an image of Tanner holding their son right after his water birth. "Can't wait to share all the magic with you and share our birth story!!" she captioned the intimate photo. "Right now we are soaking in all these beautiful, new moments. Thank you for all the love and support and for holding space for our little family in your hearts. I'm one grateful mama," she finished her beaming post.
This birth wasn't as dramatic as Jade's last delivery
Jade shared a third image of her daughter holding her new baby brother, writing, "Emmy can't get enough baby snuggles." Tanner and Jade were married in 2016 and share children Emerson, age 3, and son Brooks, 15 months (via E! Online).
The 33-year-old famously gave birth to her son Brooks in her closet last year. "It was wild," she told People at the time, adding, "It's surreal. I'm still having trouble processing it." At least this birth story wasn't quite as dramatic!
The Bachelor in Paradise star added in her post about her newly expanded family, "We all love him so very much, even Brooksy laughs and smiles at him! I love how when a new baby enters the family, it feels like they've always been here and life before them doesn't even seem imaginable anymore. He's absolutely meant to be ours."