The 2020 Rockefeller Center Christmas Tree Is Getting A Surprising Reaction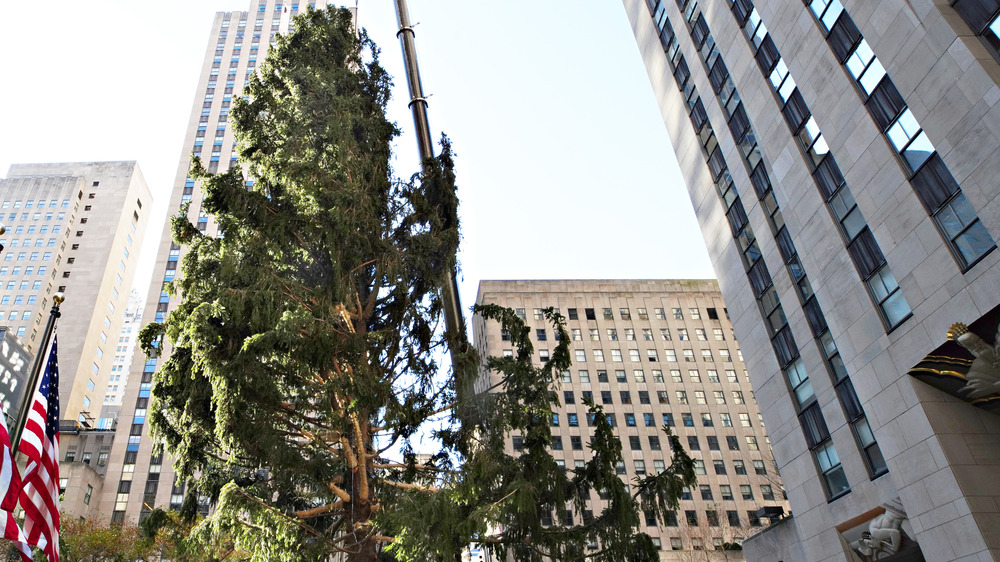 Cindy Ord/Getty Images
O, Christmas tree, o Christmas...eek. For 81 years, the Rockefeller Center Christmas Tree has been a must-see attraction for visitors to New York City, standing tall in Rockefeller Plaza and shining brightly every night from early December through New Year's Eve. As the Rockefeller Center's official website explains, it all began in 1931 when a group of Rock Center workers pitched in to buy a tree for the area outside their workplace, and since then, it has become a beloved city tradition. The towering evergreen has also acted as a symbol of hope and American spirit; in 1942, the Center hosted three smaller trees instead of a huge one, foregoing lights in favor of simple patriotic decorations.
But this is 2020, and it seems not even iconic holiday symbols are immune from disaster in these crazy times. 
This year's Rockefeller Center Christmas Tree arrived in the plaza right on schedule Tuesday afternoon and was erected with the help of a crane and a crew of cable-toting workmen. Its backstory is as adorable as it gets; it came from an upstate New York business called Daddy Al's General Store (per People). But as the 75-foot-tall Norway spruce rose into place, spectators were, shall we say, underwhelmed.
The tree drew comparisons to a famous holiday cartoon
Social media lit up with comments about the tree's obvious bare patches and spindly branches. It looked less like a wow-inspiring tourist attraction and more like one of the assembly-required artificial trees you might find at a big-box discount store.
Former NBA player Rex Chapman tweeted, "Could the Rockefeller Center Christmas Tree look any worse? 2020 on brand." Another user snarked, "Yikes! The war on Christmas just took another turn!" Other reactions included: "If COVID-19 was a tree," "2020 in a nutshell" and "In true 2020 form, the Rockefeller Center Christmas tree looks like it tried to cut its own hair."
The most popular description of the 2020 tree became a trending term: "Charlie Brown" was cited in more than 6,000 tweets by Tuesday night. The comparison to the droopy little tree adopted by CB in the classic cartoon A Charlie Brown Christmas was hard to resist. Still, some people liked the Rockefeller Center Christmas Tree for that very reason. One commenter said, "I [heart] this tree *because* it's a Charlie Brown tree. It's not bad at all really. Maybe it just needs a little love. (Don't we all?)"
Other defenders noted that the spruce needs some time to settle into its full glory, and that it will look as splendid as ever once the lights are ignited on December 2. We'll have to wait and see when the ceremony is broadcast on NBC.