Healthy Alternatives To Your Favorite Thanksgiving Dishes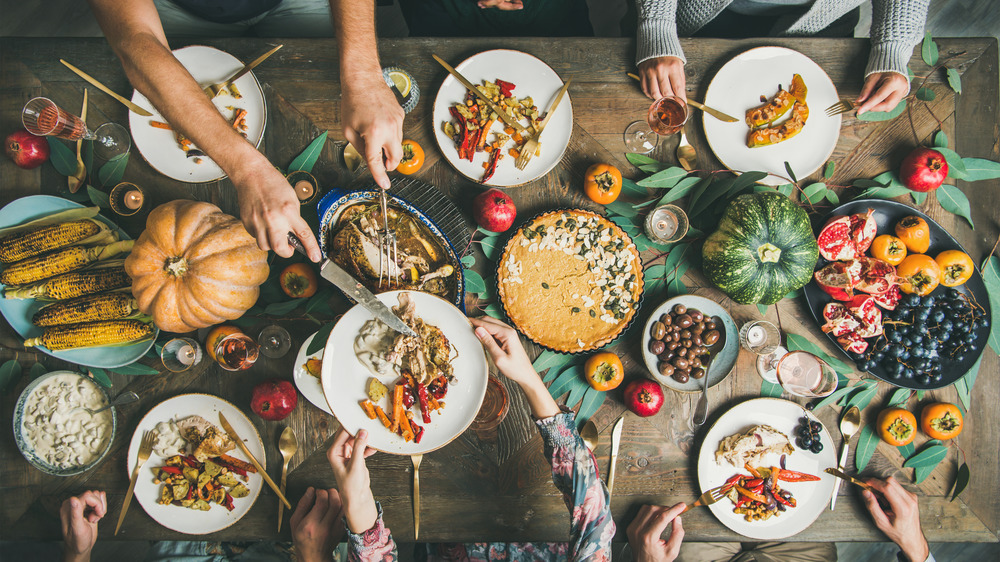 Shutterstock
This year has forced many people to rethink their habits, many of which revolve around their health. As Thanksgiving rolls around, it's important to know that you have options for the big meal. From mashed potatoes to stuffing, you can make any dish healthier with a few additions or subtractions — it doesn't have to be a complete overhaul to make a difference!
Perhaps one of the easiest switches to make, begin with your bread selection. If your family usually has white rolls on hand, purchase a batter for whole or sprouted grain options, Shape recommends. You can even use a pre-packed mix from the store that has fewer sugars, additives and stabilizers, like Simple Mills or other health-food brands. 
Luckily, Thanksgiving dinner usually offers a healthy amount of vegetables already. So, for the salad options, stick to lettuce with high nutrient levels like spinach, arugula and other leafy greens, as opposed to solely iceberg. If you want to switch out your helping of stuffing, you can make a grain-based salad by using farro or barley and adding it to your recipe, Women's Health explains. Plus, with these grains, you'll get an excellent plant-based protein boost.
Explore your potato options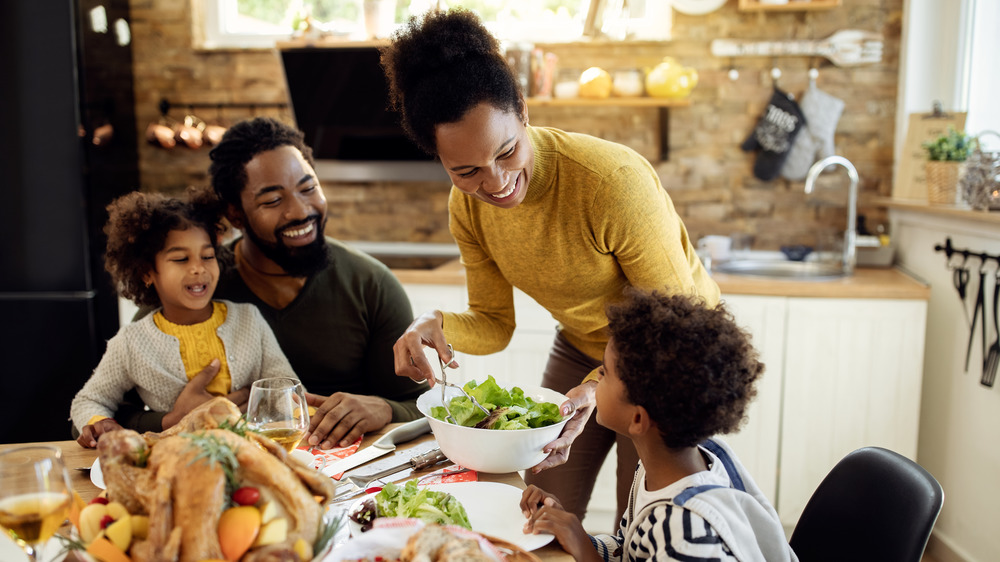 Shutterstock
The mashed potato dish is usually where many people load up — which is totally fine! Potatoes are filled with antioxidants, potassium, Vitamin C, Vitamin B and magnesium, according to Healthline. But, if you're looking for a new option during your holiday meal this year, there are plenty of alternatives to choose from. Remember, you don't have to ditch any food item completely, just add on other, more-nutrient dense foods as needed.
For instance, bring a sweet potato mash with less butter and salt to your Thanksgiving dinner. Getting a healthy supply of Vitamin A, Vitamin C and antioxidants, you'll feel more full and energized after your turkey-induced food coma, Health explains. For fewer carbs, opt for butternut squash or cauliflower substitutes. Again — just add these to your plate and half your mashed potato serving, no need to cut it out completely. Making a mashed butternut casserole or cauliflower potatoes will offer another serving of vegetables that can, in turn, make for better digestion and a more nutritious meal, Medical News Today explains.
While it may be filled with butter and salt, Thanksgiving dinner is still healthy with servings of protein, vegetables, carbohydrates and fats. Making a few simple swaps can give your body the nutrients it needs from all food groups!